SERIES INFORMATION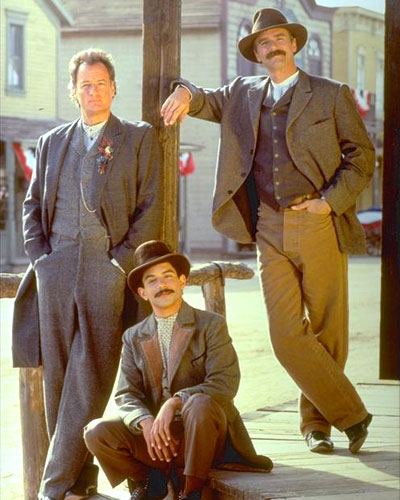 Cast:
Richard Dean Anderson as Ernest Pratt and Nicodemus Legend
John de Lancie as Janos Christoff Bartok
Mark Adair Rios as Huitzilopochtli Ramos
Jarrad Paul as Skeeter
Created by: Michael Piller and Bill Dial
Executive Producers: Bill Dial and Michael Piller
Executive Producers: Richard Dean Anderson and Michael Greenburg
Music by: Ken Harrison
A Gekko Film Corp production in association with
Bill & Mike Productions for Paramount
Broadcast on UPN Television
First telecast: April 18, 1995
Last telecast: August 22, 1995
Richard Dean Anderson takes on the role of executive producer, as well as starring in a dual role of sorts as a dime novel writer and the fictional character he has created. This is Richard's first post-MacGyver project from his own production company, Gekko Film Corp. It was shot on location in Mescal and Tucson, Arizona, from January to June, 1995.
LEGEND
Excerpt from:
Legend Press Kit
April 18, 1995
Richard Dean Anderson returns to series television in this lighthearted action-packed western adventure series set in the closing decades of the 19th century. Produced by T.L. Productions and Gekko Film Corp, and distributed by Paramount Network Television for UPN, Legend is the first series from executive producer Michael Piller since he co-created UPN's new hit series, Star Trek: Voyager.
Anderson stars as Ernest Pratt, a gambling, womanizing, hard-drinking writer who has created a dashing literary hero, Nicodemus Legend, the main character in a wildly imaginative series of dime novels set in the dangerous, untamed West. Pratt has created Legend in his own image, and all the novels are written in the first person. Because of this, many readers believe that Ernest Pratt is Nicodemus Legend. The irony is that while Pratt himself is something of a lost soul, he has created in Nicodemus Legend a romantic hero who embodies all the optimism and creative spirit of America in the 1870s.
In the premiere episode, Pratt learns that someone has been impersonating his literary creation, Nicodemus Legend. A warrant has been issued in Sheridan, Colorado for Legend's arrest on charges of malicious mischief, theft of water rights, and disturbing livestock. Noting that, "I am not, nor will I ever be, a man who disturbs livestock," Pratt travels to Sheridan to clear the name of his hero. In Sheridan, he meets the eccentric European scientist and inventor, Janos Bartok. Bartok is a great admirer of Pratt's clever Western tales, and has taken the liberty of "borrowing" the Legend persona in order to help the townspeople of Sheridan.
Pratt is cornered by the awkward situation and by Bartok's persistent efforts to convince him that he must take on Legend's identity. Bartok tells Pratt, "Your celebrity has the power to give our enemies pause. My science can increase that reputation. And together, we will create the real Legend." Pratt reluctantly agrees to assume the persona of his literary creation, Nicodemus Legend, and to live out the image he has created of an adventurous man dedicated to justice and science.
John de Lancie co-stars as the Hungarian scientist and creative genius, Janos Bartok. Also co-starring is newcomer Mark Adair Rios as Huitzilopochtli Ramos, Bartok's brilliant young associate scientist who is descended from Aztec kings. Bob Balaban portrays Harry Parver, the representative of Pratt's Eastern publishing company.
Later episodes of Legend feature many of the outlandish inventions which Bartok creates in his laboratory. Most of these inventions spring from Bartok's own visionary mind, a few are inspired by Pratt's novels, but they are all fascinating and many are well ahead of their time. The audience is treated to such creations as the first All-Terrain Vehicle, which Bartok has named the "Bartok Steam-Powered Town and Country Quadrovelocipede" (and which Pratt calls simply a "Land Rover"). Electro-fulminators (lightning bolt-transmitters) and a fully functioning pair of wings which enable Legend to reach normally inaccessible places are just a few of the wonderful and useful inventions of Bartok.
Michael Piller, Bill Dial, Richard Dean Anderson, and Michael Greenburg, the executive producers of Legend have combined experience in virtually all the television formats: half-hour comedies, one-hour detective stories, science fiction, and dramatic television movies. All this producing experience is invaluable on Legend, a show which combines action sequences with special effects, stunts, historic characters and setting, and high-tech optical effects, not to mention Richard Dean Anderson's previously untapped comedic talent.
Q&A WITH RICHARD DEAN ANDERSON
Excerpt from:
Legend Press Kit
April 18, 1995
Question:
What is it about Legend that convinced you to come back to series television?
Anderson:
Before I saw the script for Legend, I was starting to worry about the possibility of ever doing another series, because none of the scripts I was reading really inspired me. You really have to be in love with something to commit to the potential of multiple years in the same role. When I first read Legend, I envisioned it being directed by someone like Terry Gilliam, it's that unique. And I realized that the reason I'd been dismissing all those other scripts was that I'm just not interested in typical television fare. Legend really piqued my interest because the potential is there for some very creative misbehaving on television. The thing that ultimately interests me is anything that deals with the elements of discovery, invention and science. The scripts for Legend are full of all those things, plus action, adventure and history. And while it's not a spoof, Legend is full of humor. When I put down the script, I just felt I'd been entertained.
Question:
Can you describe the character you portray - Ernest Pratt/Nicodemus Legend?
Anderson:
Ernest Pratt is a writer in 1876 who creates a fictional character Nicodemus Legend for a series of dime novels. Pratt's publisher convinces him to pose for the picture of Legend which appears on the cover of the book, and the confusion between Pratt, the writer, and Legend, the fictional hero, begins. This is interesting territory for an actor because very often the difference between celebrity and reality gets confused - by the press, by the public, even by actors themselves.
Question:
How does Pratt come to actually portray Legend?
Anderson:
In the first episode, Pratt is drawn into a land-grab scheme and travels from San Francisco to Sheridan, Colorado, where he is forced by circumstances to take on the Legend persona to a much greater extent than ever before. In Sheridan, he meets Janos Bartok, a brilliant but eccentric scientist and inventor who has actually built many of the incredible gadgets and vehicles which Pratt dreamed up the his novels.
Question:
What kind of inventions will we see on the series?
Anderson:
We have all the incredible inventions which spring from Pratt's imagination. And Bartok, who is an inventor in his own right, builds the first steam-powered all-terrain vehicle. Pratt and Bartok also use a hot-air balloon as their main method of transportation. There will be a lot of fantastic machines - I don't want to give away all the fun. Aside from the inventions, we'll have a lot of the things I like - dogs and dirt - although Pratt has an odd relationship with horses which we'll see as a recurring problem in the series.
Question:
Pratt and Bartok seem like such different characters. What is it that brings them together as friends?
Anderson:
Pratt isn't a hero like the character, Legend, whom has created. Pratt himself is good-hearted, but he's a writer, a gambler, a womanizer and he drinks too much. Bartok helps Pratt see that there's more to life than wine, women and song. He really helps Pratt re-direct his energies toward some loftier goal - not that Pratt has any intention of ever giving up on wine, women and song. And Bartok is a fan of Pratt the writer; he admires Pratt's imagination and creativity. Bartok is very protective of the character of Legend. He may encourage Pratt to pretend to be Legend, but it's always for something important - helping an underdog, righting a wrong. Bartok doesn't waste the romance and charisma that surrounds Legend. Also, both these men are fascinated by science. They just approach science from different backgrounds, and from different educations. They make a fascinating team, and I think Legend is going to be a very special series.