LEGEND'S NOVELS
An Accumulated List of Nicodemus Legend's Novels That Have Been Mentioned in Each Episode
BIRTH OF A LEGEND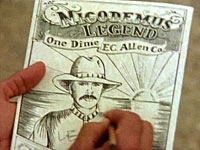 (UNNAMED NOVEL)
The James brothers robbed the Gallatin Bank and kidnapped a little girl, but when Legend arrived to rescue her, he was shot, and Pratt had killed his meal ticket.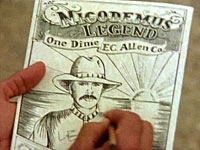 "LAND OF THE ORANGE SKY"
Legend helped a schoolteacher lady in Colorado.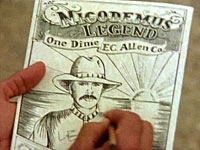 "LEGEND AND CHEROKEE JOE"
Legend took a bad fall.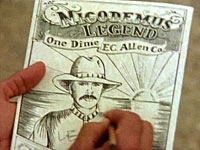 "BLOOD ON THE TEXAS SAND"
A chase through the booby-trapped arroyos in a steam powered untracked land vehicle inspired the model for the quadrovelocipede.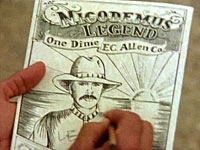 "LEGEND AND THE GHOST OF CHIRACAHUA CAVES"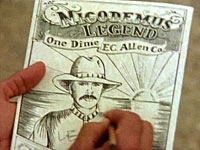 "LEGEND AND THE MASSACRE AT MESQUITE FLAT"
Legend surprised, disarmed, and disabled five heavily armed Apache.
MR. PRATT GOES TO SHERIDAN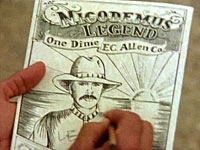 "DOUBLE SHADOWS"
Legend assisted in negotiating the surrender of the Payson twins in Amarillo.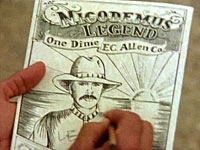 "MYSTERY OF THE FEATHER CREEK STALKER"
Legend used forensics to solve the mystery.
LEGEND ON HIS PRESIDENT'S SECRET SERVICE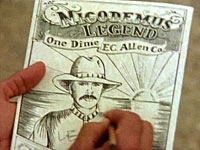 "WHEN LEGEND COMES MARCHING HOME"
Legend was a Union cavalry hero in the Michigan Fifth during the Civil War.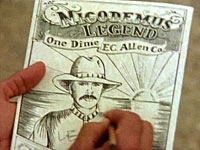 "BLOOD ON THE MOONLIT PRAIRIE"
Legend used a thermal emissions detector for night vision.
CUSTER'S NEXT-TO-LAST STAND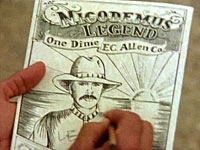 "LEGEND AND THE GUNS OF BROTHERS"
Jesse James was portrayed in a negative light, but he bought a hundred copies to pass out to his friends.
THE LIFE, DEATH, AND LIFE OF WILD BILL HICKOK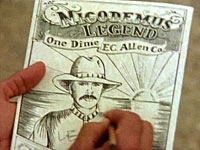 "RIDE THE ANGRY WAVES"
The book was the inspiration for the Bartok aerospheric rescue carronade.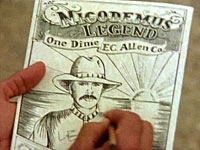 "WHEELS ACROSS MONTANA"
The book was favorably reviewed by the Boston Courier, despite the fact that the robbers ride up from behind the stagecoach and run it down.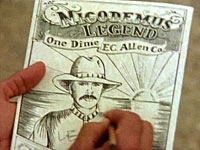 "DRY GULCH"
Legend unwisely drank up all his water while the sun was still up, although he had a map that showed where the nearest water hole was.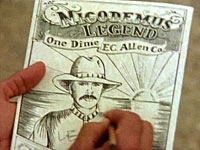 "BORDER LOVE"
The book described El Paso Del Norte as having a "colorful, tune-filled Mexican camino real."
KNEE-HIGH NOON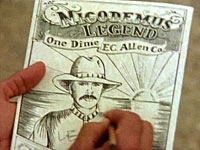 "LEGEND'S LOST LOVE"
Legend's first love, Clementine, was taken by the angels.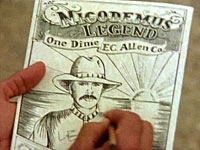 "LEGEND MEETS FRONTIER LADDIE"
Legend co-starred with a collie.
REVENGE OF THE HERD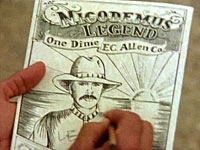 "LEGEND AND THE QUEST FOR WAPITI THE ELK"
In its original form, Legend, known as White Eyes to the Cheyenne, must hunt and kill Wapiti the Great Bull Elk which devours wagon trains, but the story was later adapted to a strong Arapaho theme and the legend of Thunder Hooves.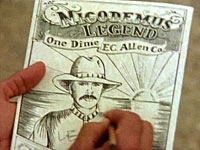 "LEGEND AND THE CLOUDS OF DOOM"
Legend encountered a cumulo-nimbo formation, but the book was a poor seller in Europe.
FALL OF A LEGEND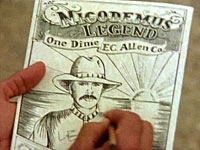 "LEGEND MEETS BLIND JUSTICE"
Legend was framed for murder, but he wasn't hanged.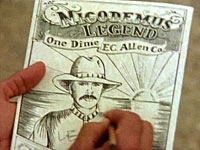 "BEAST OF THE BADLANDS"
Legend impersonated a one-legged buffalo hunter.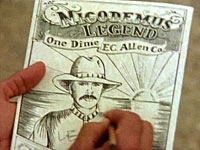 "TRAITORS OF THE CHISHOLM TRAIL"
Legend portrayed Lum Foo Ding, Chinese Magician.
SKELETONS IN THE CLOSET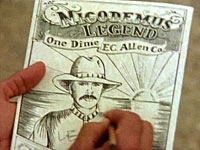 "LEGEND AND THE GHOST OF CHIRACAHUA CAVES"
Black Ben chased Legend with dynamite.