GENERAL HOSPITAL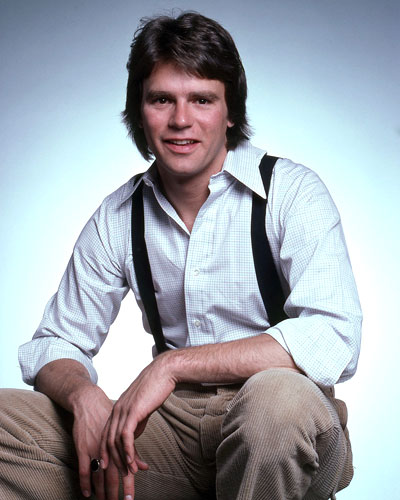 ABC Television Daytime Serial
Airdate: 1976-1981
Role: Dr. Jeff Webber
Main Cast (1976-81):
Denise Alexander as Dr. Lesley Faulkner Webber
Rachel Ames as Audrey Hobart Hardy
Richard Dean Anderson as Dr. Jeff Webber
Jerry Ayres as David Hamilton
Michael Baseleon as Dr. Tony Perelli
John Beradino as Dr. Steve Hardy
Robert Betzel as P.J. Taylor
LoAnne Bishop as Rose Kelly
Larry Block as Cal Jamison
Susan Brown as Dr. Gail Adamson Baldwin
Gail Rae Carlson as Susan Moore
Steve Carlson as Dr. Gary Lansing
Angela Cheyne as Dorrie Fleming
Peter Comfort (Bradley Greene) as Tommy Baldwin
Norma Connelly as Ruby Anderson
Stuart Damon as Dr. Alan Quartermaine
Lieux Dressler as Mrs. Alice Grant
Jane Elliot as Tracy Quartermain Williams
Genie Ann Francis as Laura Vining Faulkner Webber Baldwin
Anthony Geary as Luke Spencer
Gerald Gordon as Dr. Mark Dante
Michael Gregory (Chris Robinson) as Dr. Rick Webber
Brett Halsey as Dr. Adam Streeter
Peter Hansen as Lee Baldwin
Janice Heiden as Lisa/Lana Holbrook
Craig Heubing as Dr. Peter Taylor
Bobbi Jordan as Terri Arnett
Shell Kepler as Amy Vining
Eric Kroh as Alan Quartermaine, Jr.
Georganne La Piere (Mary O'Brien) (Robin Mattson) as Heather Grant Webber
David Lewis as Edward Quartermaine
Lisa Marie as Jennifer Smith
Emily McLaughlin as Jessie Brewer
Susan O'Hanlon as Anne Logan
Frank Parker as Paddy Kelly
Chris Pennock as Mitch Williams
David & Daniel Prather as P.J. aka Steven Lars
Patsy Rahn (Leslie Charleson) as Dr. Monica Webber Quartermaine
Tristan Rogers as Robert Scorpio
Richard Sarradet as Howard Lansing
Douglas Sheehan as Joe Kelly
Kin Shriner as Scotty Baldwin
Valerie Starrett (Brooke Bundy) as Diana Taylor
Anna Stuart (Donna Bacalla) as Dr. Gina Dante Lansing
Maggie Sullivan as Kathryn (Katie) Corbin Dante
Phillip Tanzini as Jeremy Hewitt Logan
Dan Travanti as Spence Andrews
Hunter van Lerr as Larry Joe Baker
Lesley Woods as Mrs. Edna Hadley
Jacklyn Zeman as Barbara (Bobbie) Spencer

Created by: Doris and Frank Hursley
Producer: Gloria Monty
Associate Producers: Jerry Balrue, Dick Dunn
First Telecast: April 1, 1963
Broadcast weekdays on ABC Television
One of daytime television's biggest success stories, General Hospital was created by Doris and Frank Hursley. It began as a half-hour daytime drama on ABC television, and premiered on April 1, 1963, the same day as another medically oriented serial, The Doctors. It expanded to forty-five minutes on July 26, 1976 and to sixty minutes on January 16, 1978. Under the stewardship of Gloria Monty, who took over as producer in the late 1970s, ratings climbed steadily, and from 1979 through 1987 General Hospital was TV's top-rated daytime drama. Richard Dean Anderson arrived in Port Charles to join the cast of General Hospital in the spring of 1976, and remained as Dr. Jeff Webber for five years.
Selected video of Richard's appearance is available in the Video Gallery
Excerpted and adapted from:
The General Hospital website at ABC.com:
Summary of Dr. Jeff Webber's Tenure at General Hospital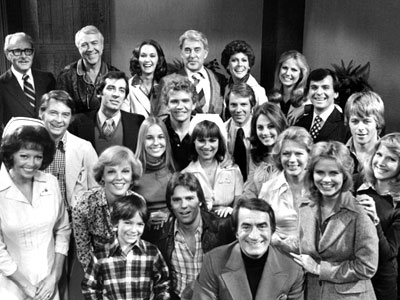 In 1976, several new characters were introduced to General Hospital. Among them was Terri Arnett, whose husband David, a doctor, had been killed in Vietnam. Terri was the daughter of Steve Hardy's closest friend, the late Dr. Lars Webber. Once an aspiring singer in New York, Terri returned home when Lars Webber and his wife Helen were killed in an accident, to play surrogate mother to her two younger brothers, Rick and Jeff. Rick, a promising resident at General Hospital, volunteered for a six-month medical stint in Africa. Two months after his arrival, he was reportedly killed when the small plane in which he was being piloted to a remote village crashed and burned. Rick's dashingly handsome younger brother, Jeff, graduated from medical school in the spring of 1976 along with his wife, Monica, who had once been Rick's fiancee. Dr. Steve Hardy tapped the young married doctors for a bold new experimental program at General Hospital -- "Mr. and Mrs. Intern."
For Steve Hardy, the Mr. and Mrs. Intern experiment was a noble gamble. He believed that Jeff and Monica were a perfect choice. Six months into their marriage, he assumed they were ideally happy. He was wrong. Their new marriage was a wreck. Jeff had a hang up -- he feared that everyone at General Hospital was comparing him to his late brother Rick. Fearing he would always be "second best," Jeff's every thought was plagued by memories of his dead brother. Jeff missed Rick dearly. So did Monica, more than anyone -- even Jeff -- knew.
Rick Webber was very much alive and being held, against his will, having been captured ten months earlier by revolutionaries in an African civil war. Upon his long-awaited return to General Hospital, Rick was reunited with Steve Hardy who sensed that Rick was haunted by something. Was it, as Steve suspected, the months of imprisonment that troubled Rick? Or was he, as Terri believed, deeply troubled by the fact that Monica had married Jeff?
As for Jeff, he was wary every time he saw Monica and Rick together. His jealousy exploded into anger when he stumbled upon the secret that his wife and brother had met in New York just before Rick returned to town. For the good of the staff, Steve Hardy abandoned the "Mr. and Mrs. Intern" program. Soon, Rick and Monica found themselves locked in a passionate kiss. "I love you too, Monica," confessed Rick. He cautioned Monica that they must put a lid on their own feelings, "for Jeff's sake." Monica reluctantly agreed. Rick did his best to stay away from Monica, but that was hardly possible in the halls -- and elevators -- of General Hospital. The thought that Rick would be dating other women sickened Monica, who privately vowed to do everything in her power to stay close to Rick Webber.
As for Rick Webber, he needed to keep away from Monica, and that meant moving out of the Webber family home, where he lived with Terri, Jeff -- and Monica. He turned for comfort to Dr. Lesley Faulkner who needed comfort of her own -- she was pregnant with her late husband Cameron's baby. Sadly, she lost the child.
During the summer of 1976, Diana Taylor hired the scheming Heather Grant to be the nanny for her daughter, Martha. The product of a lower-class background, Heather beat out the competition the way she knew best -- by cheating. Desperately wanting the job, Heather devilishly gave Diana a forged letter of reference. Heather set her sights on Jeff Webber, whose marriage to Monica was faltering once and for all.
Jeff's suspicions of Rick and Monica grew more fierce, and his thoughts were clouded by the abundance of pills he took to numb his pain. When Rick and Monica were away on a hospital trip, a drunken Jeff became convinced they were having an affair. He raced to their motel and burst into Monica's room -- only to find her all alone. After a bitter fight with Jeff, Monica found solace in Rick's arms. Together, they gave in to their long-held feelings and made love. Soon after, Jeff fell in to Heather's eager arms. She wangled her way back into his bed -- and became pregnant with his baby.
Monica, crazed with jealousy over Rick's closeness with Lesley, confronted her rival in Lesley's penthouse, and ordered her fellow doctor to keep her hands off Rick. "We're having an affair!" she declared. Monica's stunning declaration left Lesley reeling, not sure whether to believe her or not. But Lesley was certain of one thing -- she deeply loved Rick Webber. But Rick was still seeing Monica, though their secret affair was growing increasingly less passionate and more volatile.
Late in the year, Jeff disappeared. Rick was worried, Monica frightened, and Heather, most of all, needed Jeff because she was pregnant with his baby. Meantime, Jeff showed up at a bar downtown -- Barney's Place -- drunk, despondent, and high on amphetamines. Barney, fearful that he'd wander out and get Barney into trouble, put Jeff up in the back room overnight. Unknown to him, Jeff stole a gun from behind the bar. Dr. Mark Dante showed up the next day to bring Jeff home, but upon his arrival, the sound of a gunshot shattered the early morning calm. Mark raced into the back room, where he found Jeff unconscious -- with a bullet in his brain. Rick blamed himself. Terri, fearful that Jeff would die, went to Dr. Steve Hardy to say that her mother, Helen, on her deathbed, had told Terri of the existence of a letter. Hidden away in a safety deposit box, the letter revealed that Dr. Steve Hardy was Jeff's father.
With brain surgery, Jeff's life was saved, but he remained despondent over his failing marriage, and his recovery was slow. After Jeff's near-tragic bullet to the brain, Rick realized he must break off with Monica. Still, Monica refused to accept that they would never be together. Jeff recovered and reconciled with Monica, but then was shocked to discover that Heather was carrying his child.
The news of Jeff and Monica's reconciliation crushed Heather, who faked a suicide attempt to try and win Jeff's affections. Heather's efforts were all for naught. Once she detected that Jeff still wouldn't leave Monica, she ordered him to leave her alone. Heather had plans for her baby -- plans that would net her a fortune. Heather revealed her scheme to her mother: she wouldn't abort her unborn child, as Jeff wanted, but she would have the baby and sell it to Diana and Peter Taylor, and take the money to make a new life for herself. The Taylors wanted another child. They tried to adopt, but their plans to bring foster son, Mike, into their family were thwarted when Diana's past involvement with the late Phil Brewer came to light. Diana desperately wanted a brother or sister for her daughter, Martha, and found herself tempted when Heather offered her baby in exchange for $10,000 in cash.
Rick turned again to Lesley after Jeff's tragedy, and as their feelings for each other grew, Lesley was staggered when he declared his love with a proposal of marriage. Caught off guard, Lesley admitted she loved him too, but wondered if perhaps he was not confusing love for her with his desire to do "something constructive" with his life after Jeff's near-tragedy. "If you think I'm asking you to be my wife just to regain my self-respect -- I'm not!" Lesley's attitude infuriated Rick, who stormed out. In a short time, Rick and Lesley mended fences, and Lesley agreed to become "Mrs. Rick Webber."
Monica, shaken by the news that Rick had asked Lesley to marry him, finally did what she had long feared to do. She asked Jeff for a divorce. On the rebound, Jeff asked Heather to marry him, but recanted his proposal when Heather's ex-husband Larry Joe told Jeff of her many deceptions. Rick was able to convince Lesley that they belonged together, and in a quietly glorious ceremony held in a ski lodge, Lesley and Rick became man and wife.
After the birth of her baby, Steven Lars, Heather took $500 of Jeff's money and fled to New York City, where she hoped to fulfill her grand dreams of a fabulous modeling career. Her landlady, Mrs. Hadley, arranged for the Taylors to adopt her baby -- without knowing that Heather was the mother. After Mrs. Hadley and the lawyer took their cut, Heather was left with only $1800 of the $10,000 -- not even enough for her to establish herself in Hollywood. Looking for his son, Jeff followed Heather to New York, but Heather couldn't bring herself to reveal the real story of Steven Lars. Instead, she told the inexcusable lie that the child had died. Touched by her story, Jeff proposed to Heather. Once back home, the newly engaged Heather began to spend considerable time with the Taylors and "Peter, Jr."
Heather returned to Port Charles where she spent precious time with her son, Steven Lars, or "P.J." as he was known by his new family, the Taylors. She began to devote more and more of her time to "P.J." As the nanny, she was able to see her son every day, but Heather's all-consuming interest in the child's welfare alarmed Peter and Diana. Fearing her interest was unhealthy, Peter and Diana dismissed Heather. Still, she discovered ways to see her beloved son. Heather's wish came true when she married Jeff Webber, but early in their marriage the newlyweds saw little of each other because of Jeff's hospital duty and long hours of study for his license. Soon, Heather was pregnant again, but not completely happy. Conversely, Jeff was overjoyed. "If it's a boy I want to name him Steven Lars!" he gushed to his stricken new wife.
Meanwhile, desperate to learn the true fate of his son, Steven Lars, Jeff approached Cal Jamison, an unscrupulous character who insisted he had information about what really became of the infant, and was willing to share it -- for a price. However, Heather, desperate to keep her terrible secret safe, intervened, and despite repeated attempts and encounters, Jeff was unable to learn the truth. His grief was further compounded when Heather, in a reckless attempt to stop Cal Jamison, became ill and lost the child she was carrying.
In the winter of 1979, Dr. Steve Hardy was forced to place General Hospital under quarantine due to an outbreak of a rare and mysterious disease known as Lassa Fever. Steve, Rick, Alan, Audrey, Jeff and Monica were among the hospital staff, employees and even visitors who were quarantined within the walls of the hospital for weeks. After weeks of exhaustive work, Dr. Steve Hardy fell ill with the potentially-fatal disease. Flushed and weak, Steve continued to treat the sick patients before passing out. Believing that Steve was on his deathbed, Audrey shocked Jeff by finally revealing to him the fact that Steve was his real father. Jeff was stunned and hurt by the news, and was cold to Steve upon his recovery.
Across town, Heather Webber desperately tried to win her son, Steven Lars, away from Diana Taylor by driving her insane. Increasingly, Diana grew more dependent on -- who else -- Heather. In one final diabolical move designed to destroy Diana, Heather purchased LSD and planned to give it to Diana. Heather placed the LSD into a glass of iced tea, but little P.J. mixed up the two glasses. By mistake, Heather drank the LSD and began to wildly hallucinate. Jeff had no choice but to ship his wife to Pine Circle Sanitarium.
In the aftermath, Jeff grew close to his roommate Joe Kelly, who had fallen in love with a virginal nurse, Annie Logan. Annie, who was Audrey's niece and a registered nurse, had recently adopted an orphaned child prodigy, Jeremy Hewitt.
In a shocking revelation, Dr. Peter Taylor learned from Heather's mother, Alice, that Steven Lars was actually PJ. When Peter suffered a heart attack and died, the news remained secret, but Diana, going through Peter's old clothes, found the fateful note he wrote only moments before he died -- "PJ is Steven Lars." Out of her shock, she realized she could lose the child she loved so dearly. That is, unless she married Jeff Webber. Then they would both have what they want -- PJ and Steven Lars.
Diana Taylor, now aware that PJ was Steven Lars, tried to woo Jeff, but the handsome young doctor was already seriously smitten with nurse Annie Logan. Their growing relationship had not escaped the notice of Joe Kelly, who, despite his friendship with roommate Jeff, vowed to fight for Annie.
The young lovers hoped to marry, but of course, Jeff was already married to Heather, who had been committed to Forest Hills Sanitarium, and as long as she was institutionalized, divorce was impossible for five years. Annie had agreed to spend the night with Jeff, but her strong principles prevented her from finally consumating their relationship, and an understanding Jeff agreed to wait.
Heather, who eventually emerged from her delusional state, faked catatonia and escaped from the Sanitarium. With fierce determination, she headed for the Hardy's where, looking through the window, she arrived just in time to see Annie in Jeff's arms. She returned to the sanitarium, but eventually was released.
Her plot to drive Diana insane having failed, Heather turned her scheming to a new plan to remove Diana Taylor and reclaim her son. By stealing a gun from the Webber house and faking hysteria, Heather convinced Lesley, Rick, and Dr. Nelson that she must return to Forest Hills. Only there could she safely carry out her plan to murder Diana Taylor. Once back at the sanitarium, Heather hid the gun in the body of her deeply disturbed friend Sarah's baby doll. Then when the moment was right, she slipped out of Forest Hills and headed straight for Port Charles with murder on her mind. Entering Diana's apartment with a set of stolen keys and drawn gun, Heather stood frozen at the sight of Diana and Jeff, who had been rejected by Annie, making love.
Diana, hoping for a future with Jeff, finally revealed the secret that PJ was actually his son, Steven Lars. Jeff, bewildered and angry that Diana had kept the truth from him for so long, stormed out of the apartment. At wits end, Diana pleaded with him, from the open door, to stay.
Annie, unseen by them, arrived in time to overhear the bitter exchange. Seeing Jeff, then Annie, leave the building, Heather entered for the kill. Within moments, Diana's body lay lifelessly on the kitchen floor. In the final step of her elaborate frame-up, Heather wrote Annie's name, in blood, next to Diana's body. Police Chief Burt Ramsey mounted a clear-cut case against a frightened Annie Logan. However, with the help of Joe Kelly, the case against her was dropped. The killer eventually turned out to be Heather's mother, Alice Grant, who admitted killing Diana to prevent her from murdering Heather. Afraid for her daughter's life, Alice killed Diana while trying to wrestle the gun away from her.
Meanwhile, Jeff finally claimed PJ as his own son, Steven Lars, but fearing for the child's safety from Heather, he felt his only option was to leave town. With a tearful goodbye, Dr. Jeff Webber, his young son in his arms, departed Port Charles in March of 1981, for Carson City, Nevada. He had planned to return to Annie one day, but this was not to be. Eventually Heather received a letter from Jeff asking for a divorce. He had found someone else, and he and his son had started a new life in Nevada, never to return to Port Charles.