TELEVISION CRITICS ASSOCIATION
July 13, 2006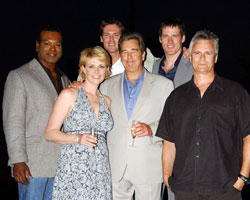 The TCA (Television Critics Association) press tour, an annual media event, was held this week in Pasadena.
The SciFi Channel took advantage of the opportunity to do a little celebrating, and threw a party at the Ritz Carlton Hotel in honor of Stargate SG-1's tenth season and 200th episode.
Richard, accompanied by his daughter Wylie, attended the event with the cast and producers of SG-1.
Below are some pictures of the event.