SEA SHEPHERD 30th ANNIVERSARY BENEFIT
October 13, 2007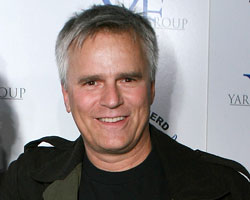 The Sea Shepherd Conservation Society's 30th Anniversary Benefit, "Breaking the Ice," was held on October 13th at the Santa Monica Pier in Santa Monica, California.
The gala event, which featured celebrity guests and Sea Shepherd members from around the world, was an opportunity to celebrate Sea Shepherd's accomplishments over the past 30 years and to raise funds to continue the fight to preserve and protect the world's oceans and marine life.
Richard Dean Anderson, a member of Sea Shepherd's Board of Directors, was among the celebrity guests, which also included fellow Stargate SG-1 actor Beau Bridges as well as Dave Foley, Esai Morales, Jorja Fox, Melissa Joan Hart, Roseanna Arquette, Stuart Townsend, Tom Arnold, and Martin Sheen.
Jennifer Coolidge and Chris Kattan were the M.C.'s for the evening which featured vegan delicacies, musical performances, guest speakers and awards presentations, a video retrospective, and a silent auction featuring donated items including Mick Jagger's autographed guitar, and an autographed electric car. Despite a wet start from heavy rains the night before, the gala evening was a wonderful success.
For information about the Sea Shepherd Conservation Society and how to make a donation, visit the Sea Shepherd website.
Below are some photos from the event.