SAN DIEGO COMIC CON
July 24-27, 2008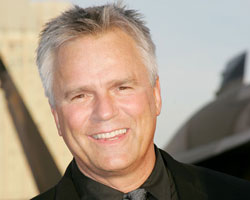 Comic Con International was held this weekend as hundreds of thousands of fans gathered in San Diego to celebrate popular culture, and both "Stargate SG-1" and "Stargate Atlantis" were well represented.
The weekend also saw the premiere of the latest direct-to-DVD movie, "Stargate Continuum," at a star-studded event hosted by the Navy aboard the USS Midway on Thursday evening.
On the red carpet, Richard Dean Anderson joined Stargate celebrities including Amanda Tapping, Michael Shanks, Christopher Judge, Ben Browder, Beau Bridges, writer and executive producer Brad Wright, and director Martin Wood. On Friday, Richard again joined his colleagues for a Stargate panel, and he participated in an autograph session at the Stargate booth, all to promote the release of "Stargate Continuum" on July 29th.
Word from the panel is that a third Stargate movie is already in the works.
Below are some photos from San Diego Comic Con.