RHODE ISLAND COMIC CON
November 3-4, 2018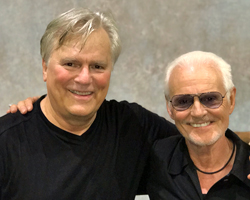 Richard visited New England for the Rhode Island Comic Con held in Providence, Rhode Island.
During the weekend, he greeted fans, posed for photos, signed autographs, and participated in a Question & Answer panel with Michael Des Barres, who had played Murdoc throughout the MacGyver series.
Below are some photos from Richard's visit to Rhode Island.
Note From Rick
Richard traveled to New England a few days early, arriving in Boston on Halloween to spend a few days with his daughter Wylie. The next evening, he sent a brief text.
November 1, 2018

Spent half the day with Wylie, got briefed on all things Wylie-@-college~

Quite the eye opener ~ sobering.

God, I love my kid.

She is so cool!

(room service



) ra
MacGyver Meets Murdoc
Also attending the Rhode Island Comic Con was Michael Des Barres, who had the recurring role as MacGyver's arch nemesis, Murdoc. For the first time since the series ended almost 30 years ago, MacGyver and Murdoc were reunited, and Michael Des Barres shared the iconic moment on social media, posted here with his permission.
Note From Rick
November 6, 2018
Following the convention, Richard spent more time in Boston. As he made his way back home on Tuesday, he began sharing some of his photos, including new selfies and experimental works of art, which arrived without caption or explanation.
Later, the story of the MacGyver figures came to light when the artist discovered that Richard had posted his photographs of them, and he wrote to share his experience. A toy maker/artist/writer from New York by the name of Shinjo had created figures of MacGyver and of Murdoc designed to look like the vintage toys of the 1980s and 90s. He created two sets, one to present as a gift to each actor, and one to have autographed for himself. At the Rhode Island convention, both Richard Dean Anderson and Michael Des Barres were completely moved by the gesture and by his talent, so much so that Michael shared his gift on Instagram, and Richard took several photos to share on his website. Shinjo also shared a photo of his autographed figures.