USC QUENCH THE FIRE
December 2, 2007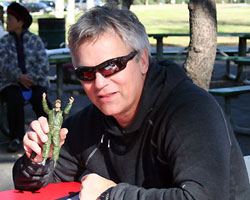 On December 2, the University of Southern California School of Medicine hosted the 1st Annual Quench the Fire 5K Run & Walk at the El Dorado Regional Park in Long Beach, CA. The proceeds from the event benefited the USC Pain Center at the Keck School of Medicine at USC in its goal to raise awareness of neuropathic and other chronic pain conditions such as Reflex Sympathetic Dystrophy. The funds raised will be directed for clinical research and trials, patient education, and community outreach events. Reflex Sympathetic Dystrophy Syndrome (RSD), also called Complex Regional Pain Syndrome (CRPS), is a chronic neurological disease affecting an estimated 1.5 to more than 6 million Americans. To learn more about chronic pain conditions or to make a donation, visit the USC Quench the Fire website.
Richard's doctor has been associated with the USC Pain Center, and in support of the work they are doing there, Richard made an appearance at the event as a guest emcee. He addressed the crowd before the race began, and he helped to announce the winners of the race and the raffle. He also mingled with fans (and dogs), posed for pictures, and signed autographs.
Below are some photos from the event.