COMIC-CON PRAGUE
April 15-16, 2023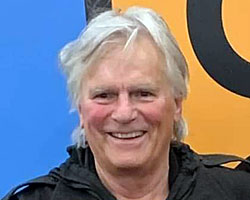 Richard continued his convention travels this weekend by visiting Comic-Con Prague in the Czech Republic.
His convention appearance there included a Meet & Greet with fans, Question & Answer panels on Saturday and Sunday, and daily autograph sessions and photo ops.
Below are some photos from Comic-Con Prague.
Question & Answer Panels
On Saturday, April 15th, Richard joined Corin Nemec for a Stargate Question & Answer panel. On Sunday, April 16th, Richard returned to take fans' questions during a solo panel. Video of both panels has been posted by Simone Casper CZ here.
Richard's Messages
Before the convention began, Richard shared some of his own photographic impressions of Prague in the rain.
After the convention, Richard shared two more of his own pictures from his visit to Prague, including the Comic-Con poster and a photo of his ketchup/mustard masterpiece.