SUMMER VACATION
August 18, 2007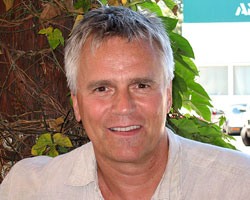 Richard chatted over coffee and caught up with some of the busy events and travels of his summer. In addition to his road trip up the California coast, he also returned briefly to Minnesota and took the opportunity to revisit his old neighborhood in Roseville while he was there.
As summer vacation was beginning to wind down, Richard and Wylie took advantage of one last opportunity for some "away time" and booked a spur of the moment trip to Hawaii. There they spent several days at their favorite water park and had a fabulous time. On Maui they met up with Robert F. Kennedy Jr. and several of his children, and they all spent the days together enjoying the sun, the rides, the scenery, and the ocean.
While they were snorkeling, Richard and Bobby came upon a sea turtle that had been caught by a large hook. They had hoped to rescue the turtle, and swam after it to try to capture it and remove the hook, but unfortunately it was too elusive and managed to evade them, so they were not able to reach it. Wylie, meanwhile, loved her snorkeling experience, and even let go of her daddy's hand to explore on her own.
They returned to Los Angeles on Friday night, and on Saturday morning both were in Malibu where Wylie was taking her tap dancing lessons and impressing her dad with her new routines. Afterward, looking tanned and happy, Richard posed for some pictures. The final picture was taken by Wylie.