FEDCON XXI DÜSSELDORF
May 17-20, 2012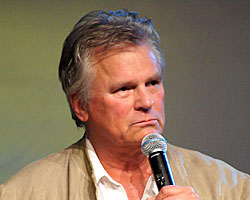 Richard was among the guests from the world of science fiction who attended the FedCon XXI convention at the Hotel Maritim in Düsseldorf, Germany. During the weekend, he addressed fans' questions in several panels, posed for photos, and signed autographs.
Richard's appearance at the convention was in support of the Sea Shepherd Conservation Society, and Paul Watson, founder of Sea Shepherd, was scheduled to join him during the weekend. However, Paul was detained by German authorities due to an earlier Sea Shepherd campaign in Costa Rica, and fans and supporters were encouraged to voice their support for his release. More information about Paul's arrest and ways to voice support can be found on the Sea Shepherd Conservation Society website.
Below are some pictures from the event.
Question & Answer Panels
During the weekend, Richard participated in a press conference, posed for photos, signed autographs, and appeared in Question & Answer panels.