DUTCH COMIC CON UTRECHT
November 24-25, 2018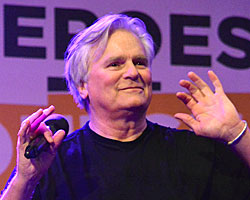 Richard returned to Europe to attend the Dutch Comic Con held at the Jaarbeurs in Utrecht, Netherlands.
During the weekend, he participated in a few brief interviews in which he spoke especially of MacGyver's enduring popularity, he greeted fans, posed for photos, signed autographs, and participated in Question & Answer panels.
Below are some photos and media appearances from Richard's visit to Dutch Comic Con.
Entertainmenthoek
Richard visited with Immy Verdonschot of the Dutch entertainment program "Entertainmenthoek." During the interview he spoke about the longevity of his roles and the enduring legacy of his MacGyver character.
Entertainmenthoek - November 25, 2018
Video is available in the Video Gallery c/o Entertainmenthoek.
November 24-25, 2018 - Dutch Comic Con
Throughout the weekend, Richard participated in panels and meetings with fans, signed autographs, and posed for pictures.