DRAGON*CON ATLANTA
August 31 - September 3, 2012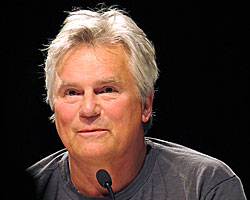 Richard was among the many stars attending the multi-media popular culture convention Dragon*Con in Atlanta this year. His appearance included two panels, one on his own and one with other stars of the Stargate franchise, as well as autograph sessions and photo-ops with fans.
To coincide with Richard's visit to Georgia, the City of Atlanta proclaimed September 1, 2012 as "Richard Dean Anderson Day" in recognition of his many accomplishments over the years.
At the awards banquet that evening, Michael Bond, the son of Julian Bond, a leader in the American civil rights movement, presented Richard with the official Proclamation declaring his special day, and fellow Stargate alum Robert Picardo serenaded him with "You Are My Sunshine" in humorous tribute.
Below are some photos from the Dragon*Con weekend.
Question & Answer Panels
During the weekend, Richard posed for photos, signed autographs, participated in two Question & Answer panels, and was recognized for "Richard Dean Anderson Day."