GILLETTE & MACGYVER AT CARNIVAL IN BRAZIL
February 15-17, 2012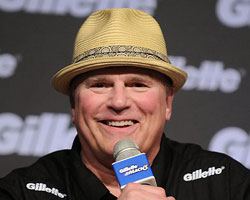 Richard's first visit to Brazil was a spectacular one. Invited by Gillette to promote the personal hygiene, beauty, and home care products of Gillette and Procter & Gamble, Richard attended Carnival in Salvador, Bahia, Brazil as part of the "Gillette Mach 3, the MacGyver of the Carnival" event.
On Wednesday, February 15th, Richard attended a press conference at the Amado Bahia Restaurant in Salvador where he was joined by André Marques, host of "Video Show," as well as singer Michel Teló, a fan of MacGyver since childhood, and Lelys Durval, the lead singer of the Brazilian band Asa de Águia, who enjoys a reputation as the "Brazilian MacGyver" because of his habit of always carrying a pack with essential items. Richard also learned about "abadá," a Mardi Gras tradition, as he accepted the challenge to customize a T-shirt from the band Asa de Águia using a Swiss army knife.
On Thursday, February 16th, Richard participated in the opening day of the Bahian Carnival by joining Lelys Durval and Michel Teló on a float through the streets of Salvador. From his unique vantage point, he found himself caught up in the performances as he greeted the crowds and took photos on his cell phone.
Below are some pictures from Richard's visit to Carnival in Brazil.