BALTIMORE SHORE LEAVE 36
August 1-3, 2014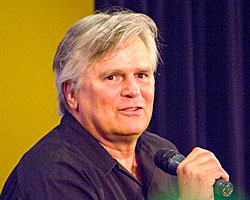 Richard's convention appearances brought him to the Middle Atlantic States for the first time when he became a guest at Shore Leave 36 in Baltimore, Maryland during the first weekend in August. As usual, he signed autographs and posed for pictures with fans, and he participated in two question and answer panels.
The convention fell on his daughter Wylie's 16th birthday, and so during his first panel on August 2nd, he used his phone to make a video of the entire audience singing "Happy Birthday" to Wylie, which he then emailed to her for the occasion. During his second panel the following afternoon, he shared with the audience Wylie's enthusiastic response.
Below are some photos from Richard's visit to Shore Leave in Baltimore.