OZ COMIC-CON MELBOURNE 2014
July 5-6, 2014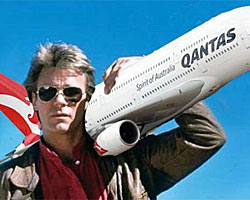 Richard's journey to Australia began with a flight on Qantas Airlines, scheduled to leave Los Angeles on Tuesday evening for Melbourne. However, a major mishap occurred on board the flight, prompting Richard to send an email early Wednesday morning:
July 2, 2014

Well, this is something! Three hours out, over the Pacific Ocean, a main water pipe snapped and gushed 70% of ALL water on board, down the galley wall, creating a raging river that ran the length of the BRAND NEW A-380-600 Air Bus, forcing the plane to turn around and return to Los Angeles... Which is where I am now.

Qantas is putting us up in a hotel until our replacement flight takes off later tonight from LAX, arriving Melbourne very early, Aussie time.

One word: OMG !!!
Despite his interrupted travel plans, Richard was able to arrive safely in Melbourne, Australia on Friday, July 4th, slightly more than a day behind schedule. He still had the opportunity to make a few media appearances on the day he arrived, before taking part in Oz Comic-Con at the Royal Exhibition Building in Melbourne over the weekend.
Below are some of Richard's media appearances for Oz Comic-Con in Melbourne.
GOLD 104.3 - "Brig & Lehmo for Breakfast"
About a week before he was due to arrive in Melbourne for Oz Comic-Con, Richard chatted by phone from Los Angeles with the Australian morning talk show "Brig & Lehmo for Breakfast" on GOLD 104.3 radio. A portion of the full radio interview was made available online as a 'best bits' podcast.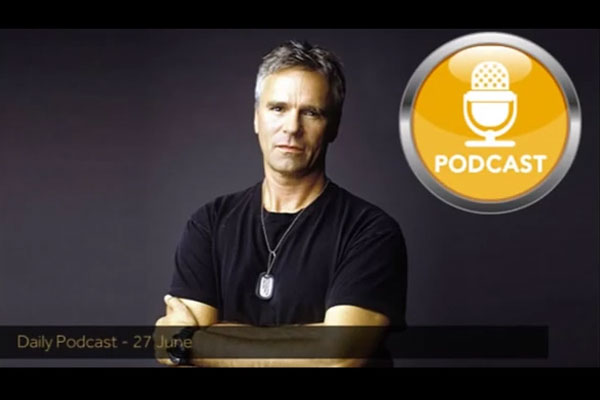 Brig & Lehmo for Breakfast - June 27, 2014
Audio is available in the Video Gallery c/o Brig & Lehmo.
TENplay - "The Project"
On the same day that he arrived in Melbourne, Richard joined the panel of the evening news and entertainment program "The Project" to talk about his legacy as MacGyver, and about the interrupted Qantas flight that had brought him to Australia.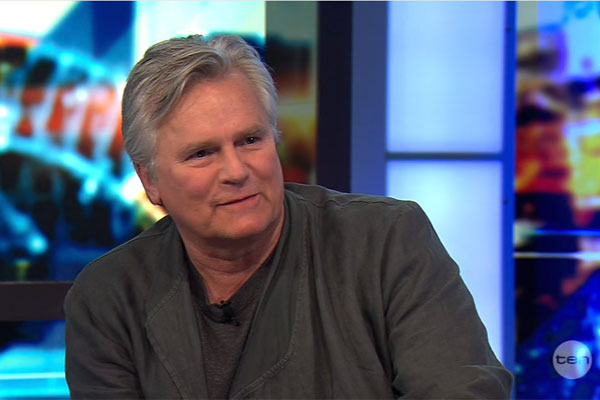 The Project - July 4, 2014
Video is available in the Video Gallery c/o The Project.
Herald Sun
The Herald Sun, a Melbourne newspaper, spoke with Richard during the convention.
Herald Sun
By Luke Dennehy for Confidential
July 5-6, 2014
Richard Dean Anderson aka Eighties Hero MacGyver Looks Back on the Show That Made Him a Star
Richard Dean Anderson, otherwise known as MacGyver, says he has only fond memories about the 80S show that made him a worldwide star.
Anderson is in Australia for the Oz Comic-Con event and spoke to Confidential in-between signing autographs for hundreds of fans at the event in Melbourne.
"I had so much fun doing the show," he said, of the show which ran from 1985-1992. "I was equally as proud of the success we had, especially with family and kids."
Anderson said the show was in a different era of television and something that is rare these days - a non violent action hero.
"MacGyver was the epitome of the eighties television show," he said. "We pretty much found the need for families to have a TV hero that was solving problems without killing anyone."
MacGyver has had many references on The Simpsons, as Patty and Selma are his biggest fans.
Anderson said the nods to the character he played were an honour.
He is now used to the recognition he gets everywhere he goes.
"I'm still this midwest boy from Minnesota, but I've made peace with the notoriety and the celebrity that comes with the business," he said.
Anderson said he loved coming to such an event, and he is particularly fond of Australians.
"It's a nice slice of humanity you have over here," he said.
"I love Australia. I keep coming back whenever I'm invited, I would love to come here for a proper holiday."
The Oz Comic-Con event was a massive success on the weekend, with thousands queuing around the block to get in through the two days.
A similar Sydney event for Oz Comic-Con is planned for mid-September, with Star Trek legend William Shatner scheduled to appear.
Oz Comic-Con July 5-6
In addition to completing interviews with the local media, Richard met with fans to pose for pictures, to sign autographs, and to participate in Question & Answer panels.