CONTINUUM SHOOTING IN THE ARCTIC
March 23-29, 2007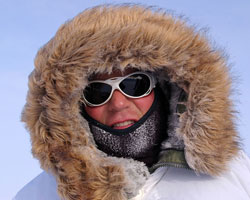 At the invitation of the US Navy, a Stargate production team and several members of the cast, including Richard Dean Anderson, Ben Browder, and Amanda Tapping, headed north to shoot several scenes of the upcoming movie, Stargate Continuum, at the US Navy's Applied Physics Laboratory Ice Station (APLIS).
The facility, located on the Arctic ice approximately 200 nautical miles north of Prudoe Bay, Alaska, provided spectacular, if frigid, outdoor environments including the US Navy submarine USS Alexandria (SNN-757).
One of the most visually stunning and dramatic scenes to be filmed at the location involved the submarine as it burst through the ice and into the cold Arctic air with temperatures hovering around 50 degrees below zero.
Below are some pictures of the cast and crew as they filmed the newest Stargate movie at the top of the world.