EMERALD POINT N.A.S.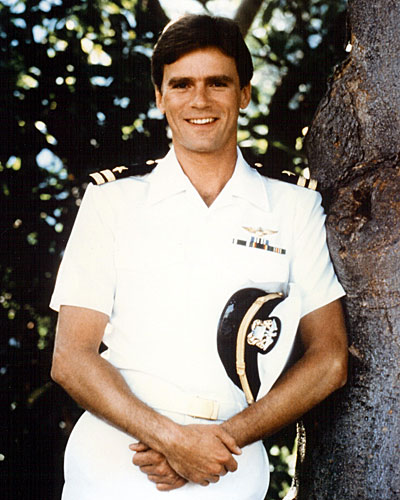 CBS Television Series
Airdate: 1983-1984
Role: Lt. Simon Adams
Cast:
Dennis Weaver as Rear Admiral Thomas Mallory
Maud Adams as Maggie Farrell
Jill St. John as Deanna Kincaid
Andrew Stevens as Lt. Glenn Matthews
Charles Frank as Lt. Cmdr. Jack Warren
Richard Dean Anderson as Lt. Simon Adams
Sela Ward as Hilary Adams
Doran Clark as Ensign Leslie Mallory
Stephanie Dunnam as Kay Mallory Matthews
Susan Dey as Celia Mallory Warren
Patrick O'Neal as Harlan Adams (1983)
Robert Vaughn as Harlan Adams (1983-1984)
Robert Loggia as Adm. Yuri Bukharin
Michael Carven as Lt. Alexi Gorichenko
Michael Brandon as David Marquette
Created by: Richard and Esther Shapiro
Executive Producers: Richard and Esther Shapiro and Michael Filerman
Producer: Freyda Rothstein
Music by: Bill Conti
A Richard and Esther Shapiro Production in association with
Twentieth Century-Fox Television
Broadcast on CBS Television
First Telecast: September 26, 1983
Last Telecast: March 12, 1984
Episode Guide
Created by the same team that brought Dynasty to television, this serial drama, set on the southern Naval Air Station of Emerald Point, centers around the relationships of two powerful families headed by Rear Admiral Thomas Mallory (Dennis Weaver), commander of the base, and Harlan Adams (Patrick O'Neal/Robert Vaughn), a ruthless industrialist. Richard Dean Anderson plays Lieutenant Simon Adams, son of Harlan Adams, an exceptional Navy pilot who is highly thought of by the Admiral.
Video of Richard's appearance is available in the Video Gallery
EMERALD POINT N.A.S.
Excerpt from:
Brooks, Tim, and Earle Marsh. The Complete Directory to Prime Time Network And Cable TV Shows, 1946-Present. 6th ed. New York: Ballantine Books, 1995.
The interlocking worlds of the military and big business provided the backdrop for this prime-time soap opera. Commanding officer at the Emerald Point Naval Air Station was Admiral Thomas Mallory, a widowed career military man with three beautiful young daughters -- Celia, married to brilliant military lawyer Jack Warren; Kay, who in midseason wed Glenn Matthews, a former pilot who had been discharged from the navy after being convicted of manslaughter; and youngest daughter Leslie, recently graduated from Annapolis. The local business magnate, appropriately unscrupulous, was Harlan Adams, president of Adams Industries. Harlan's son, navy pilot Simon Adams, was as honorable and good as his father and sister Hilary were bad. There was the usual mix of maneuvering for power, sleeping around, and horrible revelations about flawed characters and hidden pasts, along with the intrigue added by the military setting. Admiral Mallory's bitchy but beautiful sister-in-law, Deanna Kincaid, who wanted power and wealth, had her heart set on marrying Harlan. In the meantime she got involved with KGB spy Yuri Bukharin and when caught by naval intelligence, became a double agent. The love life of Admiral Mallory was shared with Maggie Farrell, the liaison between the town's military affairs council and the naval base. She and Mallory, who were good friends at the start of the season, were about to be married at its end. The wedding never took place, however, since she was kidnapped by a mentally disturbed David Marquette in the cliffhanger season-ending episode. Since the series was not renewed, viewers never did find out what happened.
EMERALD POINT N.A.S.
Excerpt from:
TV Guide
Fall Preview Issue
September 10, 1983
Richard and Esther Shapiro, the creators of Dynasty, have grown wealthy on the premise that life is just a bowl of serial. This one is set somewhere on the coast of the Southern US, at the Emerald Point Naval Air Station. The man in charge is Rear Adm. Thomas Mallory (Dennis Weaver), a widower and the father of three daughters. Celia, 28 (Susan Dey), hates the Navy but is married to a Navy lawyer who likes it. Kay, 24 (Stephanie Dunnam), has eyes for a handsome young pilot, Glenn (Andrew Stevens), who -- alas -- is engaged to Hilary Adams (Sela Ward), a calculating chameleon who happens to be Kay's best friend. Then there's the youngest daughter, Leslie, 22 (Doran Clark), who has made Dad proud by graduating from Annapolis. In the pilot script there are various seductions, one murder and an indecent pinch of a tavern maid. You won't be watching it over breakfast, but this is a hot serial. Steamy, you might say.
EMERALD POINT N.A.S.
Excerpt from:
TV Guide
Review by Robert MacKenzie
January 7, 1984
They "get to flying around up there and nothing but the scent of female flesh will bring them down." That was a line in the premiere of this CBS series about life at a naval air station. Some viewers must have bailed out then and there, but I know my duty.
Actually, the flyboys of Emerald Point NAS hardly ever get off the ground, what with all that female flesh thrashing about. Now and then there's a flying sequence, but most of the maneuvers are of the bedroom variety. This is what the networks like to call a "continuing nighttime drama", in other words, a soap, and almost any Emerald Point character could walk into Dynasty or Falcon Crest and be out the other side before anyone noticed.
By the unbreakable law of soap drama, we start with two prominent families, headed by Dennis Weaver and Robert Vaughn -- both playing characters conveniently single and with concupiscent offspring. Weaver plays Tom Mallory, who commands the base, but his big job is coping with the romantic adventures of his three beautiful daughters.
When I last tuned in, daughter Leslie (Doran Clark), an officer herself, was in love with a Soviet aide. Mallory doesn't like his daughter fooling with a Russki, but she blurts, "He's still a human being, with feelings and desires." Daughter Kay (Stephanie Dunnam) was in love with a handsome young pilot named Glenn (Andrew Stevens) and daughter Celia (Susan Dey) was divorcing her husband, Jack (Charles Frank), a Navy lawyer, because she's in love with another young pilot, Simon (Richard Dean Anderson). Are you still there?
Simon is the son of Harlan Adams (Vaughn), a businessman who makes shrewd deals. Harlan also has a daughter, Hilary (Sela Ward). Every soap requires at least one Conniving Witch. Emerald Point has two: Hilary, who is scheming to get Glenn away from Kay, and Deanna (Jill St. John), who wants to marry Harlan and doesn't care how she manages it. In the witch category, Hilary and Deanna seem a pretty good match; Deanna is blackmailing Hilary with sex tapes, in which Hilary appears with a man Glenn was accused of killing in a fight.
If you've followed me this far, you must be exhausted. But regular viewers are, I'm sure, pulsating with suspense. Will Celia become a hopeless alcoholic? Will Glenn find out about Hilary and the tapes? Will Maggie (Maud Adams) find her MIA husband or settle for Mallory? Will Jack find out about the time Celia and Simon spent the night in the haystack? Where do they find these haystacks?
Emerald Point has its points. Weaver is credible as Mallory, a decent cuss, weary but doggedly ethical. Sela Ward is straining at her witch mannerisms, but she has nice, disdainful eyebrows. The actors are all attractive, and there's an occasional, exhilarating burst of airplane action.
But mainly this is an attenuated sexual saga, clotted and rubbishy, and not to my taste. This may be a deficiency in me; I can stay mildly interested in my own love life, by concentrating, but can't work up much enthusiasm for anyone else's. If vicarious gropings in haystacks pep up your evening, welcome to Emerald Point NAS.
EMERALD POINT N.A.S.
Episode Guide
September 26, 1983
EMERALD POINT N.A.S.
Pilot Episode #1 & 2 (#2K01 & #2K02) (2 hours)
In the premiere episode, the Admiral must contend with present and future problems relating to the incursion of a Navy aerial exercise by a Cuban aircraft and the subsequent mid-air collision that sends Lt. Simon Adams and the Cuban flyer into the drink. He also has an encounter with his old friend and sometimes adversary, Harlan Adams, while seeking a thousand acres from the City Council for an additional base runway. Adams controls the Council and is opposed to giving up the land. The Admiral then becomes involved in a serious off-the-base problem when Lt. Glenn Matthews is arrested on suspicion of murder. The death of the victim, a young man named Jeremy, vitally involves not only Matthews but his finacee, Hilary Adams, and the Admiral's daughter, Kay, as well.
Written by: Richard and Esther Shapiro
Directed by: Harry Falk
Guest Starring: Joel Bailey as Jeremy Novak, Macon McCalman as Harry Bogard, Randy Brooks as Ben Eastman, Richard Eden as Christopher Bailey, Judy Baldwin as Sally, Bever-Leigh Banfield as Yeoman Kelly, Michael Gates as Lt. Phillip Lewis, Matt George as Lt. Jonathan Scott, Peter Marc as Lt. Alex Newman, Michael John Meyer as Lt. Martin Whitely, Glenn Morrissey as Lt. Donald Griffin, Richard Pierson as Lt. William Peyton
October 3, 1983
EPISODE NO. 3
Episode #3 (#2K03)
Admiral Mallory is informed by Admiral Goddard that a formal protest had been filed over the interdiction episode occasioned by the Cuban pilot who had caused young Lt. Simon Adams to crash during an aerial exercise. Now, it seems the Russians have indicated that they want to unofficially explore new rules to govern such situations. The talks are to be classified to avoid publicity and the Russian admiral, one Yuri Bukharin, will ostensibly be visiting Emerald Point's Naval Air Station as part of a delegation for cultural and informational exchange. Meanwhile, Lt. Glenn Matthews has been released to the custody of the Navy to await court-martial as a suspect in the killing of Jeremy Novak. Celia's husband, lawyer Lt. Commander Jack Warren, is mounting his defense of the young flier and is pushing hard to determine if Matthews had any motive for killing Novak.
Written by: Charles and Patrick Dicenzo
Directed by: Larry Elikann
Guest Starring: Randy Brooks as Ben, Richard Eden as Christopher, Bruce Gray as Adm. Goddard, James Karen as Adm. Lovell
October 17, 1983
EPISODE NO. 4
Episode #4 (#2K04)
Jill St. John makes her debut as series regular Deanna Kincaid, an ambitious Navy wife and sister-in-law to Rear Admiral Thomas Mallory. Deanna shows up as an unexpected guest at Adm. Mallory's reception for visiting Russian Admiral Yuri Bukharin and immediately makes her presence known. It's soon apparent that her brother-in-law is none too pleased by her appearance. The reception is a momentary respite for the two admirals who have begun their serious, though unofficial, talks on how best to avert future aerial incidents that could plunge the world into tragedy. It's obvious that there is little love lost between the two antagonists. There is also unexpected tragedy that strikes the Warren family just at a time when Lt. Commander Jack Warren is about to begin his court-martial defense of Lt. Glenn Matthews who has been accused of killing Jeremy Novak in a drunken brawl. The case has taken a decided turn for the worse when a witness is located who is prepared to testify that Matthew's fiancee, Hilary Adams, had indeed been having an affair with the deceased. Warren knows only too well that such testimony would provide a clear case of motive for the accused.
Written by: Ronald Cowen and Daniel Lipman
Directed by: Bill Duke
Guest Starring: Richard Eden as Christopher, Glenn Morrissey as Don, Grainger Hines as Rick Logan, Curtis Taylor as Man, Alexandra More as Matron
October 24, 1983
EPISODE NO. 5
Episode #5 (#2K05)
Celia Warren miscarries and the shock of her loss is compounded by her husband's vague suspicions that it might not have been an accident. Lt. Commander Jack Warren is torn by his responsibilities to his wife and to Lt. Glenn Matthews, the young Navy pilot he is defending against charges of murder. Meanwhile, Hilary Adams is frightened when Lt. Commander Edwards, a member of the Traial Counsel, asks about her relationship with the murdered Jeremy Novak and informs her that she will be summoned to appear at the court-martial.
Written by: Joyce Armor and Judie Neer
Directed by: Robert Becker
Guest Starring: John Rubinstein as Lt. Comm. Edwards, William Smith as Col. Willie Shell, Eleanor Mondale as Dance Instructor
October 31, 1983
EPISODE NO. 6
Episode #6 (#2K06)
The court-martial of Lt. Glenn Matthews comes to a "boiling point" when his fiancee, Hilary Adams, and the Admiral's daughter, Kay Mallory, both take the stand to give crucial testimony. Meanwhile, Celia Warren confesses to her father that she'd asked her husband, Lt. Commander Jack Warren, to leave her. She can't stand the thought that he suspects her in the loss of their aborted child. Rear Admiral Thomas Mallory is also still engaged in the heated talks with Russian Admiral Bukharin on how to resolve their respective countries' differences in handling aerial incidents. And power broker Harlan Adams finalizes his agreement with soldier of fortune Willie Shell to discover what really happened to Captain Farrell, Maggie Farrell's husband, who has been missing-in-action in Vietnam for ten years.
Written by: Robert Schlitt
Directed by: Nick Havinga
Guest Starring: John Rubinstein as Lt. Comm. Edwards, William Smith as Willie Shell, John Bennett Perry as Joe, Judy Baldwin as Sally, Richard Eden as Christopher, Glenn Morrissey as Don, William Boyett as Judge, Daniel Ruark as Master at Arms, Bever-Leigh Banfield as Yoeman Kelly, John Martin as Bartender, Michael John Meyer as Lt. Whitely
November 7, 1983
EPISODE NO. 7
Episode #7 (#2K07)
Lt. Glenn Matthews awaits the fate of his Naval career as the court-martial comes to an end and the startling verdict is handed down. Harlan Adams introduces Maggie Farrell to ex-Marine Lt. Col. Willie Shell, the man he'll send into the jungles of Vietnam to determine the actual fate of Maggie's husband if she'll only say the word. Admiral Thomas Mallory knows Shell and is against all the plans of a man he considers a rogue officer. He also suspects Adams' true motives and advises Maggie not to pin her hopes of finding her husband, a downed pilot officer who had been missing for ten years, on Shell. The Admiral also continues to be concerned about Leslie's growing interest in the young Russian Lieutenant, Alexi.
Written by: Robert Schlitt
Directed by: Nicholas Sgarro
Guest Starring: John Rubinstein as Lt. Comm. Edwards, William Smith as Willie Shell, Richard Eden as Christopher, Glenn Morrissey as Don, William Boyett as Judge, Daniel Ruark as Master at Arms, Darryl Cooksey as Scott Farrell
November 14, 1983
EPISODE NO. 8
Episode #8 (#2K08)
Adm. Thomas Mallory goes to bat for ex-Lt. Glenn Matthews who has been discharged from the Navy following his manslaughter court-martial conviction in the death of Hilary's lover. The Admiral prevails on Harlan Adams to give Matthews a flying job with his company in spite of the fact that the discharged officer had broken off his engagement to Hilary Adams. Meanwhile, Hilary is alarmed when Rick Logan, a friend of the deceased Jeremy Novak, contacts her with a blackmail threat that can't be ignored. It seems he has a tape of her encounter with Novak, a tape that would destroy her reputation. Maggie Farrell's hopes are high with the knowledge that ex-Lt. Col. Willie Shell is now on his way to Thailand on the first leg of discovering if her husband is alive and a secret prisoner of the North Vietnamese. And Lt. Simon Adams and the Russian Lieutenant, Alexi, have a showdown on the track during an exciting 400 meter dash that has unsuspected international import.
Written by: Ronald Cowen and Daniel Lipman
Directed by: Alexander Singer
Guest Starring: Grainger Hines as Rick Logan, William Smith as Willie Shell, John Callahan as Jim Travers, Lee Ryan as Starter
November 21, 1983
EPISODE NO. 9
Episode #9 (#2K09)
Russian Lt. Alexi Gorichenko, torn by his growing affection for Ensign Leslie Mallory, formally requests to be returned to Moscow. Meanwhile, Hilary Adams is desperate when she can't meet blackmailer Rick Logan's $20,000 demand for the incriminating tapes of her encounter with the dead Jeremy Novak. However, Deanna Kincaid discovers Hilary's plight and agrees to help her for an unusual price. Celia Warren continues, again with Deanna's help, to make formal plans to divorce Lt. Comm. Jack Warren, and ex-Navy pilot Glenn Matthews asks Kay Mallory to marry him.
Written by: Margaret Armen
Directed by: Robert Becker
Guest Starring: Grainger Hines as Rick Logan, Darryl Cooksey as Scott Farrell, Bever-Leigh Banfield as Yeoman Kelly, Philip Sterling as Hurley, Michael Dorn as Control Operator, Richard Partlow as Police Officer, Dale Tarter as Bartender
December 5, 1983
EPISODE NO. 10
Episode #10 (#2K10)
Rear Admiral Thomas Mallory is given a top secret assignment after learning the true identity of his Russian guest, Adm. Bukharin. Also, Jack Warren firmly announces that his marriage to Celia is definitely over when she turns up with Lt. Simon Adams after being missing all night and driving her family frantic. Glenn Matthews is also making his presence felt at the Adams Industries when he comes up with an idea to make Harlan Adams even richer. And Tom Mallory brings Maggie Farrell up-to-date on her missing husband by showing her a now declassified secret file that covers all that the Navy knows about the downed Vietnam flier. Robert Vaughn joins the regular cast in this episode assuming the role of Harlan Adams, previously portrayed by Patrick O'Neal.
Written by: Joyce Keener
Directed by: Jeff Hayden
Guest Starring: Bruce Gray as Admiral Goddard, John S. Ragin as Admiral Lovell, Patty Dworkin as Star, Lawrence Bame as Justice of the Peace
December 12, 1983
EPISODE NO. 11
Episode #11 (#2K11)
Adm. Thomas Mallory comforts Maggie Farrell, a now grieving widow, as the Navy conducts a formal burial service for the returned remains of Captain Martin Farrell. Celia Warren moves out of her father's home and takes up residence at the beach while awaiting her divorce from Lt. Commander Jack Warren. Meanwhile, Jack confides to Celia that he's now going to leave the Navy for personal reasons. Leslie Mallory continues her romance with Russian Lieutenant Alexi, although she knows the relationship is doomed from the start. And Hilary Adams serves notice that although Glenn Matthews is now married to the former Kay Mallory, she hasn't given up on her campaign to win him back. She stows away aboard Glenn's plane when he's ordered to fly a company mission to a small island near Nassau.
Written by: Kathleen A. Shelley
Directed by: Sheldon Larry
Guest Starring: William Smith as Willie Shell, Darryl Cooksey as Scott Farrell, Phillip Clark as Matt Peterson, Whit Bissell as Sidney, Nataraj Watkins as Sandy, Gary Hudson as Tony, Quinn Hawley as Chaplain, Bernard Eberlein as Officer-in-charge
December 19, 1984
THE RESCUE
Episode #12 (#2K12)
An all out search is launched to find Glenn Matthews and Hilary Adams when it seems certain their plane has gone down somewhere at sea. Meanwhile, Deanna Kincaid arranges a secret meeting between Harlan Adams and the blackmailer, Rick Logan, to make final arrangements to buy back the incriminating tapes that threaten the reputation of Harlan's missing daughter, Hilary. However, that becomes the least of Harlan's problems. Also, Deanna's strange relationship with the Russian admiral, Bukharin, takes on a threatening note as she begins to realize the extent of her bizarre involvement. And then there's David Marquette, a writer and son of an old friend of Admiral Mallory who shows up to make quite an impression on Maggie Farrell and her son, Scott. Michael Brandon joins the regular cast as David Marquette.
Written by: Stephen Black and Henry Stern
Directed by: Peter Levin
Guest Starring: Darryl Cooksey as Scott Farrell, H.M. Wynant as Paul Ackerman, Grainger Hines as Rick Logan, George McDaniel as Marty,
January 2, 1984
HIDE AND SEEK
Episode #13 (#2K13)
Admiral Mallory and Naval Intelligence are deeply concerned at the breach of Adams Industries security system and so are co-conspirators Deanna Kincaid and Russian Admiral Yuri Bukharin. Glenn Matthews also rejects Jack Warren's offer to move for a new court martial in an effort to clear his good name and restore his Navy commission. And when Kay confronts Hilary Adams in an effort to enlist her help in gaining information for a new trial, Glenn becomes furious. Meanwhile, Harlan Adams reveals that he knows Hilary's dark secret. Hilary blames Deanna for telling her father and resents the fact that she has also moved into the Adams home as Harlan's "woman." Leslie and Russian Lt. Alexi's passion for one another continues to grow as does their confusion as to what the future holds for them. And Maggie Farrell learns for the first time how much she means to Tom Mallory.
Written by: Eugene Price
Directed by: Karen Arthur
Guest Starring: Darryl Cooksey as Scott Farrell, Christopher Coffey as Ed Wilson, Drew Snyder as Malcolm Endicott, Marsha Haynes as Christine, Dah-Ve Seigler as Little Girl
January 9, 1984
THE ASSIGNMENT
Episode #14 (#2K14)
Lt. Simon Adams suffers jet aircraft "flame-out" during Naval maneuvers with tragic results for his flying partner. Also, the problems of the storm-tossed love affair between Ensign Leslie Mallory and Russian Lieutenant Alexi reach a dramatic climax when the lovers learn that the young Russian officer has been ordered home. And Deanna Kincaid, now fearing for her own safety at the hands of co-conspirator Admiral Yuri Bukharin, must take drastic action to complete her espionage assignment and protect her identity from becoming known to Naval Intelligence.
Written by: Stephen Black and Henry Stern
Directed by: John Patterson
Guest Starring: Darryl Cooksey as Scott Farrell, Christopher Coffey as Ed Wilson, Cameron Young as Phil Baines, Sherry Hursey as Cindi Baines, Robert Rockwell as Mr. Wallace, Gloria Henry as Mrs. Wallace
January 16, 1984
SECRETS
Episode #15 (#2K15)
Glenn Matthews forces Harlan Adams to make him a vice president of Adams Industries but the news only distresses his wife, Kay, and even more so when Adams names Hilary Adams as his new assistant. Lt. Simon Adams' grief over the death of fellow officer Phil Baines is aggravated when Cindi Baines, Phil's widow, blames him for causing her husband's death. Her charge devastates the young officer. Meanwhile, Adm. Thomas Mallory accompanies the lovely Maggie Farrell to Washington D.C. where it becomes increasingly evident that he's becoming quite serious about their relationship. Maggie is also the object of newcomer David Marquette's intimate attentions and he asks for permission to write her life story. Leslie and Russian Lt. Alexi continue to agonize over the problems generated by their romance, with the latter now more determined than ever to defect to America. However, Jack Warren tells Leslie that such a move would be most difficult if not impossible.
Written by: Michael Russnow
Directed by: Ernest Pintoff
Guest Starring: Christopher Coffey as Ed Wilson, Sherry Hursey as Cindi Baines, Karen Machon as Liz Chambers, Ann Dusenberry as Betsy, Steven Whiteford as Billy, B.J. Davis as Charlie, Walter Smith as Walter, Jim Ishida as Mr. Okida, Dian Kobayashi as Mrs. Okida, Robert Parucha as Mark Tanner, Dale Tarter as Mel Vanders, Chad Hayes as Waiter
January 30, 1984
DISGUISES
Episode #16 (#2K16)
Admiral Mallory is shaken when undercover Navy agent Jack Warren suggests that Deanna Kincaid, the Admiral's sister-in-law, is the American traitor working with the KGB. Lt. Simon Adams also appeals to the Admiral for a chance to fly again after being grounded several days because of the untimely death of his navigator, Phil Baines. He's assigned to a reconnaissance squadron but on his first flight the specter of Baines' death engulfs him as he attempts a carrier landing. Celia is also beside herself with fear as Simon again takes to the sky. Meanwhile, Harlan Adams confides in his daughter, Hilary, that he's out to subvert Glenn Matthews with the stuff of the "good life" in order to bend the ex-Navy pilot to his will. The mysterious David Marquette continues to probe the background of Maggie Farrell, ostensibly to gather material for his novel, but it's evident that his motives go much deeper. He also pumps the Admiral but to little avail.
Written by: Stephen Black and Henry Stern (from a story by Rita Lakin)
Directed by: Don Medford
Guest Starring: Drew Snyder as Malcolm Endicott, Jim Alquist as Commander Lawrence, Ian Abercrombie as Vince, Susan Spilker as Joan
February 6, 1984
LOST AND FOUND
Episode #17 (#2K17)
Admiral Mallory and Jack Warren confront Deanna Kincaid with the evidence of her guilt as a KGB spy. Deanna breaks down under the confrontation with the Admiral but takes heart when he enlists her aid in serving as a double-agent in order to trap the Russian agent, Admiral Bukharin. Meanwhile, Kay Mallory is thrilled by some wonderful news given by her doctor and is eager to share it with Glenn. However, Harlan Adams and Hilary have their own plans for Kay's husband. Leslie Mallory tearfully reveals the KGB abduction of Lt. Alexi to her father and later becomes even more embroiled in the Russian plan to steal Navy secrets.
Written by: Diana Kopald Marcus
Directed by: Robert Becker
Guest Starring: Abraham Alvarez as Mr. Padilla, Elena Verdugo as Mrs. Padilla, Drew Snyder as Malcolm Endicott, Jeff Pomerantz as Dimitri, Richard Young as Roger Pauley, Daniel Greene as Chauffeur, Greg Winfield as Bet-Taker, Marsha Haynes as Waitress
February 13, 1984
THE CLIMAX
Episode #18 (#2K18)
Deanna Kincaid embarks on her double-agent mission to assist the Navy and FBI in trapping Admiral Bukharin, the Russian KGB agent. Admiral Mallory and his daughters anxiously await news as they fear for Leslie Mallory's life now that it's known she is a captive of the KGB along with her lover, Lt. Alexi. Meanwhile, Celia Warren decides she needs psychological help, and Glenn Matthews learns that he's going to become a father.
Written by: Stephen Black and Henry Stern (from a story by Susan Howard)
Directed by: Ernest Pintoff
Guest Starring: James McKrell as Ted Maynard, Richard Young as Roger Pauley, Jan-Ivan Dorin as Boris, Gail Strickland as Dr. Robards, Jeff Pomerantz as Dimitri, Blake Conway as FBI Man
February 27, 1984
THE BEST LAID PLANS
Episode #19 (#2K19)
The development of a warm relationship between Admiral Mallory and Maggie Farrell breaks out into a full scale romance. David Marquette continues to remain a sinister presence in the background of Maggie's expanding joy, although the writer continues to remain a mystery to those around him. Glenn Matthews is overjoyed as he contemplates his impending fatherhood and Kay can't bring herself to destroy his joy by revealing the results of the latest meeting with her doctor. Harlan Adams is set to do battle with Mallory over the acquisition of land needed by the Navy for an additional runway. Adams is planning to acquire the land by any means to build a huge condominium and shopping complex. He'll stop at nothing to get what he wants, and that includes using Glenn Matthews, the Admiral's son-in-law. Meanwhile, Glenn has yet another problem that could prove more damaging than all the rest, and Celia Warren enters yet another stage in her hypnotherapy.
Written by: Michael Russnow
Directed by: William Duke
Guest Starring: Darryl Cooksey as Scott Farrell, Gail Strickland as Dr. Robards, James O'Sullivan as Lt. Comm. Stanton, Bill Cort as Don Price, John Considine as Dr. Friedman
March 2, 1984
FRIENDS AND LOVERS
Episode #20 (#2K20)
Admiral Thomas Mallory and Maggie Farrell joyfully contemplate their impending marriage little knowing the threat to their happiness posed by David Marquette. While the Admiral's daughters plan a wedding shower for Maggie, their father learns that Marquette had once served as a correspondent in Vietnam and decides to investigate the writer's background because of his close relationship to Maggie. Meanwhile, Glenn Matthews reveals his plan to obtain the property coveted by Harlan Adams. The industrialist is determined to best Admiral Mallory who also wants the property for the Navy. Glenn also continues to think that his wife is pregnant because Kay can't bring herself to reveal that her "pregnancy" was actually a medical laboratory error. Hilary Adams also makes overtures to Celia's former husband, Jack Warren, while Celia continues to probe her childhood in hypnotherapy to learn why she is so troubled. This episode aired in a special, one-time only Friday night time slot.
Written by: Stephen Black and Henry Stern
Directed by: Larry Elikann
Guest Starring: Gail Strickland as Dr. Robards, James O'Sullivan as Lt. Comm. Stanton, John Callahan as Lt. Jim Travers, John Martin as Bartender, Joan Welles as Nina
March 5, 1984
PANDORA'S BOX
Episode #21 (#2K21)
Admiral Mallory's concern for his fiancee, Maggie Farrell, mounts at an alarming rate as he learns more about David Marquette. Tom Mallory makes a special trip to Washington, D.C. to confer with David's father, Admiral Jim Marquette. Marquette is an old friend of Admiral Mallory and reveals that his son had shown irrational behavior for some time and was resentful of all authority. He'd spent time in and out of jail. Meanwhile, Dr. Robards continues treating Celia Warren under hypnosis to discover a sinister event in her childhood that seemed to threaten her mother and continues to plague Celia's subconscious. And Glenn Matthews is shown wheeling and dealing in a major real estate transaction to make a quick killing. The reason becomes apparent when Hilary Adams overhears that Glenn is in over his head with local gamblers.
Written by: Diane Kopald Marcus (from a story by Susan Howard)
Directed by: Lorraine Ferrara
Guest Starring: Gail Strickland as Dr. Robards, Darryl Cooksey as Scott Farrell, Ray Wise as Travis, Nicholas Hormann as Ryder, Ted Richards as White, Bette Ford as Mrs. Randolph, John Randolph as Adm. James Marquette, James Daughton as Jeff, John Considine as Dr. Friedman, Glenn Morrissey as Lt. Griffin, Walter Smith as Walter, Kate Charleson as Mari, David Zellitti as Baxter, Michael John Meyer as Cop #1, MacKenzie Allen as Cop #2
March 12, 1984
THE WEDDING
Episode #22 (#2K22)
The big day arrives for the Admiral's marriage to Maggie Farrell but a series of dark events portends disaster for what should be the happiest time of their lives. Celia's hypnotherapy sessons reach a tragic climax as she struggles to bring back a traumatic event from her childhood and Kay's suspicions abut her husband are dramatically confirmed when she finds Glenn and Hilary together in a most compromising situation. Powerful gambling elements also threaten Glenn with serious injury to Kay if he doesn't settle his gambling losses. And the desperate and unstable David Marquette sets an elaborate plan into motion, a plan to destroy the wedding.
Written by: Stephen Black and Henry Stern (from a story by Susan Howard)
Directed by: Larry Elikann
Guest Starring: Gail Strickland as Dr. Robards, Darryl Cooksey as Scott Farrell, John Randolph as Adm. James Marquette, Doris Belack as Nancy Frost, Stephen Day as Preston Lakey, Nicholas Hormann as Christian Ryder, David Zellitti as Baxter, Ray Wise as Travis, Stan Wojno as Reporter #1, Baillie Gerstein as Reporter #2, James Karen as Admiral Lovell, Nina Roman as Admiral Lovell's Wife, Ken Letner as Dr. Peterson