SEVEN BRIDES FOR SEVEN BROTHERS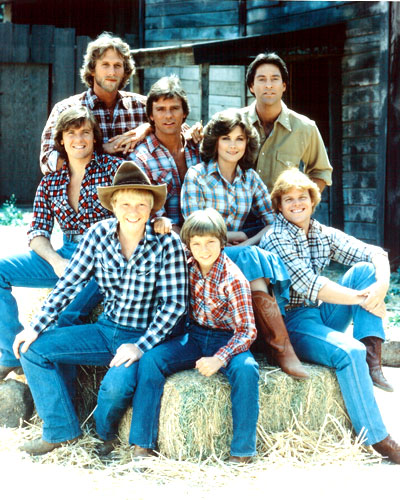 CBS Television Series
Airdate: 1982-1983
Role: Adam McFaddan
Cast:
Richard Dean Anderson as Adam McFadden (27)
Drake Hogestyn as Brian McFadden (age 25)
Peter Horton as Crane McFadden (21)
Roger Wilson as Daniel McFadden (18)
Tim Topper as Evan McFadden (16)
Bryan Utman as Ford McFadden (15)
River Phoenix as Guthrie McFadden (12)
Terri Treas as Hannah Moss-McFadden
Executive Producer: David Gerber
Theme & original songs by: Jimmy Webb
Choreography by Carl Jablonski
A David Gerber Company, Inc. production in association with
MGM Television
Broadcast on CBS Television
First Telecast: September 19, 1982
Last Telecast: July 2, 1983
Episode Guide
This series, loosely based on the 1954 MGM musical starring Howard Keel and Jane Powell, included its own singing and dancing each week. Set in modern day northern California, it was shot entirely on location in the small town of Murphys, California (population 1,183) in Calaveras County. The story centered around the seven McFadden brothers, aged 27 to 12, and their struggle to keep their family ranch.
The complete videos are available in the Video Gallery
SEVEN BRIDES FOR SEVEN BROTHERS
Excerpt from:
Brooks, Tim, and Earle Marsh. The Complete Directory to Prime Time Network And Cable TV Shows, 1946-Present. 6th ed. New York: Ballantine Books, 1995.
There was singing and dancing, hootin' and hollerin' in this lively, updated revival of the hit 1954 MGM movie classic. While the movie was set on the frontier, this series took place in contemporary times, as the parentless family of boys tried to go it alone on a ranch in northern California. Only the eldest brother, 27-year-old Adam, was married, and his new bride, Hannah, faced the unmanageable task of living with this rowdy, unkempt houseful of brothers. Fortunately, Hannah was high-spirited herself, and got their attention the first day by dumping an entire table full of food in their laps. Besides hijinks around the house, stories revolved around struggles to keep the ranch solvent, personal squabbles, and romances. Despite all the singing, dancing, and romancing, none of the other six McFadden brothers found a bride during the one season Seven Brides for Seven Brothers was on the air.
SEVEN BRIDES FOR SEVEN BROTHERS
Excerpt from:
TV Guide
Fall Preview Issue
September 11, 1982
There's a lot of singin', dancin', whoopin', hollerin' an' stompin' in this series (based loosely on the 1954 MGM musical) -- and some kissin', too. That's what happens when you take a spirited filly like Hannah Moss (Terri Treas) and marry her off to Adam McFadden (Richard Dean Anderson), who lives in a big ranch house with six rambunctious brothers: Brian (Drake Hogestyn), 25; Crane (Peter Horton), 21; Daniel (Roger Wilson), 18; Evan (Tim Topper), 16; Ford (Bryan Utman), 15; and Guthrie (River Phoenix), 12. Hannah is in for a shock: the boys are rowdy, their table manners are atrocious and the house is a mess. But the guys have a little surprise coming too: when they continue to ignore Hannah at dinner, she tips the table over, food and all. Crane: "She's got my attention".
SEVEN BRIDES FOR SEVEN BROTHERS
Excerpt from:
TV Guide
Review by Robert MacKenzie
February 26, 1983
Networks are not yanking dubious series off the air with quite the old speed, (having discovered that replacing a bad series with another bad series has its flaws as strategy), so producers have more time to tinker with their shows and make them better - or worse.
As usual when television tries to "update" a nice old movie, the initial episodes of CBS's Seven Brides for Seven Brothers were rather a mess. Since we live in a time that has no interest in the past (that's why there are virtually no period stories on television), the setting of the peppy old musical was changed to a present-day ranch in California's motherlode country. And since ranch boys don't send away for mail-order brides any more, the plot had to be thrown out too.
What was left was a musical without a plot and mostly without the music, thought there is a song in each episode. So far there's only one bride - Adam's wife, played by Terri Treas. At this rate, them boys will never be married off.
The old movie depended on the charisma and energy of the male cast. The present brothers are all good-looking boys in that TV-series way -- snub noses, square chins and lots of hair -- but there isn't a really captivating star in the bunch. You get the feeling that any of the brothers could be replaced with a different actor and nobody would notice.
So what to do with it? Executive producer David Gerber, a practiced hand at this sort of thing, tried sending out for charisma -- hiring an interesting older actor for a few episodes (a practice he should continue) and having the stories revolve around the guest. That helped, and the series already had some elements going for it: a wide-open, outdoorsy quality, good theme music and one of the best opening sequences on the air.
One story had Levon Helm as a legendary country singer, down on his luck and boozing hard. Young Daniel (Roger Wilson), motivated by hero worship, brought this creaky alcoholic home to the ranch and tried desperately to dry him out. Disappointment and fear kept the singer on the bottle. When an audition gave him a chance for a comeback, he returned the money he had stolen from Daniel. But there was no promise he had changed his ways. Not bad.
In an early episode, Hoyt Axton appeared as Coop Johnson, a flint-eyed rodeo veteran who ran a class for would-be bull riders, including brother Evan (Tim Tucker). Axton was so good he came back for another story. This time a girl had joined the class, and Coop gave her a tougher time than anyone. Of course it developed that she was his daughter. Axton is a real presence, and when he sits down to pluck and sing, the musical quality of the show goes up considerably.
The brothers I haven't named are played by Richard Dean Anderson, Peter Horton, Drake Hogestyn, Bryan Utman and River Phoenix.
About the male regulars: maybe the reason they seem interchangeable is that most of them slip naturally into a style I call TV-Macho. It's a way of looking, walking and talking that young actors must have or bone up on if they want to work these days. It raises an interesting question: could a young Jimmy Stewart or Henry Fonda get a TV job?
SEVEN BRIDES FOR SEVEN BROTHERS
Episode Guide
September 19, 1982
SEVEN BRIDES FOR SEVEN BROTHERS
Pilot Episode #1 (#0077) (90 minutes)
California's Mother Lode country provides the backdrop for a series about a contemporary family of ranchers. Taking time out for music and dance like the 1954 MGM musical, the opener tells how a spirited cafe waitress learns - after the fact - that she has married into a parentless but self-sufficient brood of six rowdy brothers. After her initial shock has passed, Hannah turns her attention to taming the rough and tumble McFadden brood. It's almost impossible, though, when the brothers discover that their bull has been killed. The furious young men suspect Wheeler, a nearby ranchowner who would stop at nothing to force the McFaddens into selling their land. Knowing that the brothers want revenge, Hannah comes up with a plan to capture one of Wheeler's prized bulls to claim as their own.
Written by: Sue Grafton and Steven Humphrey
Directed by: Gary Nelson
Guest Starring: Michael Alldredge as Wheeler, Jerry Gatlin as Tillis, Joan Kjar as Marie, Walter Robles as Clyde, Peter James Griggs as Announcer, Pat Kelly as Fair Official
September 22, 1982
THE MAN IN THE WHITE HAT
Episode #2 (#8206)
Having persuaded his brothers to borrow heavily to buy grain at a low price and store it in Freleng's Warehouse, Crane feels responsible for the family's financial distress after the grain is seized when Freleng declares bankruptcy. Crane is arrested and jailed for instigating ranchers to raid the warehouse to take their grain back when it is seized by authorities. At his court hearing, ordered by the judge to identify his co-conspirators in the raid, Crane refuses, taking full responsibility and maintaining that, in this case, the law perversely harmed innocent citizens.
Written by: Marshall Herskovitz
Directed by: James Sheldon
Guest Starring: Amy Steel as Allison Freleng, Dana Elcar as Judge Carlson, Ian Patrick Williams as David Schiller, Philip Baker Hall as Prosecutor, Don Eitner as Freleng, William Lucking as Corsini, Charles Napier as Marshal, Richard Young as Deerwell, Peter James Griggs as Dewey, Cliff Olsen as Jail Guard, Muriel Brown as Mrs. Sutter, Steve Jesse Starr as Deputy, Dennis Mosier as Bailiff, J.B. Barney as Emil
Song: Deep Inside by Jimmy Webb (sung by Peter Horton)
September 29, 1982
CHALLENGES
Episode #3 (#8202)
With Hannah pushing him, Ford struggles to overcome his shyness and ask pretty Cleo to a barn dance. Meanwhile, Evan's self-confidence is challenged when his hero, former rodeo champion Cooper Johnson, twice rejects him in rodeo-class tryouts. Later, Adam and Hannah fight over the difference between encouragement and badgering: Hannah accuses Adam of pushing Evan to try one more time to get into Cooper's class, and Adam says Hannah is forcing Ford into dating girls when he's not ready yet.
Written by: Mitzie Marvin
Directed by: Harvey S. Laidman
Guest Starring: Hoyt Axton as Cooper Johnson, Melissa Michaelsen as Cleo, Eric Stoltz as Kevin, Brad Savage as Stu, Shannon Coffer as Jill, Joan Kjar as Marie
Song: You Gotta Treat a Woman Like a Horse by Jimmy Webb (sung by Terri Treas, Roger Wilson, Peter Horton and Drake Hogestyn)
October 6, 1982
I LOVE YOU MOLLY McGRAW
Episode #4 (#8204)
When Evan's horse, Diablo, suffers a broken leg, pretty Molly McGraw is the only veterinarian available to perform the surgery that's needed. She and Crane fall head over heels for each other, but Crane's stubborn McFadden pride resists when Molly soon thereafter tells him she has received the internship in equine surgery she has been seeking - a commitment that means she will have to leave California and move back East.
Story by: Tim Maschler
Teleplay by: Sue Grafton and Steven Humphrey
Directed by: Vincent McEveety
Guest Starring: Ann Dusenberry as Molly McGraw, Robert Symonds as Dr. Markell, Jerry Black as Anesthesiologist
Song: For Sure, For Certain, Forever, For Always by Jimmy Webb (sung by Peter Horton and Roger Wilson)
October 13, 1982
GOLD FEVER
Episode #5 (#8209)
Ford is signed by a talent scout to be a back-up singer. Meanwhile, Guthrie, anxious to contribute something as the McFaddens try to scrape up the money for a new roof, hits upon panning for gold. When he chances on two armed men seeming to be prospecting downstream, he goes along with their idea that he team up with them, not knowing they are poachers, shooting bears out of season, and are wanted by the authorities.
Written by: Josef Anderson
Directed by: Burt Kennedy
Guest Starring: Carlos Brown as J.T., Tracey Walter as Lucky, Marty Brill as Buddy, Ken Letner as Ben Gunn, Jeanne Mockridge as Donna Jo James, Jim McKrell as Frank Benson
Songs: Country Roads and Eggs (sung by Bryan Utman)
October 20, 1982
DANIEL'S SONG
Episode #6 (#8203)
Daniel considers himself lucky when he is asked to fill in for High Sierra's injured guitar player. But soon after he and singer Tally Dean fall in love, he learns that Tally is determined to make her mark in big-time music, no matter what, then feels betrayed when Brian tells him he and Tally once had a short-lived but intense romance.
Written by: Leah Appet
Directed by: Bernard Kowalski
Guest Starring: Lisa Blount as Tally Dean, Daryl Anderson as Spider, Scotch Byerley as Charlie, Michael Savage as J.J., Joan Kjar as Marie, George Burrafato as Cal
Songs: Saturday Night by Jimmy Webb, and If I Ever by Jimmy Webb (sung by Roger Wilson)
October 27, 1982
A HOUSE DIVIDED
Episode #7 (#8208)
Just before a big game, Adam, as eldest brother, takes the responsibility for removing Brian from the family's mountain polo team because of Brian's reckless showing-off on horseback. This angers Brian who goes on a bender and ends up in jail. The argument between Adam and Brian creates a rift among some of the other brothers as well, who regard Brian as the best athlete in the family and crucial to the game, and especially disturbs young Guthrie, who idolizes both of them.
Written by: Sue Grafton and Steven Humphrey
Directed by: Vincent McEveety
Guest Starring: Frank Schuller as Deputy, David Wells as Reporter, Dave Cass as Jed, Joan Kjar as Marie
Song: Stomp and Holler by Jimmy Webb (sung by Tim Topper, Bryan Utman and Drake Hogestyn)
November 3, 1982
RODEO
Episode #8 (#8210)
Evan learns rodeo riding from hard-bitten ex-champion Cooper Johnson, but to Adam's dismay, he plans to drop out of high school to join the rodeo circuit. However, after watching Coop verbally lash Evan and the other young people in the rodeo school, Brian loses his temper and challenges Coop to a fight. Only later does he learn of Coop's special relationship with Sally, one of the girls in the class whom Coop has been riding the hardest. Meanwhile, Adam and Hannah try every means to persuade Evan to stay in high school.
Written by: Preston Marshall Ransone
Directed by: John Patterson
Guest Starring: Hoyt Axton as Cooper Johnson, Susan Swift as Sally, Peter James Griggs as Announcer, Joan Kjar as Marie, Shannon Coffer as Jill, Jo Cummings as Teacher
Song: I Dream of Highways by Hoyt Axton and Renee Armand (sung by Hoyt Axton and Drake Hogestyn)
November 10, 1982
CATCH A FALLING STAR
Episode #9 (#8207)
Daniel befriends Stormy Weathers, an alcoholic former country-music star whom he idolizes, and tries to help him get back on his feet and resume his career. But Stormy's presence creates a bitter conflict within the family, and several of the brothers feel that Daniel is wasting time on Stormy, whom they see as a loser, and that Stormy's furtive drinking is a bad influence on Guthrie.
Written by: Paul L. Ehrmann
Directed by: Peter Levin
Guest Starring: Levon Helm as Stormy Weathers, Victor Hall as Rackley, James Mathers as Redneck, Suza Lambert as Woman Redneck, John Allen Vick as Bar Owner, Terry Donovan-Smith as Rick Marcus
Songs: I've Got a Bet With Myself and Even a Fool Would Let Go (sung by Levon Helm from his album "Levon Helm"), and Long Gone Highway by Jimmy Webb (sung by Levon Helm and Roger Wilson)
November 24, 1982
THE ELECTION
Episode #10 (#8205)
The McFaddens are up in arms after Guthrie is poisoned by polluted water in a stream on their property, but when Buck Tanner, long-time sheriff of Carbon County, stalls and delays the promised investigations, Adam concludes that he must be protecting someone, and decides to run for the office himself. As he begins his campaign, however, Adam learns that certain parties in the county will stop at nothing to destroy his candidacy.
Written by: Ira Steven Behr
Directed by: Michael O'Herlihy
Guest Starring: Macon McCalman as Sheriff Buck Tanner, Frank Schuller as Deputy Charlie Lewis, Dick Durock as Jocko, Denny Delk as Ben Tobey, Pat Kelly as Mr. Croft, Walter Leineke as Doc Bell, George Johnson as Heckler #1, Peter James Griggs as Heckler #2, James Doermann as Pollard, Summer Batholomew as Girl, Hugh Warden as Silas
Song: The Election Song by Jimmy Webb (solo by Richard Dean Anderson)
December 8, 1982
NEIGHBORS
Episode #11 (#8201)
Soon after Sophie Barton, a beautiful young divorcee and single parent from San Francisco, moves into the run-down ranch she has inherited down the road from the McFadden spread, she and Hannah hit it off. But sparks fly when Sophie tells Adam he can no longer graze McFadden cattle on her land, breaking an agreement going back more than 30 years between her grandfather and Adam's father, and soon after she is placed in peril by a cattle stampede and barn-burning.
Written by: Elizabeth Clark
Directed by: Bernard Kowalski
Guest Starring: Laraine Stephens as Sophie, Billy Jacoby as Eddie
Songs: Men, Men, Amen by Jimmy Webb (sung by Terri Treas and Laraine Stephens), and Now That I Found You by Jimmy Webb (sung by Roger Wilson, Tim Topper and Peter Horton)
December 15, 1982
DREAMS
Episode #12 (#8211)
After meeting the warm, closeknit McFadden family, Ben Shepard, a guarded man who keeps his past and personal life a mystery, finds it hard to believe that Brian would want to give it all up for a life of wandering the West, always alone. But Brian, restless and anxious to split from the ranch, falls in with the brawling, footloose loner, who seems to lead the kind of life Brian is looking for. Meanwhile, Evan loses concentration in football practice by ogling the cheerleaders and is ordered by the coach to spend a week in the girls' dance class -- some "punishment."
Written by: Marshall Herskovitz
Directed by: John Florea
Guest Starring: Cameron Mitchell as Ben Shepard, Richard McMurray as Graves, Drew Snyder as Coach, Shirley Kirkes as Miss Wilson, Jim Steck as Zack Waters, Gary Ross as Peterson, Lisa Lindgren as Cheryl
Song: Ramblin' Ranchin' Man by Jimmy Webb (sung by Peter Horton and Roger Wilson)
December 22, 1982
CHRISTMAS SONG
Episode #13 (#8222)
At Christmas time, Meg Palmer, recently widowed and working from job to job to support her kids, mistakes Crane and Daniel's intentions when they try to help her when her car breaks down, and lashes out at them. She soon accepts the McFadden family's generosity as genuine, but faces the struggle of her life as her deceased husband's parents sue in court for custody of her three children.
Written by: Richard Fielder
Directed by: Bob Thompson
Guest Starring: Joanna Pettet as Meg Palmer, Allyn Ann McLerie as Doris Palmer, Kaz Garas as Ray Mason, Tonya Crowe as B.J. Palmer, Tige Andrews as Merlin Palmer, Philip Baker Hall as Wilcox, Joan Kjar as Marie, Leaf Phoenix as Travis, Liberty Phoenix as Christy
Song: Ave Maria (sung by Meg and the McFadden family)
December 29, 1982
HERITAGE
Episode #14 (#8212)
Hannah's impassioned protest and armed stand against the bulldozer demolition of the oldest building in Murphys, the original schoolhouse where her great-grandmother once taught, falls on deaf ears in the community, even among the McFadden men, because a factory is to be built in its place, and jobs mean more to many families than preserving a bit of local history, even though the construction company gained title to the land by unscruplulous means. Meanwhile, Guthrie runs into a mini-scandal as well, when his frog, "Loser", is swiped just before the First Annual Carbon County Frog-Jumping Derby. [Calaveras County, where this series is filmed, was the site of Mark Twain's famous jumping-frog tale.]
Written by: Richard Fielder
Directed by: John Patterson
Guest Starring: John Bennett Perry as Eckworth, Robin Ignico as Kate, John Callahan as TV Reporter, Joan Kjar as Marie, Erni Brown as Amanda, Chuck Noland as Gargan, Gail Trottier as Millie, Gary Pettinger as Bancroft, John X. Heart as Chet
Song: Hold On by Jimmy Webb (sung by Peter Horton, Roger Wilson, Bryan Utman and River Phoenix)
January 5, 1983
PROMISED LAND
Episode #15 (#8213)
Evan and Hannah find a pregnant young illegal alien, Angelina, hiding in the barn, ravenous and frightened from days of running for her life after witnessing her husband's murder at the hands of smugglers now out to kill her, and her baby is due at any time. The McFaddens give her shelter, but Angelina runs away again, not knowing that in return for her help in the case against the farm-labor smugglers, the authorities can offer her protection and citizenship.
Written by: Paul L. Ehrmann
Directed by: John Patterson
Guest Starring: Theresa Saldana as Angelina, Nate Esformes as Gomez, Jim Haynie as Reed, Tony Plana as Carlos, Israel Juarbe as Guillermo, Joan Kjar as Marie, Mike Moroff as Martinez, Bill Jelliffe as McCoy
Song: Angelina's Chili by Jimmy Webb
January 12, 1983
THE KILLER
Episode #16 (#8214)
Brian teaches Guthrie how to hunt, and also to respect all wild animals, but Guthrie is not sure he could shoot to kill. Several days later, Adam risks being mauled when he and his brothers track and corner "Old Scarback", a wounded mountain lion suspected of killing local livestock. When Adam is knocked unconscious in a fall in the woods, Guthrie is forced to make a life-or-death decision when he sees the cougar crouched over Adam.
Written by: Jud Scott
Directed by: Barry Crane
Guest Starring: William Smith as John Clagston, Grainger Hines as Deputy, Hunter Von Leer as Pine, Harry Northrup as Willis, Curtis Credel as Montgomery
Song: Old Scarback by Jimmy Webb (sung by Peter Horton)
January 26, 1983
DEADLY HIGH
Episode #17 (#8218)
Angry marijuana growers open fire on the McFaddens when the brothers begin searching the hills for the police, who are looking to bust a large-scale pot-growing operation in Carbon County. While his older brothers are risking their lives trying to find the hidden marijuana fields before the illicit crop can be harvested, Guthrie confronts a couple of older boys at his junior high school who are forcing younger kids to buy "weed" from them.
Written by: Steve Hayes
Directed by: John Florea
Guest Starring: Jo McDonnell as P.J., Robert Dryer as Mace, Robert Carnegie as Harley, Grainger Hines as Sheriff Lewis, Jim Calvert as Rick, Chad Thumann as Tim, Joan Kjar as Marie
Song: Let It All Out by Jimmy Webb (sung by Terri Treas)
February 9, 1983
THE RESCUE
Episode #18 (#8221)
During a blizzard, the sheriff asks Hannah and four others trained in first-aid to fly into an isolated mountain community where botulism has broken out. Then the plane goes down and they lose radio contact. Adam sets out to backpack into the mountains to rescue them, against the advice of the National Guard, who cannot provide air support until the storm breaks. Meanwhile, Hannah calls on all her inner strength to help keep the survivors, including the gravely wounded pilot, alive and hopeful of rescue.
Written by: Jud Scott
Directed by: Barry Crane
Guest Starring: Gregg Henry as John Heflin, Michael Fairman as Col. Harris, Grainger Hines as Sheriff, Sands Hall as Louise Wright, Sharon Madden as Maryann Conway, Robert Peirce as Lt. Parker, Ted Markland as Pilot
February 16, 1983
WINTER ROSES
Episode #19 (#8223)
Adam has never had the proper car to win the Gold Rush Race, but this year has found a truly hot machine. When Hannah tells the family she is three months pregnant, Adam decides to drop out, not wanting to risk his life racing on hazardous back-country dirt roads. But Hannah, who knows how much the race means to Adam, insists he go through with it. Adam burns up the road racing against a professional driver in the dangerous race, unaware that Hannah has had complications and has been rushed to the hospital.
Written by: Michael Petryni
Directed by: John Florea
Guest Starring: Timothy Scott as Walt Henry, Peter Jason as John Cutler, John Moio as Shep Shaffer, Walter Leineke as Doctor, Ruth Johnson as Nellie
Song: Baby's Breath by Jimmy Webb (sung by the McFadden brothers)
March 2, 1983
WINNER
Episode #20 (#8215)
Adam, a star of the 1972 Murphys High School basketball team, expects to have a good time reliving that championship season at his class's tenth reunion. But six head of cattle stolen from the McFadden Ranch, followed by a murder, draw Adam away from the reunion. As he, Brian and Crane arm themselves to lead the search for the rustlers, Adam can't help but wonder at the coincidence that his old friend Mike has just returned to Murphys after an absence of years to start up a cattle ranch.
Story by: Michael Brentwood
Teleplay by: Joel Steiger
Directed by: James Sheldon
Guest Starring: Brian Kerwin as Mike, Brett Cullen as Hoops, Gary Grubbs as Bert, Taylor Lacher as Deputy Sykes, Morgan Paull as Carl, Pamela Newman as Jackie, Stephen Lee as Jimmy
March 9, 1983
A RING FOR HANNAH
Episode #21 (#8224)
Daniel's idea is to find enough small gold nuggets for the brothers to have fashioned into a ring for their sister-in-law, Hannah. Disregarding the warning of the owner of the abandoned Howling Man Gold Mine to stay out, feeling that his experience as a spelunker, or cave explorer, is caution enough, Daniel takes his younger brothers. When the mine tunnel collapses, Daniel frees himself, but bears all the blame from the distraught mine owner, whose daughter is trapped by the cave-in with Evan, Ford and Guthrie, and rescuers fear a total collapse at any minute.
Written by: Joe Viola
Directed by: James Sheldon
Guest Starring: Charles Aidman as Tom Barrett, Louanne as Jenny Barrett, Anne Gee Byrd as Carey Barrett, Ron Recasner as Glen Terry, Taylor Lacher as Sheriff Sykes
Song: Rock Around the Clock (sung by River Phoenix)
March 23, 1983
ROUNDUP
Episode #22 (#8220)
As the McFaddens prepare for a cattle roundup in the high country, where packs of rabid coyotes have been attacking the herd, Adam decides that Hannah's proper place is at the ranch and that Daniel, who wants to stay back to rehearse for an audition, has to go. When Hannah shows up anyway, Adam's irritation and Daniel's simmering frustration boil over into a family feud, leading Adam to send Hannah back to the ranch. Later, Hannah, unarmed, must defend Evan, who has been knocked unconscious in a fall, from a maddened rabid coyote.
Written by: Earl W. Wallace
Directed by: John Patterson
Song: Don't Blame Me by Lori Lieberman and Gary Scott (sung by Roger Wilson)