MACGYVER: PAPERCLIPS, MARGE SIMPSON'S SISTERS, AND BRINGING BACK THE MULLET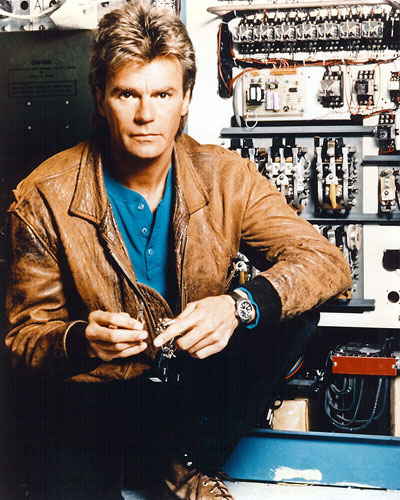 Richard Dean Anderson tells news.com.au why he loves Oscars host Seth MacFarlane, how he channels his cherished role as TV's MacGyver to fix up bikes at Christmas, and finally answers the question everyone's asking: Patty or Selma?
"They're a package deal. It's kind of a threesome with them."
It's official. MacGyver, TV's greatest secret agent/innovator - can't romantically split The Simpsons' twins Patty and Selma Bouvier.
Marge Simpson's frumpy, middle-aged, spinster sisters are MacGyver's all-time greatest fans. They watch his show religiously. They have a lock of RDA's hair. And, despite the eventual revelation that Patty is gay, they jointly hold him up as their dream crush.
"I used to be a smoker so neither of them is really making the cut for me," Anderson told news.com.au ahead of his visit to Australia for Oz Comic Con.
That's not great news for them, but on the subject of his hair, Anderson has some good news for Australian fans of the famous MacGyver mullet.
"I've gotten requests in real life for a lock of hair when I was young and in shape, but I've never agreed to it - that's just creepy to me," he said.
"I have had gloves taken. But I've never intentionally given someone my hair."
Shame. He once sported a glorious mane, the kind of mullet that would put Rod Stewart and Andre Agassi and old-school AFL players to shame.
But he's bringing it back. That's right. It's longer than it's been since he cropped it short, ala his time as Stargate's Jack O'Neill. And he's too nervous to cut it, giving Aussie fans a glimpse of the revived 'Mac Mullet'.
"I was at the forefront of that (the mullet hairstyle) happening and some of our football players back in those days. My hair is really long right now," he said.
"I'm sporting the longest hair I've had since that time. But it's not cut in the mullet - it doesn't have that mullet tail. It's ratty and too long. If I shake it down in front of me it goes down in front of the nose."
Anderson says while Mac's long, bushy mane was a character trademark, it presented a few on-set problems.
"I always had long hair and it became an issue because we couldn't match the hair from shot to shot and we had to start trimming it," he said.
"We trimmed up the sides and kept the back really long. That's the look of the mullet.
"I had long hair and I'd pull it behind my ears. It wouldn't be so ratty looking and that look caught on."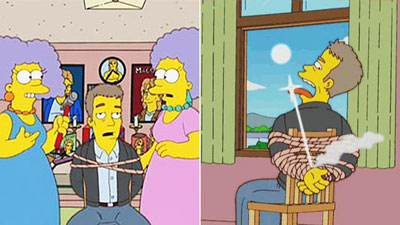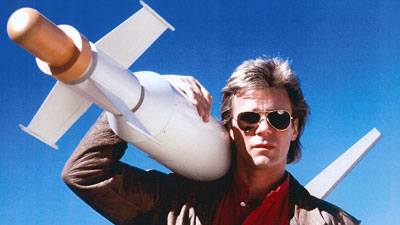 Family Guy Dream
Patty and Selma's infatuation with MacGyver gave Anderson an opportunity to work briefly on The Simpsons. It's an experience that laid the foundation of a future animation fascination - Family Guy.
Anderson says although Family Guy has referenced the MacGyver character a couple of times, he dreams of a recurring role on the show.
He's a huge fan of the series' creator - Oscars host Seth MacFarlane.
MacFarlane, who also helms animation series American Dad and made his feature film debut alongside Mark Wahlberg in Ted, received mix reviews for his unconventional performance at the Oscars. But he certainly won over one critic.
"Seth MacFarlane is a genius - he's got so many characters in his head and voices and his sense of humour is just sick enough to keep my attention," Anderson said.
"I'll never lose my love for The Simpsons, that will always be the number one, but Family Guy is the adult version - the next step.
"They've referenced Mac a couple of times. Peter Griffin sends a rubber band and a paper clip in the mail because he thinks MacGyver will know what to do with it.
"They've paid homage to the character but I'd love to do that as a living. I love that environment. I got to do an episode of The Simpsons and I was taken with it."
Captain Paperclip
When it comes to talking to fans about MacGyver, Anderson can't understand why people need reality to get in the way of a great story.
He says it's a huge buzz-kill whenever a show like Mythbusters tries to methodically pick apart one of MacGyver's notoriously far-fetched, paperclip-inspired escapes.
"Where's the child in you? Where's your sense of fun?" he says of the skeptics.
"We researched everything MacGyver did but of course you suspend your belief a little. It's a buzz-kill when someone comes up and says: 'You couldn't really do that with a paperclip.' I just want to say: 'No, you stupid nut.'"
MacGyver's ingenuity has stayed with Anderson, who says his on-screen nous comes in handy regularly.
"It's an accumulated thing, it's something I live with. Something will happen throughout my day, and it's just like a reaction [from MacGyver]," he said.
"Christmas is a good time for MacGyver to come out - putting toys together and fixing things up. My brothers and I fixed up a bike, using pipes in a very MacGyver-esque way to stabilise it.
"That was a dangerous thing to do. It failed me miserably."
MacGyver struggled with a bike? He probably ran out of paperclips, duct tape, chewing gum and shampoo.