JACK'S BACK
A familiar face returns to both Stargate series, but more to one than the other, as Richard Dean Anderson explains...
After eight years of helping right intergalactic wrongs and keeping Earth safe from alien incursions, Richard Dean Anderson decided to take a break from his duties as Brigadier General Jack O'Neill on Stargate SG-1 in order to spend more quality time with his little girl Wylie. The actor did make a couple of brief appearances at the beginning of the show's ninth season to help usher in a new chain of command, but otherwise he pretty much put his professional life on hold. Recently, however, Anderson returned to the Stargate fold, thanks in part to his daughter's encouragement.
"Wylie came to me one day and said, 'You know, Dad, if you want to go back to work you can because I'm OK now. We're good'," recalls Anderson. "I was like, 'Are you sure?' and she said, 'Yes.' My reply to that was, 'Well, what about me? What if I miss you too much?' That's when she put her hand on my shoulder, looked me square in the eye and said, 'Dad, you'll be OK'." She's such a wise and sensitive soul for a seven-year-old," smiles the actor.
"So I've been relaxing quite nicely. Whenever I'm not with Wylie I just go horizontal and rest. I've discovered this great invention called a nap. I wish I had stock in those things. And then not too long ago I got a phone call from the guys here at Stargate to do the 200th episode and I didn't even hesitate. It was a no-brainer. They subsequently asked me, 'Would you like to do four additional episodes this season?' and I said, 'Sure.' It was just perfect timing all around.
"Of course, no one mentioned that I'd be doing more Stargate Atlantis episodes than SG-1's, but that's cool. Right now I'm in the middle of filming my next Atlantis story [The Return] and things are going great. Brad Turner is up here as well. He's a very good friend of mine and an amazing director, so I've been working with him and Robert Picardo [Richard Woolsey], who is also guest starring in this episode. Robert is one of my favourite actors and I've been trying for years to do a project with him, and it finally came together here."
Although he shot SG-1's 200th episode and the first of his three Atlantis episodes, The Real World, at the same time, it was on Atlantis that Anderson first stepped back into the role of Jack O'Neill. "That was interesting," notes the actor. "I'd been away for over a year and kind of lost the rhythm of production. All of a sudden I was thrust into filming two series and playing the same character, but for the Atlantis script I was supposed to portray O'Neill as seen by Dr Weir [Torri Higginson] in her coma/dream projection. However, I didn't have a very clear idea of what they wanted. So I was basically there to give Torri someone to bounce off of and collaborated with her a bit on where her character was and what was going on with Dr Weir in the story.
"In essence, my character is a familiar presence and an authority figure from SG-1. My performance was rather stoic and lacking in the O'Neill flippancy or irreverence that people might be used to. I had to play it straight, and it felt a little weird. I'm not sure why, but it's just a little bit of a rougher road on Atlantis insofar as being O'Neill and bringing that familiar playful dynamic to my work. One of the saving graces for me in the episode we're currently doing is Robert Picardo. Our two characters are sort of teamed up throughout this story, which is a blessing. The comedic awareness and rhythms I'm used to from SG-1 are, I guess, available to both of us. It's an ideal partnership and Robert and I are having a great deal of fun."
Over on SG-1, the actor had the opportunity to work once again with his old cast mates as well as Willie Garson, who is reprising his role of Martin Lloyd from the show's 100th episode, Wormhole X-Treme!, for the 200th story. "Willie is another extremely talented actor who is also very smart and innately funny," says Anderson. "Those are all elements I'm drawn to when it comes to a partner or partners to work with.
"As for the 200th episode, I think it's very well-written. It's also more of a stretch than our 100th story, which makes it more of a separate entity. By that I mean it doesn't involve an established bad guy from the Stargate franchise. I think the problem I had with the 100th episode was that there was a real bad guy jeopardy throughout the story, and because of that you had to maintain a level of credibility. The 200th episode is just a crazy romp. Any of the quirks or idiosyncrasies that the writers, directors or us actors may be harbouring or living with were targets, and I love that. No one was spared. As subtle as the moments might be, or as blatant, we all got nailed. It's quite clever stuff and I'm proud of these guys for having come up with such a script."
Besides his recent acting jobs and hanging with his daughter, the actor continues to support many charities and organizations. On the ecological front, Anderson is on the Board of Trustees for the Waterkeeper Alliance as well as the Board of Directors for the Sea Shepherd Conservation Society. "The more atrocities that you see, the more you want to work to generate awareness of the inane choices that some of Humanity has made in the treatment of other Earthly beings and the environment," notes the actor.
As for his work this year on Stargate, Anderson still has one more SG-1 episode to shoot. "Robert Cooper [executive producer] is writing the script as I speak," he says. "Hopefully it'll be an amusing romp, too. We don't want it to be all serious and deep-browed, right? I want to see the fun, slightly dense O'Neill that we've grown to love," chuckles Anderson.
MACGYVER REVISITED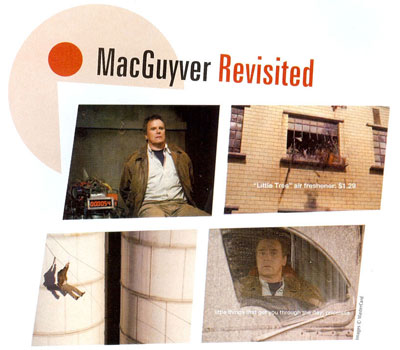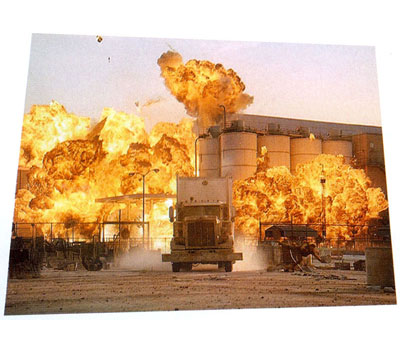 It's been over 12 years since Anderson appeared as Angus MacGyver, but he can currently be seen once again playing the resourceful secret agent in a TV advert for MasterCard. "It's the first and only time I've portrayed the character since the TV series ended," he says. "The MasterCard people approached me and the script they had in mind was amusing enough and had the potential to be a nice little send-up of the character.
"I had to make it clear, however, that I wasn't going to wear a mullet wig," laughs the actor. "I just thought it would be more effective if we saw MacGyver as he is today, although they did colour my hair for the commercial.
"So you have him doing the same heroic stuff, but he's not taking chances any more. MacGyver brings everything he needs with him, like a pair of socks that he replaces at the end of the commercial. I really think it worked and people realized that we were, or certainly I was, winking my eye at the passage of time and the effects it might have on a hero like that."
ANIMATED ANTICS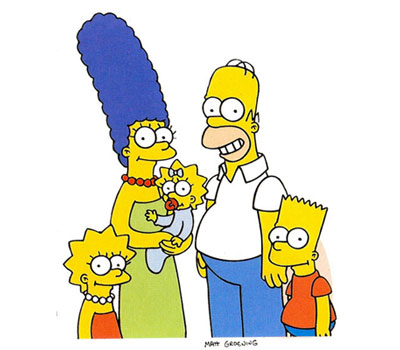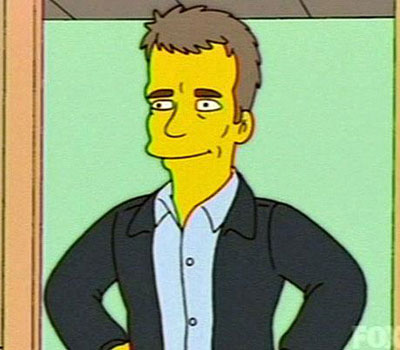 Prior to starting work this year on Stargate, Anderson realized a lifelong dream when he was invited to take part in The Simpsons episode Kiss Kiss, Bang Bangalore. "This was the apex of my career. If I never worked again I'd still die a happy man," he enthuses. "It was such an upbeat experience for me, and I don't want to get too ornate about it, but doing The Simpsons really injected a wonderful new positive edge to my acting. It was like hitting the refresh button on your computer.
"From the table reading to showing up on the day with the script and performing it like old-time radio with the actors standing in front of their microphones, it was truly amazing. There I was working with people who have become heroes of mine. They have such a rapport with and an understanding of each other as well as the multitude of characters they play. It's a very free and trusting [work] environment.
"The nature of this particular Simpsons script was such that there was a proper amount of ribbing that was directed at me, personally, and my MacGyver character. It was all good-natured, though, and it was an honour to be skewered in such a way."