200 RIGHT OUT OF THE GATE
Stargate SG-1 marks taping of milestone TV episode in Vancouver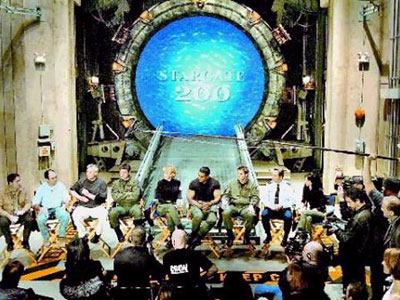 When it was time for Jeanie Bradley, a vice-president with Sony Pictures Television, to address assembled cast, crew and media at the special ceremony yesterday to commemorate the taping of Stargate SG-1's 200th episode, she couldn't stop repeating what a "big deal" it was.
Why? Because when she was passing through Canadian Immigration at the airport two nights ago, they asked her what she was here for. Bradley answered that she was travelling on business and would be visiting the Stargate set. The immigration official replied, 'Oh, you here to cut the cake?'
"Believe me, all of Vancouver knows," she told the throng, who would soon wash down said cake with wine glasses of sparkling apple cider and the satisfaction that the big-time success story will soon be the longest-running sci-fi series in North America - the show's 202nd episode will move it past another once locally-lensed cult favourite, The X-Files.
For co-executive producer Robert C. Cooper, he's most proud of the fact that he and his production partner, Brad Wright, are Canadian, as is the majority of the crew.
"We don't know because we've never left this building," said Cooper, when asked whether he and Wright think the show has had an impact. "I hope we've had an impact, I mean I assume we have. We know we've had an impact here in British Columbia. There's been a lot of money brought into the local economy and we're very proud of that. I think of this as a Canadian show... that hires out American actors."
"Eeeaasy," chimes in either Richard Dean Anderson, a long-time original cast member who now reprises Colonel Jonathan "Jack" O'Neill only sparingly, or Christopher Judge, the cast's resident cut-up, who plays Teal'c.
"We employ a lot of Canadians," continued Cooper, shaking off the interruption. "It's produced here, the visual effects are done here, it's something we're very proud of and not a lot of people even here in this country recognize very often."
The show is sure to get a boost if yesterday's press coverage of the milestone taping is any indication. At least seven to eight camera crews were present, including ones from the SciFi Channel, Space: The Imagination Station and ET Canada.
And why not? Now in its 10 season and seen in more than 100 countries, Stargate SG-1 also has the notable distinction of being the longest running drama series ever produced for cable television. It has also produced one spinoff, Stargate Atlantis. Not bad for a show that is based on the premise that there's this ancient portal that allows instantaneous travel across the galaxy - all you have to do is jump through it.
Not exactly mainstream stuff, so just how has Stargate SG-1 carved out such a long tenure?
"Ultimately, it's the chemistry," says Amanda Tapping, who plays Major Samantha Carter. "It's the tapestry woven by our writers, that's so rich. And I think it translates on screen. Fans dig it."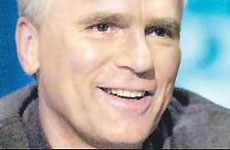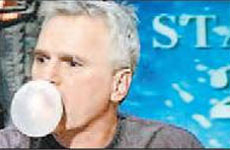 THE DEAN OF GOOD TIMES
About halfway through yesterday's Q&A with media, Richard Dean Anderson pulls up his pant leg to reveal a lime green leotard.
During the same session, a Province photographer snaps him blowing a huge bubble with his gum, while fellow co-stars constantly bring up how he likes to get into all kinds of mischief.
It's obvious Anderson enjoys having fun. And since leaving Stargate SG-1 as a regular cast member prior to the show's record-breaking 10th season - he's come back for a handful of cameos and guest-spots, including for the 200th episode - he's been having even more.
The highlight is appearing on The Simpsons as himself, during an episode that aired earlier this month. Repeatedly referenced on the animated series over the years by Marge's sisters Patty and Selma - who have a big crush on him - Anderson was finally invited on.
"I've said somewhat facetiously, but not entirely, that it was the epitome of my career," says Anderson. "I'm such a fan. Have been since Day 1. First of all, just to be referenced... I felt honoured to be mentioned.
"They warned me about the skewing I would be taking, and I said to Dan [Castellaneta, the voice of Homer], 'Don't even think about apologizing. I am fair game.'"
In the episode, Anderson just can't escape questions about Vancouver-shot MacGyver - the TV role that made his career, and one which he finally reprised for a brilliant Mastercard commercial that first aired during the last Super Bowl.
A native Minnesotan and hockey fan, he's also kept busy trying to catch the Wild on TV.