GENERAL OUTLOOK
The future did not look too bright for Jack O'Neill at the start of Season Eight, but he bounced back and straight into a promotion! Richard Dean Anderson gives an update on how his character is doing...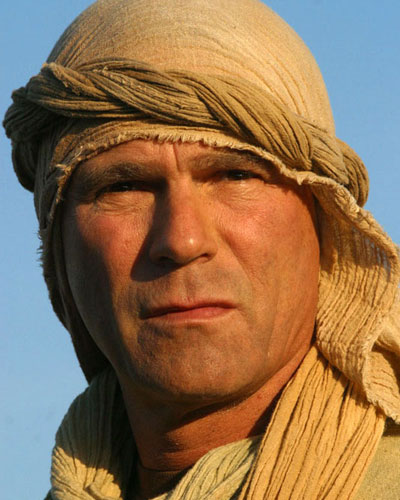 It's no wonder that political and military figures look far less spry as time goes on. After all, the strain of command does take its toll on a person. One of the rare exceptions, albeit a fictional one, is Stargate SG-1's Jack O'Neill. As an Air Force colonel, he spent the past seven years as leader of the SG-1 team and battling the Goa'uld as well as other alien threats, and yet has never looked better.
Now a brigadier general and in charge of Stargate Command, O'Neill no longer leads off-world missions but is still very much part of the action. Despite all the paperwork, his promotion seems to agree with him, as it does his alter ego Richard Dean Anderson. The actor is quick to acknowledge those who have helped make O'Neill's transition from colonel to general a smooth one.
"It's been a madhouse around here," says Anderson. "The folks on Stargate, from its writers and producers to the entire cast and crew, have been teetering on the edge of collapse in order to accommodate my scheduling needs. I've been commuting between Vancouver and California every three-and-a-half days or so, basically to be with my little girl Wylie. So for me it's just been a matter of travelling back and forth, but I know what goes on behind the scenes. Having been a part of this business for so long I realize what it takes. Everyone here has been so patient and obliging, and I can only be humbled by their efforts.
"Qualitatively, I've had even more fun this season doing the show, and I think what primarily facilitated that joy is O'Neill's promotion. Yes, he's still your basic fish out of water but in a far grander sense now. The idea of O'Neill being in charge and a general is fairly ludicrous," laughs the actor, "and certainly with my personification of it, the credibility of the whole situation gets stretched a bit. That said, we've had a lot of fun with it. I've been able to test the waters and try some different takes on things."
The actor's portrayal of Jack O'Neill has certainly endeared him to the programme's many viewers. Last September, he received further kudos for his performance from one of the show's most avid supporters, the United States Air Force. "I was invited to Washington, DC to accept an award for my work on the show and its positive representation of the Air Force," notes Anderson. "Naturally, I was honoured, especially as it was at the only annual black tie event held by the Air Force. It was part of a weeklong conference that was attended by, among others, the true heroes and elder statesmen of the Air Force.
"One of the many people I met during my stay was General 'Buzz' Moseley [Air Force Vice Chief of Staff]. He happened to be on the phone when I was brought to his office so I waited outside in the hallway with some of his staff. After a few minutes, one of the general's assistants knocked on his door and interrupted the phone call to let him know I was waiting. Needless to say, I was embarrassed. Once I got in his office, though, the general wanted to show me his coin collection and other things that were of interest to me.
"When General [Michael E] Ryan and General [John] Jumper visited the Stargate set, I asked them if what I was doing as a colonel was OK, and they were very generous with their praise. In speaking with General Moseley I asked him, 'How am I doing as a general, and please be honest. Is there any credibility whatsoever in my performance? Am I embarrassing you? How about myself?' He said, 'Heck, no way, son. You're doing a great job. We have guys like O'Neill and worse. Keep it up. We all love you.' I ended up telling that story during my acceptance speech and it received an enormous laugh and round of applause.
"I was made an honorary brigadier general, and presented with a medallion that was personalized to me from General Jumper [Air Force Chief of Staff] as well as an eagle statuette. It was a spectacular experience. Earlier that day, I was given a tour of the Pentagon, and then taken to Walter Reid Hospital, which was truly the highlight of my trip." Pausing for a moment, the actor continues, "I'm not articulate enough to describe what it means to visit people who've been in combat and come home without limbs, with nerve damage, etc. It was an honour just to be invited and asked to be present at such a place. I'm hoping to make it an annual visit, whether I'm working or not. As long as the door is open I'll try my best to go back."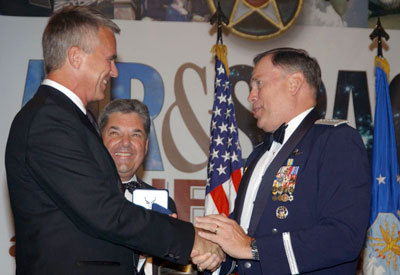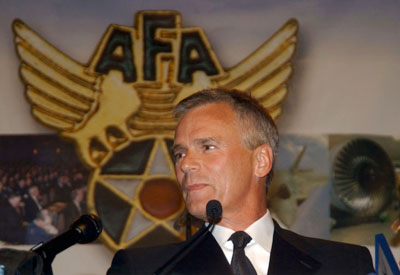 Shortly after returning from Washington, DC, the actor received yet another pleasant surprise. His TV hero, Dan Castellaneta, aka the voice of The Simpsons' patriarch Homer Simpson, was to guest-star in the eighth season episode Citizen Joe. "Rob Cooper [executive producer] came up to me one day while we were filming and said, 'Rick, did you hear about Dan Castellaneta?' The way he phrased it I thought something terrible had happened," recalls Anderson. "I was like, 'Oh, my God, no, what?' Rob said, 'Dan accepted our offer. He's going to be on the show.'
"I was literally speechless because it took me a minute to process the information Rob had given me. Now, I don't want to sit here and swoon, because I already did that in front of Dan when he came on set the first day," chuckles the actor. "He was so kind about obliging my curiosities and telling me about what he does, and he genuinely likes his job. After 11 years I wouldn't be at all surprised if Dan was growing tired of it, but I asked his wife Barbara, 'Is there an end in sight?' Gratefully, I was reassured that The Simpsons would be around for a while. Honestly, if the show were to go away it would create such a void in my life, and my entertainment. I don't watch much TV. It's CNN, for obvious reasons, but The Simpsons and Curb Your Enthusiasm are my lifelines to TV."
As a boy, Anderson never imagined that he'd one day grow up to work with someone he admired on TV, or rub shoulders with top US military brass. His TV career has helped open several doors for him, but it took the actor a little while to really appreciate that.
"It all started when I did a Soap Opera [General Hospital] for five years, but I was so youngish and irresponsible and lived a rather selfish lifestyle," he says. "I don't want to say I was directionless, but I was close to it. Once MacGyver took hold, though, I began to be invited to and/or asked for things to donate to charity auctions. That's when I realized there was the potential here for me not to be so selfish. I could, in fact, give something of myself as opposed to just taking or living a kind of non-contributory lifestyle. From that point on, certain things caught my attention, especially children in need and, eventually, environmental issues.
"I guess the clichéd kid's dream goes something like, 'When I make it big I'm going to buy my mom a new car'. Well, I've been able to do that, but more importantly I've been blessed with opportunities to become involved in some truly worthy causes. That's been the big reward through it all."
NAUGHTY BUT NICE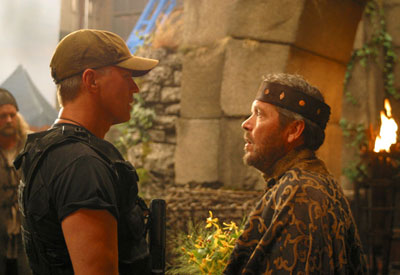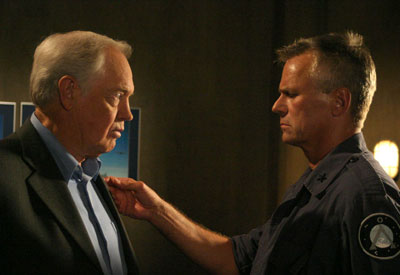 General O'Neill's blood pressure no doubt rises with the return of Harry Maybourne (Tom McBeath, above) in It's Good to be King, and ex-Vice President Robert Kinsey (Ronny Cox, below) in Full Alert. Both these gentlemen may rub his character the wrong way, but Anderson couldn't have been happier to be reunited again with McBeath and Cox.
"It's always a pleasure to work with two such extremely skilled actors," says Anderson. "With Tom there's a real fun factor. Since he first came on the show, the two of us have worked together to create the dynamic - which has become legendary, at least within our circle - between our two characters. Maybourne's and O'Neill's relationship goes up and down. There was an initial despising and suspicion of one another, which strangely enough has developed into a mutual respect where they help each other out. Almost right out of the gate, Tom realized he was acting opposite someone, namely me, who likes to work off the wall more than anything, and that's helped shape our onscreen rapport.
"As for Ronny Cox, my God, the man is a legend and his credentials are endless. He's also a man of great musical talents. When Ronny and I aren't talking politics, because he's very politically minded, we talk music. He has his own band and he tours. In fact, Ronny has turned down acting jobs in order to stay on tour, and I really respect that."
LASTING IMPRESSIONS
A few years back, Anderson had a dream come true when he attended a script reading for The Simpsons. "In this case, it was for a season finale, so everyone who worked on The Simpsons and most of their family members were there," he explains.
"So I was like this fly on the wall by invitation of Mike Scully, who's one of the show's executive producers and a neighbour of mine. Julie Kavner [the voice of Marge Simpson] actually came up and introduced herself to me and we began chatting. That was a major thrill, especially as her character's two sisters [Selma and Patty Bouvier, also voiced by Kavner] are crazy about MacGyver.
"When I eventually met Dan Castellaneta on the Stargate set, the first thing I said to him was, 'Please brace yourself and forgive the idol worshipping that will be exhibited by me. I think you're one of the greatest talents on the face of this planet.'
"Dan was so gracious and genuinely appreciative of what I was saying. I had lunch a few times with him and his wife when they were up here and I found them both to be very warm and friendly people."