ANDERSON AND SHANKS READY TO STEP
THROUGH THE STARGATE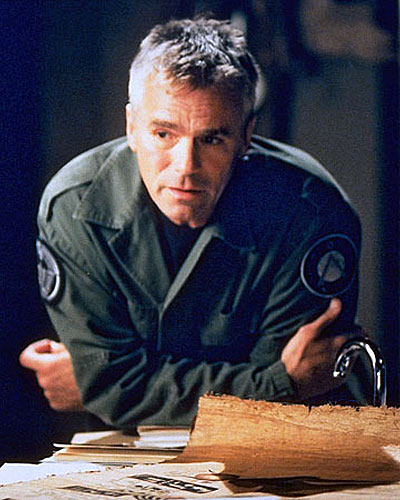 It's a rainy day north of Malibu, and if Richard Dean Anderson is feeling homesick for a damp British Columbia winter, it won't be for long.
Anderson's series, Stargate SG-1 has been renewed by Sci Fi Channel for a seventh season, after five on Showtime (and in syndication) and one on Sci Fi, where the series became an unexpected hit for the cablenet.
After negotiations between Sci Fi and producing studio MGM -- results of which were hinted at in October by series producer N. John Smith in front of convention attendees in the U.K., causing a brief ruckus -- Stargate SG-1 has been picked up for a full, 22-episode season.
One sticking point was Anderson's schedule. During filming, he has commuted between Vancouver, where the series is shot, and Los Angeles, where he has a daughter, 4-year-old Wylie.
"The seventh season, for me, only came about because MGM was very accommodating in what my request was for," says Anderson. "It had nothing to do with money. It had nothing to do with anything but time. What I needed was to make sure that my schedule was such that I could spend as much time with my daughter as possible."
"I have big-time dad responsibilities, and being a single dad, that's a different animal altogether. I told MGM, 'This is what I need to be able to do, and if it could be accommodated, if we would not sacrifice too much creatively, then I'm on board. Otherwise, I have to be a dad and be available and accessible.'"
"The scheduling so far, as indicated, is really spectacular to me."
Anderson, who is also an executive producer on the series, thinks they may be able to go back into production as early as February, for a planned summer 2003 season premiere.
"I do know we are coming back for a seventh season," he says, "but what form it takes is still being shaken out. They're still working out other contracts, and I'm not talking about actors, I'm talking about department heads and all that stuff."
"At the root of so much of this is, we didn't get an order from Sci Fi Channel until very, very late. We were almost done with our season. The decisions that should have been made months prior to that were put on hold."
"But once the trigger had been pulled on general involvement -- and mine, certainly -- everything else just fell into place. It's still doing so. There's no great clarity about who's going to be there, how much, etc."
One thing that is confirmed is that former series regular Michael Shanks -- who played archaeologist Daniel Jackson, part of Air Force Col. Jack O'Neill's (Anderson) outer-space exploration team -- is rejoining the cast.
After five seasons as a regular character, Jackson moved to another plane of existence, as it were ("He didn't die," says Anderson. "He 'ascended.'" ) and made only one guest appearance last season.
"It looks like he'll be back this coming season as well," says Anderson.
As to how much O'Neill will be around, Anderson says, "I'll have an abbreviated schedule, but the plan is for me to be in as many as we can jam in there for me."
This may mean more on-screen time for the rest of the cast. "You know what," says Anderson, "I don't think anyone's going to complain about that. All of the cast members love to work."
Before his stint on Stargate SG-1, Anderson was the star of the 1985-1992 ABC series MacGyver.
"It was brought to my attention," he says, "that this will be the second series that I've done that's gone seven years. I couldn't understand why there was such a push for my presence (on Stargate). I was convinced that Stargate could go on without me, but it was expressed that because my name was associated with longevity and success, it made sense that they were aggressive about it."
"I have a more pragmatic perspective on it. I love the people that I work with; I love the job; it's satisfying creatively. That's how I made the decision. I want to say, glibly, there's no accounting for taste -- whatever I can do to help."
One thing Anderson won't be involved in is The WB's Young MacGyver series, which focuses on the twentysomething nephew of the original character, a resourceful secret agent.
"Friends from Paramount called," Anderson says, "and asked what my interest would be. I did a little soul-searching on it... I don't mind lateral steps sometimes, but it didn't feel right for me to be involved."
"Mind you, I hope it's successful. I hope for success for everyone, but it just wasn't right for me to do it personally. I don't want to sound ungrateful or too glib about it. It was such a turning point in my career; it more or less created my career."
"By the end of it, I was ready... we did two MacGyver movies after that, and that was pretty much the addendum to the franchise for me."