SG-1 STAR READY TO MOVE ON, NOT RETIRE
Richard Dean Anderson's hectic work schedule and weekend commutes to L.A. to be with his daughter, warrants soul searching.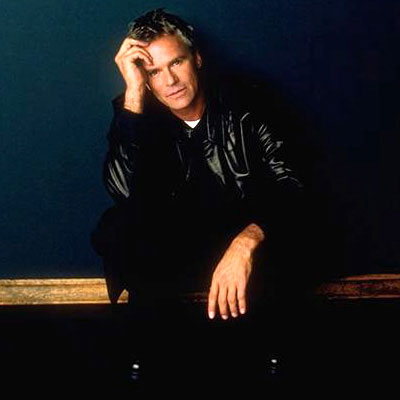 Stargate SG-1 wrapped its sixth and perhaps final season last week and star Richard Dean Anderson is hoping he'll have more time in Los Angeles with his four-year-old daughter, Wylie Quinn Annarose.
Since no deal is in place for a seventh season and a Stargate movie idea has fizzled for now, Anderson -- who starred in MacGyver from 1985-92 -- packed up his house in Kitsilano and has headed south.
If a deal for another season goes through, he wants to be much less involved in the day-to-day production, which ran for five years on Showtime until Sci Fi Channel picked it up last year. (It's now their highest-rated show.)
I met up with Anderson in his trailer on the Bridge Studios set in Burnaby a few weeks ago. The tanned 52-year-old star, his now silver hair close-cropped, the wicked sense of humour intact, is aging well.
He concedes he'd like to move on, not "retire" perhaps, but at least cut back on a frantic schedule.
"I'm in this Friday night-Sunday afternoon rotation -- (he flies to L.A. each Friday after wrap and returns Sunday afternoon in order to be back on set at 5 a.m. Monday) -- that's why I look the way I do," he jokes.
Would a shorter work week be the answer?
"If something could be worked out and it was viable creatively and was going to at least hold to the standards that we created this season, then I'll think about it."
Obviously, some soul searching is going on here.
"I've just acknowledged the existence of stress," says the self-confessed workaholic.
A far cry from the relaxed 17-year-old Minnesotan who discovered the Canadian west on a 9,000-km solo bicycle tour. Later, as entertainment director at the now defunct Marineland of the Pacific, near Los Angeles, he once wrote and performed in whale shows, often standing on a ladder, a mackerel clenched in his teeth.
Anderson, a committed environmentalist who sits on the board of directors of Paul Watson's Sea Shepherd Society, had an experience in Tibet in the summer of 2001 that has sparked an interest in changing his frenetic lifestyle.
He is part of a group of environmentalist documentary film-makers, who plan to travel the world's great rivers and chronicle the local cultures whose existence is threatened by hydroelectric projects. They've shot footage in Tibet, China and Chile and plan also to travel the largest rivers of Peru, Alaska, and Quebec.
It was last year's voyage on the upper reaches of the Yangtze River which had the most profound effect on Anderson. It was a rough trip -- brutal, in fact. As an apprentice rower-in-training at 4,500 metres above sea level, he experienced altitude sickness and lost five kilograms.
Anderson describes surrealistic scenes involving yaks, yak butter, yak dung, yurts, monasteries, monks and nomads. But he experienced "awe-inspiring openness" from the people. They were invited in, welcomed, even with their cameras.
"By river's end I knew I was changing. My perception of humanity was tweaked."
The highlight was being invited into a temple to sit with 50 monks-in-training chanting their morning prayers.
"That, I think initiated some new sense in me of appreciation for the existence of a spiritual world."
We move outside to eat lunch and continue chatting.
Anderson's personal assistant comes by to discuss a ballet sweater the star has picked up for Wylie, whose birthday is coming up in a few days. (Speaking of Wylie's ballet -- after years of on-camera stunts, Anderson shattered his miniscus and had to have knee surgery last year after tripping while carrying his little girl to class.)
A costume designer from the show stops at the table to remind Anderson to pop into the trailer for a final fitting of his Peter Pan costume for Wylie's coming birthday party.
The irony is not lost on me. I remember a few years ago, when Anderson was a serial dater -- a real-life Peter Pan. (The single dad is now in a romantic relationship with Presidio Med's Dana Delany.)
So, now it remains to be seen whether Anderson or Stargate SG-1 will be back at the end of hiatus next February.
"I don't want the machinery, the enormity of this. I'm also relinquishing my need to be an [executive] producer, because it's time," he says. "In fact, that's what it came down to, you know. I don't need any more money, the money is all fine, what I need is time."