RICHARD DEAN ANDERSON LOOKS BEYOND STARGATE SG-1
Richard Dean Anderson, star of the sci-fi series Stargate SG-1, charts his own course in life.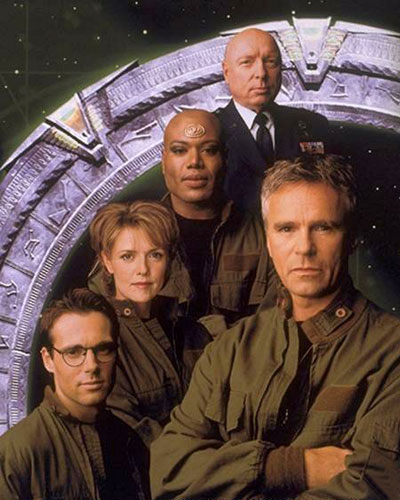 It's late June in Vancouver, but Richard Dean Anderson's mind is not entirely on the fifth season of Stargate SG-1, currently in production in the Canadian city.
"I'm OK," he says. "I'm distracted by several influences in my life, but otherwise just ducky. I'm going to Tibet in a few weeks. I have a couple of partners in a documentary film project. It's basically chronicling the great rivers of the world."
Actually, if all went as planned, Anderson is in Tibet right now. The expedition marks one of several projects the actor has going outside of his regular TV gig.
In Stargate SG-1, which airs Fridays at 9 p.m., on Showtime, and in syndication, Anderson plays Col. Jack O'Neill, the leader of an expeditionary team (played by Michael Shanks, Amanda Tapping and Christopher Judge) that uses an alien portal to visit distant worlds. The fifth-season episodes began airing at the end of June, but there has been no word yet about a season six.
"I have said I would do a sixth season," says Anderson, who is also one of the show's executive producers. "We're waiting to hear from (producing studio) MGM presently.
"I said, 'Yeah, let's do it.' The only hold-up they had on me was whether my responsibilities were going to be abridged a little bit, so I could spend more time with my daughter, who's almost three now, and lives in California. So I just needed a little time. They accommodated that, and I'm on board."
Fatherhood has proved one of Anderson's more pleasant distractions. His daughter, Wylie Quinn Annarose - born, coincidentally, at about the same time as co-star Shanks' daughter - lives in California with her mother, Apryl Prose. A first-time parent, Anderson has embraced the experience.
"I'm a great dad," he says, "I am. I know what to do. It's a learning experience, obviously, for any first-time parent, but I have a spectacular and continuing and developing relationship with my daughter. It just blossoms. Every element of it is positive. It's building; it's educational.
"We already have an extremely strong bond of love and trust, from which she helps me know what to do, basically."
Does she know what you do for a living? "Yeah. I have to have discussions with her every time I have to get in the car to go to the airport to come back up here. I take her aside, and we chat. I tell her that I have to go back up to the Canada house, that I have to go back to work.
"She says, 'Yeah, you have to go up to the monsters, right?' Then she'll say,'They're not scary. No, they're not scary.' But when I do have to go to the Canada house, she gets a little sad, a little mopey, but she says, 'You'll come back.' I say, 'Yes, I'll be back on Friday.' 'OK, Daddy. Bye'"
In the midst of new-father experiences, Anderson has expanded his environmental awareness. The native Minnesotan, a long-time outdoorsman, wound up in a segment of National Geographic Explorer, aired last October, that chronicled a rafting trip he took down Headwall Canyon, about 100 miles from Vancouver.
Since then, Anderson has expanded his connection to preserving the world's great rivers. He met Eric Hertz, the president of Earth River Expeditions (www.earthriver.com), which offers rafting trips around the world.
"We have our little mini-crew, four of us, that have been going down these rivers and chronicling them. Right now, we're doing it for ourselves. It's a spec situation, where we'll garner a library of footage and tell some stories. There are issues surrounding every one of the rivers we'll be visiting.
"We don't have a buyer. We're sponsoring this ourselves, and we'll piece together the story as we see fit, and then try to sell it to a broader audience down the line. Our intent is to put together pieces that will be more educational and enlightening."
What's the specific plan for Tibet? "It's an exploration of the rivers," says Anderson, "and the people who surround the rivers. We'll do an examination of Tibetan Buddhism, which is obviously a huge part of the culture.
"But you know what, I'm not standing on a soapbox, and I'm not grabbing on coattails and other cliches, to include myself in a Hollywood group that is championing a cause. The more I learn, the more I see the benefits and possibly the need for a global education of what's going on, and possible understanding, of what's transpiring there politically.
"From my perspective - since I am still fairly new to it all - there seems to be quite an imbalance. I don't know how to phrase it diplomatically, but there seems to be an odd dynamic involved in the Tibetan existence in relationship to China.
"But the Dalai Lama has said, 'Go there and see for yourself, and then come back and tell people what you've seen.'
"I need to brace myself for what's to come. As much as I'd like to think there's going to be some kind of spiritual revelation on this trip, I'm going to be filming. The more I read, the more intimidated I become about the magnitude of this arena of the world. I'm looking forward to it."
In light of these other projects, does acting seem less interesting? "I really do have some serious considerations coming up," says Anderson, "not the least of which is whether to perpetuate the commercial end of my business.
"I'm not so much interested in that anymore. I know its place, and I'm not ungrateful for what it has afforded me in life, but there's so much more to do. I don't want to get too profound; I don't want to run that risk. But it's time to do something else that's maybe a bigger contribution."