"DURING FILMING, MY FAMILY MISSES ME"
Original French | English Translation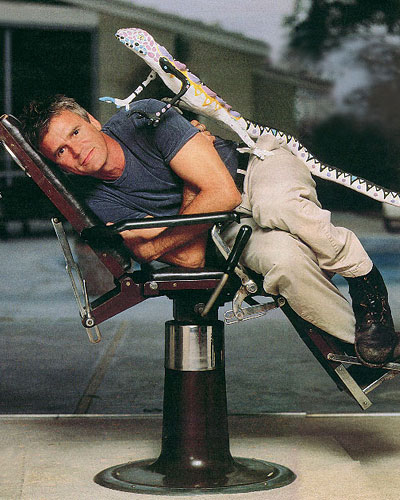 Still active in his fifties, Richard Dean Anderson, doting dad to his daughter Wylie, has his head full of projects: to make a new movie for Stargate, and like MacGyver, to take off on an adventure for a good cause.
Télé Poche: You are in the fifth season of Stargate SG-1. Are you thinking about a sixth?
Richard Dean Anderson: We're in negotiations. None of the contracts have been signed: everyone is wondering about the future of the series. Making a film would be an excellent idea. That would allow us to go above and beyond what we're doing now. The budget would be bigger. The scripts have never been as good as they are in the fifth season. But, for a romantic relationship between Samantha Carter and Jack O'Neill, you'll have to wait...
Wylie and your partner Apryl have returned to live in Los Angeles...
Apryl and I decided to register Wylie in a school, near our home, in California. The waiting list for registration is very long, but a place opened up for this summer. I decided to come back to Vancouver alone, while taking the time to be with my daughter at home. I take advantage of my family from Friday to Sunday! But Wylie misses me as much as I miss her.
Are you still interested in books on children's education?
I don't hesitate to borrow or buy books on the subject. That satisfies my curiosity... as well as helps me. To show her confusion to see me leaving, Wylie refuses to talk to me on the telephone. She doesn't like my way of life, and this is how she shows me.
How would you react if Wylie said to you, "Daddy, I want to become an actress or go into sports..."
She has artistic talent! Drawing, coloring, painting... all that attracts her. As for sports, I take her on hikes in the forest, or in the mountains, or by the ocean... Wylie is very curious, and she adores nature!
Don't you dream of a future for her?
When I was a student, I asked my father what he wanted me to do later on. He told me, "It doesn't matter what you choose as a profession, as long as you are happy doing it." My only concern for her, today, is to see Wylie very happy and in excellent health.
Don't you want to reprise MacGyver?
No, not for now. Besides, Paramount Studios owns the distribution rights. I'm busy enough with the role of Colonel O'Neill.
Are you still defending environmental causes?
I would like to be wrong, but I think that having elected Bush is not going to move things forward. For myself, I'm trying to have a more creative approach. I'm currently taking part in the development of a documentary that I'm going to be filming with three friends. All that is happening within the setting of a rafting company: Earth River Expeditions. We are going to go down the biggest rivers of the world. After Chile, we'll go to Peru, then to Tibet, China, Alaska, and Quebec... We're going to film all the cultures that live along these rivers, but for which the ecological balance is threatened by hydroelectric projects, like the construction of dams. In this way we hope to make the public aware of the problem. One heck of an adventure: we leave, the four of us, camera in hand, with the basic minimum, and this hope: to succeed in our mission.
AN INGENIUS HANDYMAN
The opposite of James Bond who uses gadgets, the very ingenius MacGyver prefers ingenuity and gimmicks to weapons, which he never uses anyway. Truly a genius of tinkering and chemistry, he can transform a mirror into a laser beam or build a telescope with an old newspaper and a watch crystal.
139 episodes of 50 minutes and 2 TV movies of 90 minutes.

First broadcast in the United States: September 29, 1985 on the ABC channel.

First broadcast in France: January 4, 1987 on Antenne 2.

Production: Henry Winkler (Fonzie of the series Happy Days), the ABC channel, and Paramount.

Distribution: throughout Europe, especially in Germany, Italy, Norway... but also in Madagascar, Latin America, and Asia.