BEST OF BOTH WORLDS
Richard Dean Anderson is catapulted back into the limelight as the lead in the acclaimed international hit series Stargate SG-1. Jim Swallow caught up with him on the Vancouver set.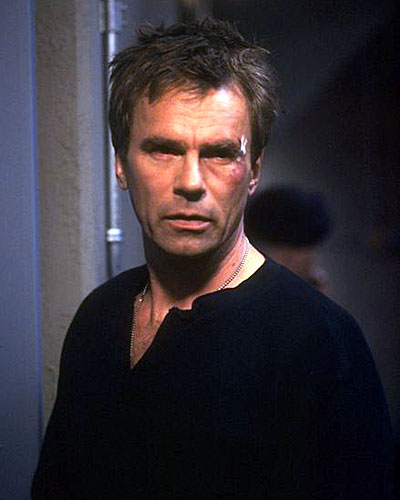 Science fiction is peppered with heroes of the square-jawed, insufferably noble breed, the archetypal champion with fire in his eyes and a steely demeanour, so it's a pleasant change to come across a character who can still fill the definition of the term 'hero' and yet be fallible, funny, and most important, human.
For actor Richard Dean Anderson, the high points of his career are built on this kind of role, from his starring part as the titular MacGyver, to the lead in the short-lived Legend series, and now top billing on Stargate SG-1 where, as Colonel Jack O'Neill, the actor continues the adventure started by Kurt Russell in the 1995 feature film.
As Anderson speaks about his work on the show, sometimes it's hard to see where Jack stops and Richard starts -- both share the same quick, dry wit and sense of dedication. "We're shooting a monster show today," he quips, in a break between set-ups on the Stargate Command soundstage. "It's hugely invested with special effects, split screen and twinning going on.
The episode is Double Jeopardy (see Dreamwatch 76), and it features the SG-1 team meeting up with their robot doubles from the episode Tin Man.
"All of us play two roles throughout, so it's technically a nightmare. A lot of the techniques we have to use are time-consuming and tedious... we have to be very meticulous about every shot." The actor's co-star, Michael Shanks, is in the director's chair for this episode. "He's done his homework and he's making a go of it in good fashion, says Anderson. "I've thought about it, but there's no way in hell I'd want to direct one of these things -- it's a nightmare!"
He notes that as an executive producer, he can work in edits after the fact, "after [Michael's] done all of the work!" And as the series lead, being both in front and behind the camera would present logistical problems as well. "I'd just as soon let the directors have all the headaches and do all the preparation."
Anderson sees Stargate SG-1 as a show that can straddle both issue-oriented storylines and action-adventure. "We kinda go both ways. We have a lot of episodes where we tell straight stories, morality plays, special effects-laden adventures, so we have that spectrum from which to choose. I don't think we really have a policy; sometimes we'll find little seeds of ideas that may have a moral, but we try not to stand on a soap box and do any preaching."
MAGICAL ELEMENT
As for the magical element that makes the show so popular, Anderson looks to the quality of the team effort behind Stargate SG-1. "I think there's a combination of elements involved. The technical quality of the series is impeccable -- the visual effects have been nominated for an Emmy award and it's just an amazing group of artisans working in that area," he enthuses.
"Part of what makes it attractive, and what makes it different from other sci-fi genre shows like Star Trek, is that we take place in the present day. I guess that the audience are able to identify with the 'nowness' of it, the idea that this is all really happening. That point of reference makes it unique, as opposed to 'Stardate: Two Billion!' That's all projection. Our springboard is a little mountain in Colorado, present day. I think we're also dealing with one of the most singular backdrops, the most unique television prop in any frachise, which is the Stargate itself. It's a visual hook and very attractive to look at... people anticipate it going off!" Seated only a few feet away from the massive silver ring that dominates the set, it's hard not to agree with Anderson's comments.
"The Stargate also affords us the ability to do what we do," he continues, "to pass through it and travel to any world we want to. I said from the beginning when I signed on to the series, part of my reasoning was that the mere nature of the Stargate is only limited by our imaginations; there's a very obvious positive side to the whole concept behind the series. It's a combination of all those elements, and the bottom line about any show is that you're telling stories. If those are not intriguing, you're certainly not going to garner and hold an audience. You can only fool people with smoke and mirrors and special effects for so long before it becomes just blah! We ebb and flow, we're not hitting home runs every week, but we're consistently getting better at telling good stories in our arena."
How does Anderson feel his tenure on this show has changed him? The actor considers for a moment. "I want to answer honestly. I've always tried to keep things as light and loose as possible, partially because of my responsibilities as a producer I want things to be comfortable, I want people to come to work and feel free to laugh. It's light and airy, and there are a lot of comic moments on set. As an actor, I had to tell MGM up front that there was no way I could replicate Kurt's performance, because my hair wouldn't stand up like that, and because life is too short and I couldn't play O'Neill that stoic."
Russell recently visited the Stargate SG-1 set and the two actors spoke about the role of Jack. "I told him that with all due respect I had to bring a sense of humour to this guy," says Anderson, "and first of all, how do you make your hair do that? He understood that I was having fun with the role!"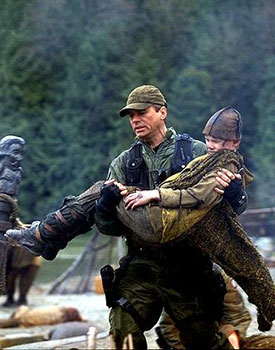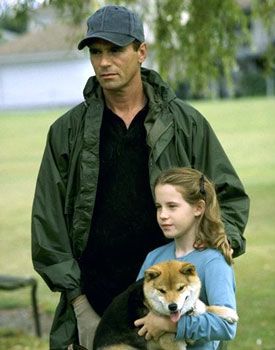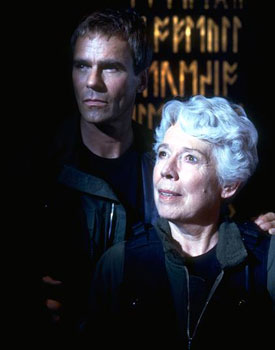 SENSE OF PLAY
That sense of play in his portrayal of Jack is of paramount importance to the actor. "Have I evolved much? I have learned how to balance my responsibilities more than anything, and I know the character real well. I also know my limitations as an actor within this genre and this project, and I try to remain true to that."
Considering that his work on the series takes up nine and a half months of every year, it is important for Anderson to maintain that focus. "Balancing two aspects, being a front-line actor and being responsible for production, are a big challenge. Being able to communicate what's needed between those two factions is sometimes a little touchy, but they're smart people around here and they know that when I'm saying something, there's thought behind it. The other big challenge is being without my baby girl!"
At present, the most important thing in Anderson's life is his two-year old daughter, Wylie, and the doting father's face lights up as he talks about her. "My priorities have changed," he beams. "I commute from Vancouver to California every weekend to be with the baby, and that's my priority -- fatherhood has done that for me. What used to be a rather selfish lifestyle has become the inverse of that. I need the proximity to my kid, and everything else can fall by the wayside."
Never a 'baby-bore', Anderson is straight up about the new girl in his life. "I unabashedly say that I'm more interested in her and her growth than anything else in my life. She's still so new to me, and that whole new dynamic of being a father is new as well. I think I can be good at it."
A side effect of Anderson's new fatherly status has also rubbed off on the actor's occasional work with child co-stars on Stargate SG-1. "Off-camera, my relationship with the kid actors is almost more fun than the stuff we put on-camera. I adore kids -- they're my favourite people!"
An important part of Jack O'Neill's motivation stems from a back story about the death of his son, and Anderson notes that it was important to play those character 'beats' early on in the series. "We dealt with that so psychologically we could have some closure, a bit of mending for the character so he could move on. I still have that as a background, and it gives Jack a reference point with kids that he does come into contact with, because of that loss."
Anderson eschews the old showbiz adage about working with children, recalling his work on the TV movie Past the Bleachers, which also dealt with the loss of a child. "I supoort going in that direction with O'Neill because I love working with kids. Sometimes kid actors can have an unfortunate reputation, but we've been very lucky in getting talented and level-headed children."
NATIONAL GEOGRAPHIC
He can still find a little time to work outside the orbit of father-actor-producer, as a recent project for the National Geographic channel shows. "It's part of the National Geographic Explorer series," Anderson explains. "Basically it started out as a raft trip down a class four river, and it evolved into quite a nice little issue-oriented trek. Essentially, the issue centred around clear-cutting by the forestry industry, and attempts to preserve the acreage from the effects of that."
As a member of the Water Keeper Alliance, a pro-environmentalist group set up to preserve the world's waterways, Anderson's participation in the project helps raise awareness of these important ecological issues.
As well as his roles in the past on telemovies like Beyond Betrayal and Through the Eyes of a Killer, British audiences also got to see Anderson playing the pilot of a doomed airliner in the recent mini-series Pandora's Clock. "I was in a cockpit against a blue screen for three weeks," he recalls. "It was a big, honking monster mini-series... and once again I saved the day!" he jokes.
DOUBLE-HEADER
Back on Stargate SG-1, Anderson's work is something of a double-header, with not only his acting chores to manage but also a role as executive producer in partnership with Michael Greenburg as part of Gekko Films. Previously, the duo worked on the MacGyver telemovies Trail to Doomsday and The Lost Treasure of Atlantis. Anderson is self-deprecating about the workload, though.
"On paper it looks like [twice as much work] as it is, but there are people who work far harder than I do. I involve myself in a lot of peripheral activities, and I have the luxury to do so because I'm surrounded by extremely talented people.
My contribution is mostly in editing, script-editing and some front line production fire-extinguishing. When I start getting new scripts, I know the characters' voices very well, so that's where my contribution as a script-editor comes in," he explains. "It's more in polishing those voices or asking the naïve questions born of being a science fiction neophyte."
Anderson gestures around the Gate Room set. "It's a well-oiled machine, this monster we call Stargate. We have a phenomenal producer in N. John Smith, who knows how to make it all work, and [executive producer] Brad Wright is a brilliant guy. This crew is the best I've ever worked with," he says, flashing a smile to one of the grips. "Every actor says that about the crew they are with, but I really mean it! This is a unique group."
Anderson admits that he didn't suspect that Stargate SG-1 would become such a hit. "I had no expectation at the beginning. To be honest, I didn't really foresee myself in an extended series situation again, but it's worked out. I'm working with great people on a good project. I signed on initially for two years -- I knew it would go on that long -- and before the first year was over, the ShowTime network picked us up for another two, so we had a four-year order right out of the gate. We were successful before we were even successful! ShowTime and MGM both saw the quality and the potential of the show for it to become a nice cash cow globally, and it's become just that!"
Speaking during the closing days of recording the fourth season, Richard Dean Anderson is looking ahead to the future. "We have at least one more year to go, year five, and we'll see what happens beyond that..."
RICHARD DEAN ANDERSON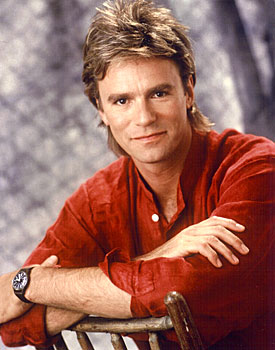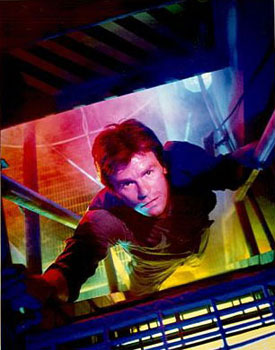 Born 23 January 1950 in Minneapolis, Minnesota, Richard Dean Anderson's first love was ice hockey. Setting out to become a professional player, he elected to pursue a safer career after breaking both his arms on the ice in separate incidents only three weeks apart...

Anderson remained active and adventurous, embarking on an epic five and a half thousand mile bicycle journey through Canada and Alaska at the age of seventeen...

His father was a teacher of English and drama, his mother an artist, so Anderson was naturally drawn to the creative arts. Studying drama at St. Cloud College and Ohio University, Anderson left his course shortly before completion...

Travelling around America, Anderson finally settled in Los Angeles where he worked as a street mime and juggler, and also as a performer at a sea life centre. In addition, he appeared in several plays, and performed with his rock band Ricky Dean and Dante...

Anderson broke into television in 1976 with his role as Dr. Jeff Webber in the daytime soap opera General Hospital, staying with the show for five years...

In 1985, he rose to fame as inventive adventurer MacGyver in the hit ABC series (pictured). During his time on the show, Anderson set up the production company Gekko Film Corp with Michael Greenburg, going on to produce two MacGyver TV movies and, later, the fantasy western Legend for UPN...

In a deal with MGM and Showtime, Anderson now serves as producer and star of Stargate SG-1, based on the 1994 feature film. In his spare time his interests include gun-control organisations, the Multiple Sclerosis Society, the Make a Wish Foundation and the Special Olympics. Anderson also has a two year-old daughter with his partner, Apryl Prose.