RICHARD DEAN ANDERSON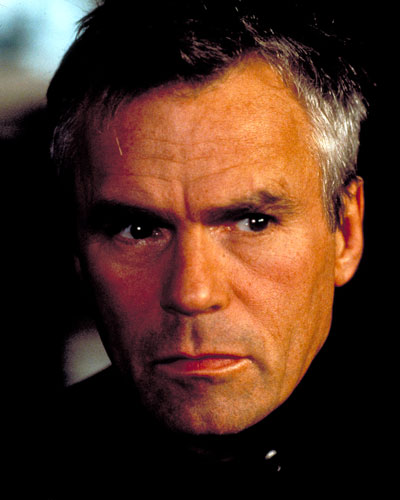 Richard Dean Anderson is in love again. No, he really means it this time. He even knows down to the minute when his knees buckled and his heart strings began to play like a violin. It was on Aug. 2, 1998, at the precise moment when his girlfriend, Apryl Prose, delivered his first and only child, Wylie Quinn. The momentous occasion shook the former globe-trotting vagabond to his very core. The star of "Stargate SG-1" (Fridays, 10-11 p.m., Showtime) has been flying high ever since. Up at 5:30 every morning to go work, he kisses Wylie and Apryl goodbye before they even wake up. After a 14-hour workday, he hugs his girlfriend hello and kisses a sleeping daughter on her forehead.
"But on weekends, I'm a total dad/baby wrangler," says Anderson, 50, the former star of "MacGyver," now in his fourth season as the cool, calm Air Force Col. Jack O'Neill in the sci-fi series based on the 1994 "Stargate" motion picture, starring Kurt Russell.
"I have no great revelation to share as a parent, but for me, it has altered my attitude towards life 180 degrees," he muses. "Wylie essentially has given me a reason to enjoy life again. She's wonderful. Daddy's little girl. She sleeps when she's supposed to. She lights up the entire room. She's just getting into the temper-tantrum stage, which lasts maybe 12 to 15 seconds each - which is brilliant.
"She lets you know she's there, yet she already has a 'life's too short' attitude," Anderson continues, laughing. "We have lots of fun together, really loving the quiet, intimate moments. She loves forests, especially those with bike paths and walking paths. Wylie loves the little baby seat on the back of my bike. I strapped her into it about four months before I was supposed to."
Anderson works hard to avoid sounding like a stereotypically proud father and fails miserably.
"I guess I'm no different from any other dad who loves the outdoors and wants to share it with his children," he sighs. "But the perfect telling moment about how I knew my relationship would go with Wylie for the rest of my life came last Mother's Day. Although I know every other parent will say, 'Just you wait ...'
"We had dinner at a restaurant in Vancouver's Stanley Park, with the baby all dressed up in her cute little outfit," Anderson continues, blessed with a photographic memory on every matter concerning his daughter. "When we came out, we walked down a path to a park bench. It was dark, with only a little light from the restaurant shining through the trees. I walked ahead about 30 feet. The baby just stood there with her mother and watched me.
"I had no idea of what parenthood was all about until she started chasing me the best she could, yelling, 'Daddy! Daddy! Daddy!' It made me cry. There is no doubt in my mind about being there for her forever. My dad reminded me of that when he said, 'It's not one of your Australian shepherds, you know. She is yours for life.' Still, there has been little of that 'she'll wrap you around her little finger' routine. So far, I've been a bit more of the disciplinarian, but she treats both parents equally."
The former highly mobile heat seeker - whose taste in women ran from Hollywood's Lara Flynn Boyle to East Germany's world-champion figure skater Katarina Witt - shows every sign of settling down, except for planning a large wedding. In fact, marriage is one of the few subjects Anderson prefers to avoid.
"(Marriage) is not a dirty word at all, but we don't discuss our private life with others," he says. "It's our matter to deal with ... and we don't talk about it publicly."
But the tight relationship with Apryl Prose is custom made for a man who recently acquired a taste for quality family life.
"She's an extremely talented woman who has worked within the business in various occupations," he says appreciatively. "Apryl has acted but has very little interest in doing it now, thank god. She's run casting companies, done wardrobe and been a hair stylist. And a personal assistant to a couple of actors. She is also a doer and an organizer who threw me one hell of a 50th birthday party back in January. Apryl has no limitations creatively."
Although stuntman Dan Shea now takes most bumps, lumps, cuts and bruises for Anderson, he is looking forward to a long rest from physical roles once "Stargate SG-1" crashes in the ratings a season or two down the line.
"I've been incredibly lucky, with a half-dozen TV series on the air during the past 15 years," he says, "but some of those jobs were brutal. Especially the seven years I spent on 'MacGyver' - a classic run-and-jump show, where I mangled everything from ankles and knees to ribs and my spine. When I was young and full of vinegar, I was an idiot for doing all my own stunts - just because I could do them."
But every time Anderson even hints at the word retirement, heart attacks and bleeding ulcers become common among the cast, crew and producers of "Stargate SG-1." He is very much aware of the situation.
"I'm finally at an age now where I can afford to be honest with myself ... yeah, my knees and back really hurt. And again, without getting too serious or too morose about this, I really love being a dad and dadding things. I want to be free to be there for my little girl."
With 88 episodes of "Stargate SG-1" in the can by the end of the season and negotiating for another 22 segments next season, there is ample material available for domestic and international syndication.
If it seems like Anderson has been around forever, he has. The man of Swedish stock from Minneapolis gained his first significant television exposure on the daytime soap opera "General Hospital" (1976-81), then switched to prime time with "Seven Brides for Seven Brothers" (1982-83), "Emerald Point, N.A.S." (1983-84), "MacGyver" (1985-92), "Legend" (1995) and "Stargate SG-1" since 1997.
Anderson, also one of the executive producers of "Stargate," doesn't worry about mortgage and car payments anymore. Especially since he only spends three months in Malibu during the off season and nine months in Vancouver - where the U.S. dollar stretches a lot farther - while in production.
"Between 'MacGyver' and 'Stargate,' I've spent the bulk of my professional life working in Canada," he says. "I love it here - except for the cold, wet winters - and the locals treat me as an equal. Whenever I return to Vancouver, an immigration officer at the airports goes, 'Hi, Mr. Anderson. Where have you been for the past two days?"