UNIVERSAL SOLDIER
Actor, producer, sportsman, whale-lover... Stargate SG-1's Richard Dean Anderson chats to Xposé.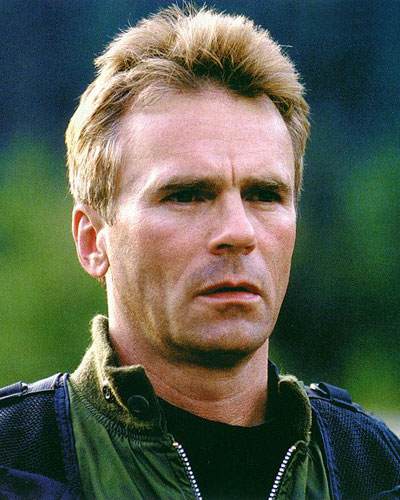 Inviting Richard Dean Anderson to say anything sensible regarding Stargate SG-1 is rather like inviting the series' chief villain, Apophis, to lay down his weapons of mass destruction and join a commune. "I want to be called Loretta," he proclaims, paying homage to his love of Monty Python as we settle in for a chat. However, once pinned down on the subject of Stargate SG-1, Mr. Anderson proves more than eloquent as he explains what possessed him to take on the dual roles of executive producer and leading male on what has become one of television's most popular science fiction shows.
"You'd think I'd learn - a man of my age," he grins and certainly as an extremely youthful 48-year-old you'd think he'd have more sense. "But it was a matter of knowing that I have the savvy of at least being around the business long enough to know how things are supposed to work and having, modestly speaking, a relatively creative mind plus garnering enough of an amount of respect to be taken seriously that it all just made sense," he continues. "That and the fact that Mike Greenburg and I had been friends for a long time and wanted to work together again tipped the balance."
Actually Anderson and Greenburg have been friends and business partners for more years than they'd care to admit creating their own production company the Gekko Film Corporation after the award winning MacGyver series finished its seven-year run. They then made two MacGyver films in which Anderson acted and worked as an executive producer before continuing on to complete several other projects including a short lived but hilarious television series called Legend which displayed the actor's natural aptitude for comedy.
"I'm a great lover of British-type humor," he reveals. "Since I was a child I've admired the 'masters' like Terry Thomas, Sir Alec Guinness and Peter Sellers. My own sense of humor is very similar and I try to incorporate that whenever I can."
This laconic sense of humor and penchant for the ridiculous just might have had some connection with Anderson's decision to become involved in the Stargate SG-1 project too. When MGM first asked if he would like to develop another series following the international success of MacGyver Anderson was more than enthusiastic.
"I really loved the Stargate movie," he explains, "and as I'd never done any science fiction in my life I felt it would have been hypocritical of me to turn down such an opportunity but I did make sure MGM and Showtime knew I was going to bring my own brand of humor and irreverence before embarking on the journey."
The actor maintains the reason Stargate SG-1 is so popular universally is because those involved never take themselves too seriously. "We investigate serious aspects from time to time, but there is a certain wryness in the way we approach them."
This 'lighter' view towards the portrayal of the genre has certainly paid dividends as far as Stargate SG-1 is concerned. From an initial two-year pick up by Showtime, the steady rise in the show's popularity encouraged the network to extend the run for another two years. By the time Stargate SG-1 was sold into syndication the world over, the die was cast with many other networks including the Sci Fi Channel and the UK's Sky One internationally taking the opportunity to jump through the Stargate.
"It's been like a runaway express train," says an enthusiastic Anderson. "The distribution side of things is tremendously successful and creatively we are constantly in a growing and explorative position. It's like, 'What can we do next?' We are only limited by our imaginations."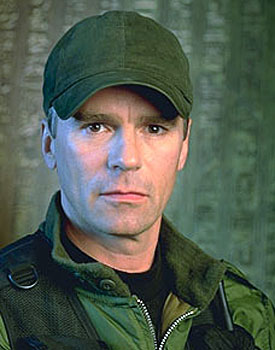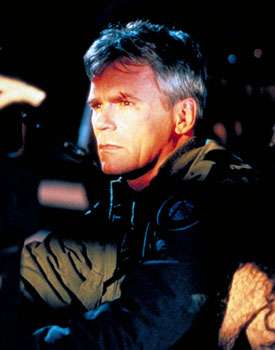 In terms of an international audience, Anderson suggests the way the show is being presented is not going to change astronomically to accommodate the various countries' differences. "Our stories and the planets visited by SG-1 team reflect the fact that all the peoples we encounter are born of Earth's history so in a way we already have an international flavor. We create our own languages but we tap into all cultures from Ancient Greek to Old Egypt to Christianity. I think we're pretty diverse." Although he quips, "We've done an episode on a snow-scaped environment, had a think and don't feel there's much more we can do to adapt to the Icelandic population."
Another reason for the show's continuing popularity could be the lack of pretentiousness. Anderson is adamant that there is no specific message hidden deep within the stories depicted in the series.
"I've always tried to stay away from standing on any soap box or doing any preaching. What we do is sheer entertainment. I think that just by the very nature of drama lessons will unfold but I don't pretend to be holding anything deeper than what you see."
The modest perception of self actually hides an extremely accomplished and versatile individual. The eldest of four brothers, Anderson's dreams of becoming a professional hockey player were literally shattered when he broke both his arms. In a move more mature than most young men would consider in their mid teens, he got on his bike and rode across Canada from one side to the other whilst trying to decide what to do about his career. Cycling remains a passion even now.
"When I'm not working I'll cycle every day." Not that his love of hockey ever diminished. "I love that game," he admits. "Hockey was my life blood whilst growing up in Minnesota." Such is the man's fondness for the sport that he founded and is Captain of the Celebrity All Star Hockey Team and was chosen as the honorary Captain for the US Olympic Hockey team. An accolade that is dear to his heart.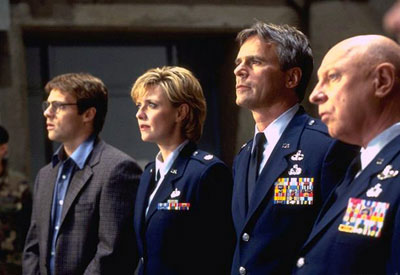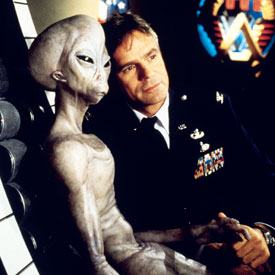 Dangerous sports of all kinds hold an irresistible appeal for this man. When he's not playing hockey Anderson is more than likely to be throwing himself out of a plane - he's into sky-diving, thrashing around a race track - he has an IROC-Z Camaro (a fast thing on four wheels) or slithering down the slippery slopes extreme skiing!
"I've had to slow down a little bit because I've had a couple of reconstructed knees so have to think a little bit about what I'm doing."
Even water holds a fascination. He worked with killer whales at a sea-life center, a hazardous occupation at the best of times.
"I used to hold the fish in my mouth so that the whale could rise up and take it but I flinched one time and got a bruise on my forehead which lasted for weeks."
Lucky he still had a head to bruise. Don S. Davis (General Hammond) suggests, "If Richard had been born into another time, another era, then he would most probably have been an adventurer. His inquisitive nature, his hunger for knowledge, his love of danger and the unknown would certainly have pointed him in that direction. He takes risks that not many people would care to contemplate in the so-called 'safety conscious' society of today. I admire him greatly for that."
Anderson has also earned a fair amount of admiration for the amount of charity work he supports. Although characteristically modest about his achievements, the actor has been honored several times for his outstanding contributions to a variety of worthy causes ranging from fundraising for an inner city building project to making dreams come true for terminally ill youngsters. Amongst the myriad trophies he's won for acting and sports success, a personal favorite from a different quarter came from the Make a Wish Foundation who named him Celebrity of the Year.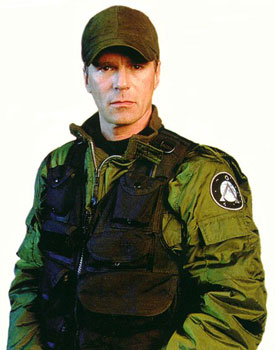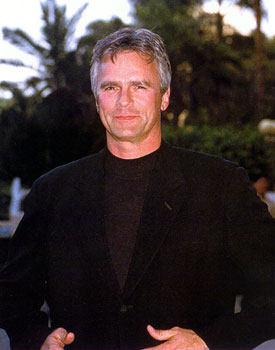 Given Don S. Davis' description of his real life qualities it's hard to see where, as a person, Richard Dean Anderson ends and Colonel Jack O'Neill begins. Anderson's laid-back portrayal of the decorated soldier and leader of the SG-1 team would seem to indicate there's not much of a difference between the two when it comes to jumping in where angels fear to tread but the actor would beg to differ.
"O'Neill's persona is quite simply down to the writers. I've just added my own flavor to the character they created and developed him as we've gone along."
Whilst insisting that there was no actual master plan involved, Anderson, nevertheless admits that there is one particular issue he's glad to have followed through and addressed. "We had an unresolved story line from the movie which concerned the death of O'Neill's son and we fairly clearly dealt with that, cleaned it up and had some closure, which I'm very grateful for because it's allowed me as an actor to be ready to go forward in any direction."
Just what path he takes remains to be seen. All the Executive Producer can reveal for Season Three is that there are some pretty strong episodes on the horizon, which concentrate on the individual characters and their relationships within the SG-1 group.
O'Neill and Major Carter (Amanda Tapping) get together in the most unexpected of circumstances in an episode entitled Point of View and in Learning Curve O'Neill takes it upon himself to help a young alien reclaim her childhood. What the actor will divulge is that it will all be accomplished with his trademark "tongue-in-cheek, dead-pan delivery but with a little touch of humanity for good measure."