IN STEP WITH RICHARD DEAN ANDERSON
He disliked General Hospital, loved MacGyver, and now Richard Dean Anderson stars on the Sci-Fi series Stargate SG-1, which looks like it just may run forever.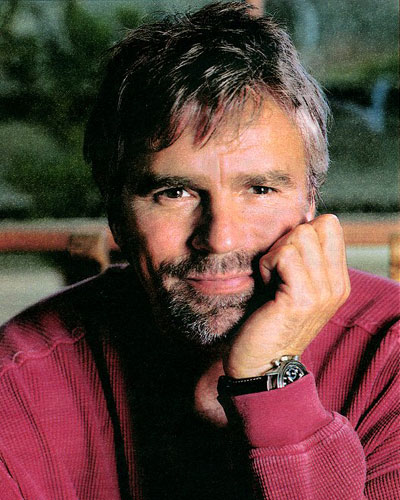 PERSONAL:
Born January 23, 1950, in Minneapolis, Minnesota.
Dating Apryl Prose since 1996; one daughter: Wylie Quinn Annarose Anderson, 4 months.
TELEVISION:
Includes General Hospital, 1976-81; Seven Brides for Seven Brothers, 1982-83; Emerald Point, N.A.S., 1983-84; MacGyver, 1985-91; Ordinary Heroes, 1986; Beyond Betrayal, 1994; MacGyver, 1994; Legend, 1995; Stargate SG-1, 1997-.
FILMS:
Include Young Doctors in Love, 1982; Odd Jobs, 1984.
BRADY'S BITS:
You might remember Richard Dean Anderson from his five years on General Hospital (he hated the last two) or the short-lived series Legend (his favorite). He and his girlfriend, Apryl, just had a daughter, Wylie Quinn Annarose Anderson (what a name!). Why haven't he and Apryl married? "We've talked about it," Anderson said. "Neither one of us wants to have our lives organized by church or state. Of course my mother feels differently. When I called my mom to say we were pregnant, she said, 'When are you getting married?' When I called to say the baby was born, she said, 'When are you getting married?'"
Is there life after MacGyver? Richard Dean Anderson, who starred as the brainy action hero for six years on ABC and is still seen in syndicated reruns, was in Manhattan to answer this question. A recent father, Anderson sat down with me to talk about his other baby, the sci-fi series Stargate SG-1.
"I was a bit skeptical at first, not being a big sci-fi buff," he told me. "More of an Indiana Jones kind of guy. Showtime had already ordered 44 [episodes], where usually you have orders for two, four or six. Flash forward to where Showtime ordered 44 more, and now we're into a four-year gig. And the syndicated deal with the Sci-Fi Channel has 132 episodes, so now we're up to six years."
In a business where 13 episodes mean "forever," Anderson knows how extraordinary a deal he has. Gekko Film Corp., the production company he runs with a partner, also has a share of the deal. "Gekko? Isn't that a lizard?" I asked.
"Exactly!" he exclaimed. "The history is: I was in Tahiti, 3 a.m., lying in bed, buck naked and sweaty, when one of the little devils, this 3-inch lizard, jumps up on my chest and stops there. Normally, I'd be out the thatched roof. Except that we made eye contact, he did a little push-up and ran off. I saw it as a good omen."
Anderson had some previous experience collaborating with the animal kingdom. He once worked at Marineland: "I wrote the show and announced for the killer whales and the high-dive team and was sure to write myself into a part."
But it was MacGyver that put him in the spotlight. "That show was the turning point of a lot of the sensibilities of my career," said Anderson. "I'd not wanted to be part of the Hollywood mechanism. I was a vagabond and a wandering rogue. Had a Harley. When I went for the audition [for Henry Winkler and associates], I had long hair, jeans, a leather jacket. I looked like a dandelion. And since I don't have very good eyes, I asked if I could put on my glasses to read for the part. And when they let me do that, I knew I had the role. They knew I was different."