A MULTIDIMENSIONAL ACTOR LIKES 'STARGATE' CHALLENGE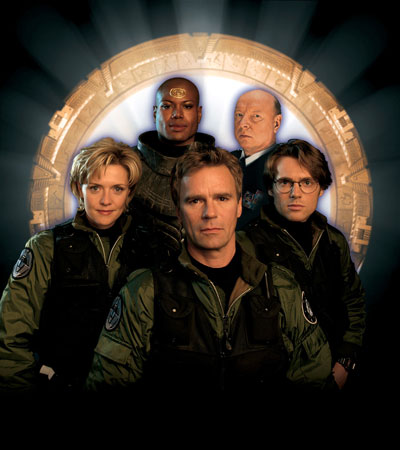 The subject is other dimensions.
Not the ones visited by Richard Dean Anderson in his show Stargate SG-1, which arrives in syndication at 5 tonight on WNYW/Channel 5 after a year on Showtime cable.
No, Richard Dean Anderson is talking about his other dimensions.
For instance, did you know that the star of MacGyver was once a mime?
"I was an extremely anachronistic mime," he recalls. "I used to speak a lot. Like, 'I'm opening a door now.' "
Or that he sang with a rock band, Ricky Dean and Dante, with songwriter Carl Dante?
"Actually, it was more like I made friends who said, 'Aw, come up onstage,'" he says. "I don't want any misconceptions, because I respect musicians so much that I don't want to be mistaken for one."
Most important at the moment, Anderson is a proud papa.
His daughter, Wylie Quinn Annarose Anderson, was born Aug. 2, and Anderson is already rearing her on a mostly Mozart diet, with an occasional Yo-Yo Ma cello selection thrown in -- classical music is another of his great loves.
"At first, I was a little reticent to let Wylie listen to it [Yo-Yo Ma], but I realized that there's such intricacies of form and melody that I can't keep her away from it," he says. "If it makes her cry, then that's an emotional response."
So what do these multiple sides of Anderson's personality have to do with Stargate SG-1?
A lot, actually. Anderson is a guy who likes to boast that he'll "do anything once." Though never a science-fiction fan, he felt he'd be a hypocrite if he didn't take up the Stargate SG-1 challenge.
"I liked the franchise; all the elements kind of fell into a good place," says Anderson, 48. "I said, why not give it a shot?"
In this MGM Worldwide Television production, based on the 1994 Kurt Russell film, Anderson is the air force colonel who leads a SWAT team through the stargate, an interplanetary portal that has linked Earth with other galaxies since the time of the ancient Egyptians.
The two-hour syndication premiere, "Children of the Gods" at 5 p.m. on WNYW, will be followed by other episodes from Showtime's first season at 4 p.m. Saturdays. Meanwhile, the show continues its second season on Showtime 10 p.m. Fridays.
Though the concept of faxing yourself back and forth through the universe is not new to sci-fi (Arthur C. Clarke actually coined the word "stargate" in "2001: A Space Odyssey"), Stargate SG-1 rings some changes on the theme by proposing that the gods of ancient Egypt were actually visiting aliens.
Nor does the show exploit the special effects possibilities at the expense of Anderson and co-stars Michael Shanks, Amanda Tapping, Don S. Davis, and Christopher Judge -- another reason the show appealed to Anderson.
"You can't fool an audience with smoke and mirrors," says Anderson, also the show's executive producer.
"You can throw up all kinds of special effects and blow things up every few minutes, but the audience sees through that," he says. "I know I do. I get bored. If it's a good story, you can paint. You've got the canvas -- you just dab in the explosions here and there."
Now that Anderson and companion Apryl Prose are happy parents, Anderson is all the more conscious of being a role model for TV viewers.
As the hero of MacGyver, which ran from 1985 to 1992 on ABC and spawned two TV movies, Anderson was very conscious of the show's anti-violence, gun control themes. In fact, he's proud that MacGyver won the emnity of the National Rifle Association.
But any show watched by Bart Simpson's ghastly aunts Patti and Selma can't be all good, and the internationally popular MacGyver has also inspired some dubious fan activities.
In 1997, a hotel worker in Bangkok was convicted of stealing $2,870 from Japanese tourists by using a safe-cracking trick he said he learned on MacGyver. In 1993, a Frenchwoman claimed that the recipe for a homemade bomb that killed her son was aired on MacGyver.
"When it started going global we would start getting reports like that," Anderson says. "We'd always address it publicly or privately, but we were so responsible not to show exactly how to do any of that stuff."