STARGATE STAR HAS NO TASTE FOR SCI-FI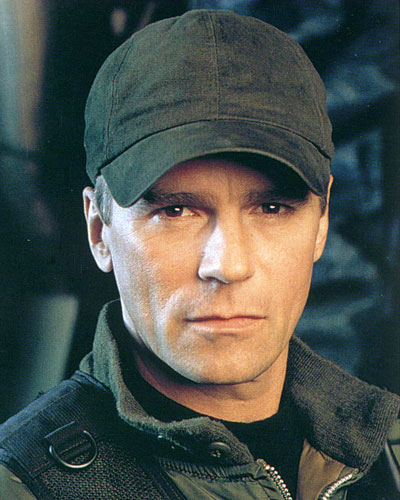 Richard Dean Anderson stands framed at a window, gazing out over Washington DC. "There's a seam on the horizon," he observes.
Around him, on a Vancouver soundstage, the Stargate SG-1 crew is setting up cameras and lights. Executive producer Michael Greenburg scrutinises the shot on a video monitor. He notes the backdrop's empty sky and jokes: "Shall we lay in a death glider, spice the scene up a little?" With the help of computer-generated imaging, nothing's impossible, he says.
Each week, this studio is transformed into faraway locations so that Anderson, as airforce colonel Jack O'Neill, can lead his SG-1 team to adventure through the Stargate, an ancient portal to other planets. But this scene is purely terrestrial: a clandestine meeting, no alien death craft buzzing Washington DC... for now.
The script supervisor alerts Greenburg to some dialogue Anderson has reworded. "If he doesn't say the lines exactly as in the script, he's fired," Greenburg ribs. "We'll get another Colonel O'Neill."
Hardly likely, since Anderson is also an executive producer and Greenburg's partner. Back when Greenburg was supervising producer on Anderson's MacGyver series, the pair formed their own production company, Gekko Film Corp, and have been producing television films and series ever since.
Their favourite project to date is the 1995 series Legend, a quirky comedy adventure with a satirical edge. Set in America's old west, it's about a seedy writer who, despite a desire to drown himself in whiskey, women and poker, is forced to impersonate the gallant action hero of his novels.
"I could not have designed a character that was more fun than that for me," says Anderson. "It allowed me to tap into some absurd sense of humour that I have. It's a little sick and twisted and debauched, and that was the character. It was so much fun to be able to just let it fly on camera."
Although Anderson appreciates the production possibilities in Stargate SG-1's alien worlds and multi-layered visual effects, he admits that, on an intellectual level, he's not a fan of the sci-fi genre. "I still don't really seek it out as the major form of entertainment for myself, as an audience member. The action adventure aspect of science fiction is what I enjoy: what the adventure is out there."
His taste for adventure goes way back. At seventeen he bicycled from his home in Minnesota to Alaska, over 5,000 miles, much of the journey alone. He has scuba- and sky-dived, worked at a Marineland where killer whales snatched mackerels from between his teeth, and is a fanatical ice hockey player.
Greenburg shares his passion for speed. "We ski and ski race. I used to ski race as a kid. So skiing, yeah, we ski fast together, but then he car races, which.. no thanks, no thanks."
Still, Greenburg has notched up a few adventures of his own, like the time he went grocery shopping with his then wife, actress Sharon Stone, and came face to face with an armed robber. "I got between her and the gun. I don't know what made me do that. It's weird. It's weird that I did that!
"We're at the cashier and the gunman comes up with a mask on and holds a gun on the cashier to empty out the cash register. She's standing there with all the groceries, and I'm behind her, and I pushed myself in between her and the gun guy and he pointed the gun at me. Then while he was looking the other way, she got real low and crawled down the aisle and actually called the cops. That was wild. Held up at gunpoint at a Safeway."
The scene is at last set, Anderson now elegant in airforce dress uniform. The makeup artist and costume supervisor zero in, touching up his eyes, brushing down his shoulders. "I feel like I've come in for a pit stop," he laughs.
He's a hard taskmaster when it comes to his own performance, critiquing his delivery as he goes: "Oh, that was too snotty!" Camera still rolling, he runs the dialogue again.
Between takes, with a restless energy, he slips out from the crush of camera, lights and crew to talk business with Greenburg, hug the script supervisor and sing the Canadian anthem.
"I'm not a real studied actor as you can probably tell by my antics around here. I like the energy to be light and positive as possible, because it's a grind," he says of the relentless pace of production. "If you've got some arrogant, snotty-nosed, quote-unquote star that comes flying onto the set and just rails on everybody for whatever reason, that's not fun! Who wants to go to work with that kind of energy?"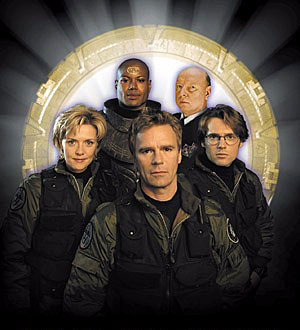 "Rick is a very funny guy," says co-star Amanda Tapping. "Sometimes he plays into this character of being a crusty old fart, which he's not. On set, part of what gets you through a fifteen-hour day is being able to laugh and enjoy each other's company."
Don S. Davis plays the SG-1 team's commanding officer. On the final take, he momentarily forgets the scene's hush-hush mood and Anderson hesitates to match his gusto: "Shouldn't you be a little quieter?"
Davis looks sheepish: "I'm from the stage."
"There'll be one leaving in 5 minutes," deadpans Anderson. "All aboard!"
The crew moves around the Washington DC backdrop to a rocky cave on a distant planet, where an alien birth is about to take place.
Anderson's first child is due this month. His voice takes on a dreamy tone as he talks of fatherhood.
"I'm so ready for it. I've always loved kids, worked with them in the inner city and various charities and groups, and I've always said that I want to have kids some day.
"I met the perfect woman for me, who has a massive sense of humour, one of the funnier women I know, extremely capable of doing things. She's athletic to a point but not an athlete, is tolerant and patient, and just knows me."
He has recently bought a house in California. "We're moving into it the same time that she has this strong nesting instinct. Talk about a woman gone mad! Absolutely mad nesting. So I'm up here gathering the grubs and worms and she's gathering all the sticks and pieces of string to create a little..." He subsides into a giggle. "I'm getting on a plane this afternoon to go down for the co-ed baby shower."
"You taking some scripts for the flight?" asks Greenburg.
"Five," says Anderson.
The pair set off to work on an episode currently at the editing stage. They'll be fine-tuning, pushing for quality until it's time for Anderson to fly home to his nest, the perfect woman, his first-ever baby shower and the new daughter on her way.
He has the air of a man heading into adventure.