WILLIAM S. PALEY MACGYVER SEMINAR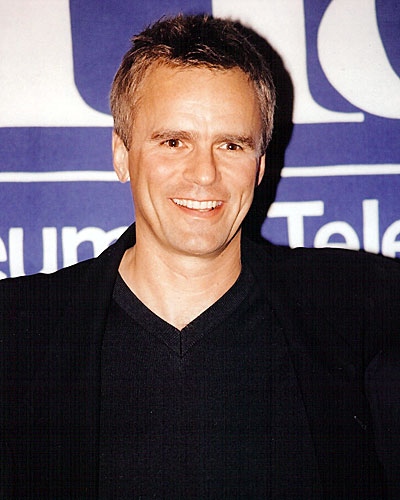 Each year, the Museum of Television and Radio holds the William S. Paley Television Festival to recognize excellence in television. In 1998, MacGyver was among the series to be honored. The seminar, held at the Directors Guild of America, included a screening of one of the episodes, followed by a panel of the creative team behind the show which discussed the series and took questions from the audience.
The seminar began with a video introduction to the Museum of Television and Radio and the William S. Paley Television Festival. This evening's honoree was introduced by two brief film clips from other series. First, a clip from Mad About You showed Paul and Jamie trying to escape from their locked bathroom by suggesting the use of dental floss, cardboard tubes and emery boards to "build a plane and fly us right out of here". The second clip, from The Simpsons, showed Bart saving the life of his Aunt Selma by preventing her from causing a gas explosion when she lights up a cigarette following an episode of her favorite series, MacGyver.
With the tone of the evening set, Steve Bell, the Director of the Museum, came to the stage to act as the moderator. He welcomed the audience, and then introduced the panel of guests as they came out onto the stage:
PETE SLOMAN
A technical advisor for the many MacGyverisms used in the show, Pete worked on MacGyver right from the pilot to its very last episode... Please welcome, Pete Sloman.
JOHN WHELPLEY
A producer/writer of MacGyver for two seasons, he wrote the episode you're going to see tonight. He also has written for Beverly Hills 90210, General Hospital, Star Trek: The Next Generation, and Deep Space Nine... John Whelpley.
MICHAEL GREENBURG
He produced the last six years of MacGyver, and the two MacGyver made for television movies. He's currently co-executive producing Showtime's Stargate SG-1, starring none other than Richard Dean Anderson... Michael Greenburg.
DANA ELCAR
Now it's my pleasure to introduce Dana Elcar. He portrayed Pete Thornton through all of MacGyver's seven seasons. An accomplished stage actor, his film work includes such wonderful films as The Sting, The Champ, All of Me, and The Gunfight. On television he appeared as a series regular on Black Sheep Squadron... Please welcome, Dana Elcar.
JOHN RICH
Now let me introduce John Rich. Along with Henry Winkler, John was the executive producer of MacGyver and the two MacGyver movies. During his distinguished 45 year career, and this really is absolutely amazing that John has been doing this for 45 years, he was an Emmy award winning director of the Dick Van Dyke Show back in the 60's, he directed such classic series as The Twilight Zone, Bonanza, Hogan's Heroes, and a list that - we could stay all night just recounting all the shows that he's directed. He produced and directed the first 85 episodes of All in the Family, he directed the pilots of Barney Miller, Brady Bunch, Gilligan's Island, Maude, Newhart, and so many others... Please welcome, John Rich.
RICHARD DEAN ANDERSON
And finally, our star, Richard Dean Anderson. Richard brought the role of MacGyver to life during the entire run of the series and in two 1994 MacGyver television movies which he also executive produced. He began his television career on General Hospital, he starred in a number of television movies. Following MacGyver, he played the lead in the UPN western series Legend, and he's currently starring in Showtime's Stargate SG-1... Please welcome, Richard Dean Anderson.
[Richard Dean Anderson approaches the microphone to welcome the audience.]
Richard Dean Anderson:
Thank you! [Turning to the panel standing by their chairs] You don't have to stand... [Turning to the seated audience] You can all sit down. First of all, before we do anything, I want to thank my family for coming up here, they've come from all over the place. It's like the first time we've been able to really share something like this, so, thank you. Also, special thanks to the "Mac Pack". You guys are out there somewhere... I can't see a thing.
[The MacList members in the first two rows applaud and Richard notices and acknowledges them.]
Is that you guys? This is a corps of... 'engineers' -- No, it's a corps of MacGyver fans that have been loyal for nigh on over a decade now. Also... [pulls a blue index card of notes from his pocket] That's for Apryl...
There are a couple people that probably aren't here that I should just mention before I give this over to Mr. Rich. John Pike, John Symes, and Frank Mancuso were at Paramount when this whole venture started. They're all now over at, coincidentally, or ironically, over at MGM where Mike and I are doing Stargate, so read into that whatever you want. Also, someone who has been important to all of us at MacGyver and also continues to be to Michael and I, Barb Mackintosh, who's been our assistant for years, and very helpful in keeping us alive. Avid cyclist extraordinaire. And also, just a little note to someone who has been, or became a friend of ours, and continues to, in Kathy Lingg, who's been kind of our soulmate over at Paramount, and we continue that relationship, much to her husband's dismay. Also Steve Downing, and of course Henry Winkler, John's partners as executive producers, who were the core of what we were.
Regarding the episode, they asked me not to say anything bad about it, but just remember as you watch this: "Time Marches On". I want you to all keep an eye on the socks, and the hair. And now I'd just like to give this over to the man who essentially set many of the standards from which we evolved, and read into that as much as you can, because John Rich is one of the most talented men I know. John...
[John Rich approaches the microphone.]
John Rich:
Thanks, Richard. I'm really sorry that Henry can't be here tonight. I don't know exactly where he is. [Turning to the panel] Does somebody know?
Michael Greenburg:
He's in Florida, acting.
John Rich:
He is in Florida, acting, okay. And I'm really sorry that Steve Downing can't be here because Steve, really, was the man on the spot, as the executive producer, who really was running the show along with Mike Greenburg up in Vancouver. I was out here attending to things like editing, and complaining about the over-runs on the budget. But it was really Steve who did most of the wonderful work that you see. We're indebted to him. And I just hope he's feeling OK. He's up in Seattle right now, I understand, coming back next week. He regrets that he can't be here too. There are many things to talk about and I think we should save it for after the film, and, we'll answer all of your questions. I will tell you anything I can about anybody, and if I don't know the truth, I will either take the Fifth Amendment, or lie. But we'll have a nice conversation anyway. Thank you.
[As the panel prepares to leave the stage for the episode screening, Richard waves to the audience as if the evening has come to an end.]
Richard Dean Anderson:
Good night!
[As the panel leaves, Michael Greenburg guides Dana Elcar across the stage. He whispers something to Dana in the silence, and Dana "shushes" him, at which the audience laughs. The panel takes seats in the audience to watch the screening of the selected MacGyver episode. The episode "Rock the Cradle" is shown.]
[Following the screening, the panel returns to their seats on the stage, and Steve Bell, the moderator, begins the discussion by addressing the first question to John Rich.]
Steve Bell:
Let's start, John, with how did MacGyver come about?
John Rich:
Well, there was a fellow named Lee David Zlotoff who wrote the pilot script, and we were at Paramount, Henry and I, and Paramount was good enough to say, 'Give it a try'. We read it, and it was a good script, but we thought, who in the world could play this lead? There was so much demanded of him. And in the casting, Henry and I would see these guys who would come in from the casting department, and they all looked nine feet tall, and they had big buckles where their belts were...
Richard Dean Anderson:
No sleeves...
John Rich:
No sleeves, that's right. Musclemen, and, okay, kind of traditional, he-man type hunk, and not much in the way of acting. And we thought, gee, couldn't we have a better process here? I mean, we have a better series here, than what's indicated by this kind of experience with the casting. And one day this actor, [turning to Richard Dean Anderson] what's his name?
Richard Dean Anderson:
I don't know...
John Rich:
Three names - Richard Dean Anderson - came into the room, and he looked interesting to start with, certainly very handsome, even though his hair was always too long. [The audience laughs as Richard reacts.] I never could get him to cut it.
Richard Dean Anderson:
It's falling out now... [Laughter from the audience]
John Rich:
I complained bitterly about the long hair... Anyway, the thing that nailed it for Richard Dean to get the part, was he looked at us before he has to read, and he said, "Do you mind if I put on my glasses?" And Winkler and I looked at one another and said, "My God, there's humanity here. And there's honesty. This fellow is not embarrassed to say that he has a little trouble reading, you know, it's OK."
Richard Dean Anderson:
There's blindness here...
[The audience laughs at the joke, though there is a split second as the panel and the audience consider how the remark might be interpreted by Dana Elcar. But Dana, sitting next to Richard, good naturedly jabs Richard in the ribs with his elbow. Richard laughs with relief and clasps him on the leg, and the audience applauds.]
John Rich:
I wasn't going to touch that! But since we have... Should I tell them about Pat McCormick?
Richard Dean Anderson:
Who's Pat??
John Rich:
Pat McCormick's a comic - crazy man. One night, late, he was driving by the Braille Institute on Vermont Avenue, and he noticed that all the lights were out, and he said, "They're working late tonight." [Laughter from the audience and the panel]
Anyway, Richard read the part, and he was not just terrific in reading, which I thought was wonderful, it was a revelation. But what we didn't know when we cast him was that he would be so courageous and dedicated to do all the things we asked him to do, I mean, my gosh. What this man went through, through all the years of MacGyver is almost unconscionable. We did, what, 139 episodes? [Richard nods.] And we had you trapped in an avalanche when you were under snow for a couple of days, and you were in water for, three or four days, right?
Richard Dean Anderson:
Yeah, that was just bronchitis and pneumonia.
John Rich:
We had you hanging from a bridge. When I saw those dailies, I said, "My God, I hope there's a safety wire on him. Why is he doing this? Can't we use a stunt man?" No, Richard wants to do this. Anyway, he's been tremendous. If you ask how does it start, it starts with that.
And then it goes on with good writing. John Whelpley who wrote that script which I thought really held up very nicely. That was a good episode. [Applause from the audience] And with incredible infusions of money from Paramount Pictures. John Symes is in the back of the house, and what we talked about before... [The panel, particularly Richard, notices John Symes in the back and waves and acknowledges him, "All right! Hey! Yeah!" The audience applauds.]
I had to sit in the back so I could see the screen better, and at one moment he tapped me, because it was my voice saying "Open up, it's the Treasury Department." I used to fill in whenever there was a problem, when we needed a line or two... Anyway, it was all this infusion of money, and then the wonderful, wonderful Steve Downing. I can't say enough about him. He started out as our story editor, and pretty soon he became a producer in the second year, and then we gave him the whole ball of wax. My God, he did a magnificent job, and so in all fairness to him and to our directors who were tireless, tremendous. Not to mention Mr. Greenburg, who was also there. That's all I've got to say right now. [Indicating Richard] Ask this guy something.
Richard Dean Anderson:
That's all the time we have!
Steve Bell:
Richard, MacGyver's a kind of a unique action hero, I don't know of so many that have been, non-violent, a thinking man's hero. That must have been, you know, a unique opportunity to play that kind of role.
Richard Dean Anderson:
Yeah, and I didn't even recognize it until about the second or third year, because first and foremost, it was a job. When I got the call, it said that you got the part, because I had been going to the network for a couple of things... Finally said you got this thing, and I knew at that point that it would mean... It's like you know, you hang up the phone and you kind of know that your life is about to change, you sense something, there's kind of a, something going on, whether it's positive or otherwise. But I certainly knew that I was going to have a paycheck for awhile, so... well at least for a pilot, [turning to John Rich] didn't we just have a pilot?
John Rich:
Yeah.
Richard Dean Anderson:
What I didn't realize until about the second season or so was that we were... It was right about in the mid 80's. And that was obvious by the haircut... It got worse, actually, after that, I didn't learn early enough. [To John] With all due respect.
But in the mid 80's, I mean, we were up against, right about the same time The A-Team was on, and floating around. Now that was like the opposite end of the spectrum as far as television heroes go. They were bang 'em up, shoot 'em up, macho, you know, 'stuff a sock in your pants' sort of deal and I... [Laughter from the audience] I couldn't get it by you, could I?
But there was a machismo attached to that whole, to the genre first of all, but certainly to that franchise. And I realized, and I think other people realized too, that we were in a position to really do something unique and different at the time, which was present a hero that was, you know, he was actually, the way I had things going in my head, he was more of a coward than anything. He was a reluctant hero, to put it diplomatically, which I think gave him humanity. And that was inordinate at the time, as far as TV heroes. And it became a joy, over a period of time, to play, because the producers and the directors, well the writers and producers, gave me the biggest compliment I've ever been paid in the business, which was that they respected my intelligence. Or at least they said they did. [Laughter]
John Rich:
Wait a minute! When did that happen?!
Richard Dean Anderson:
I don't know... Well, you had a good publicist, John. But that was... Things started to get written to my interests, organizations, sports, and otherwise that I was associated with and showed some interest. And so it evolved, basically, after the first season.
John Rich:
One of the things that I wanted to do was... Years ago I directed Gunsmoke and other westerns. For about five years I was a "western" director , and I always hated the use of guns. And this is a terrible thing to do in a western show, that's all you've got are guns, and every time I could I would ask to have some other solution. And you couldn't very well... but once in awhile they would let it through. But with MacGyver we said hey, why don't we just make a hero that doesn't use a gun? And that took off. A lot of people finally recognized it.
We used a gun once, I think. And that was in the situation where MacGyver was on top of some uranium plant about to blow up. And we had the usual thing, ticking down, the clock was getting down to zero, and if this thing wasn't tapped, or capped, I should say, the whole world would blow up. And here is a guy who, having disarmed the heavy, who had a gun, a revolver, and MacGyver gets this guy and he... One of the things I loved, and this was Richard's own, whenever he punched a guy, he always held his hand like it hurt... [Laughter]
Richard Dean Anderson:
No one ever noticed that...[More laughter]
John Rich:
Oh, I loved it, I thought it was... The first time you did that, I just laughed, and I said oh, that's wonderful, just certainly keep that. It was such a really human touch. Anyway, here he is, up on the roof of this place about to blow up. He's got this revolver, and what he needs is a tool to tighten down this cap, like a proper tool. And he looked at it, and he banged out the revolver's barrel then he used it as a wrench. It actually fit, because it was designed to fit. [Laughter] But that was the first... that was the only time you used a gun, right?
[Members of the MacList in the first two rows shake their heads, and Richard notices and acknowledges their response.]
Richard Dean Anderson:
Uhhh... This group right here, the MacGyver List right here. They'll know.
John Rich:
It's a cult, isn't it?
Richard Dean Anderson:
Front Row Cult. [More laughter]
[Steve Bell turns to Dana Elcar with the next question.]
Steve Bell:
We've mentioned the thinking man's non-violent hero. MacGyver in its seven years tackled some pretty heavy issues. I think none so touching and so heavy as the piece about the glaucoma, which Dana was so incredibly courageous to go public with. Did you have any hesitation, Dana, on making that part of the plot?
Dana Elcar:
Not really. I didn't have a lot of options, did I? What happened was really extraordinary, and I have to say... But before I... I would like to talk about that, it's just that... One of the reasons I think I got the part is because Richard had such long hair, and they hated it, so... [indicating his own lack of hair]... you know what I mean? [Laughter and applause from the audience]
Incidentally, if you remember that episode where Richard hung onto the bridge 180 feet from raging water down below? I directed that. [Applause] John Rich would not talk the same way to me on the phone the next day when he saw the dailies as he did just now. [Laughter]
John Rich:
You know, I forgot that you had directed that.
Dana Elcar:
Yes. [Imitating a loud and panicked voice] "What are you doing, hanging him over that water?!! A stunt man! A stunt man!!"
John Rich:
It was hairy, I must say. But very effective, obviously.
Dana Elcar:
But I will defend myself only by saying that he wouldn't let anyone else do it. I think.
Richard Dean Anderson:
It was fun! [Laughter]
Dana Elcar:
About the blindness, it was a really incredible experience for me, and it does express the humanity of the whole group of people which conceived and worked on MacGyver, and everybody around it. It was a devastating experience for me to realize that I was going blind. And of course, being a normal human being, I didn't admit it. But other people began to realize it, and finally I was called into Steve Downing's office, and he said, "Dana, you've got to admit it," and I said, "What? What??" And he said, "I think you're losing your vision," and I said, "Oh, man..."
Anyway, the thing was, I finally said yes, I am, but what can we do? And there was a question that came up, and I think all of... some executives at Paramount were involved, certainly Steve, and John, and Henry, and [taking Richard's shoulder] this guy, especially, and Michael. And everybody said, well, there's only one thing to do and that's to make Pete Thornton have the same characteristics that Dana Elcar has. So, they began to write it in. And for me, it was an absolute godsend because the normal experience of going blind is to sit on the edge of your bed and cry for about ten years, and I really didn't have time. They kept me working. [Applause]
And the crew in Canada was absolutely enormous and wonderful. They became my eyes. I never had to say, "Where am I going?" I had a gentleman assist me sometimes, but then, if I got off course after I was left alone, I would just feel a hand go like that [indicating a gentle guiding hand to the arm] and I would walk over there, and someone else... And no one would say, "Look out, Dana!!" But just another hand would go like that... And I'd get on the set, and it was possible, but it was a great, great gift to me.
I enjoyed MacGyver especially because, as we went on, more and more and more people came up to me and said how grateful they were, from the public, about what a wonderful thing it was to have on television both a character like MacGyver played by an actor like Richard Dean Anderson, who was sincere about not wanting to be violent, not to be violent, and not to use guns. [Chuckling] I used a gun. That was in the writing, I used a gun once in awhile...
And that was a great feeling, but it was also represented to me what was going on in this company, this series, the whole group of people. Everybody was devoted to it, and enriched it, and worked very hard to maintain it, and it was just a wonderful, wonderful experience. An experience I'll never forget.
[Richard voices his agreement as he reaches for Dana's arm, and the audience applauds as Steve Bell turns to Michael Greenburg.]
Steve Bell:
Michael, another aspect of the show, obviously, was the special effects. You don't see it as much in this episode you saw at the beginning. How did you do them, and how could you afford them? They really looked... They didn't look much like TV series special effects, they looked like movie special effects.
Michael Greenburg:
Well, John Symes, the guy in the back there, made it affordable. He was running the show at Paramount. We had a great crew. Every year we assembled the best that we could find in special effects, visual effects, and they made it happen. We, the writers and producers, and Rick and Dana, we'd sit around and dream up... We'd get MacGyver in these situations and have to dream up a nonviolent way of getting him out. And with the help of Pete Sloman, our... the "real" MacGyver, and a lot of them were his ideas, and John and I would be on the phone to Pete ten times a day. "OK, we painted him into this corner, how do we get him out?"
John Whelpley:
Sometimes you'd just get a laugh... [Laughter]
Michael Greenburg:
Yeah, Pete would go, "You did WHAT??" But it was a combined effort, I mean, it really took 150 people to make MacGyver what it is, and what you see. So it was a combined effort of very talented people.
Steve Bell:
Tell me, Pete, about the creativity that went into the solutions, the technological solutions that we all remember.
Pete Sloman:
Well, as usual, it was creativity born of desperate attitude... They've got him in this situation. I've got to get him out. Often times, they would get him in the situation, they'd figure a way... the writers, I'm talking about... would figure out a way of getting him out, and then call me to find out if this would work. And usually it would. Once in a while it wouldn't. We'd try to figure some way around it that wouldn't violate the laws of physics or chemistry or common sense too greatly. There were problems involved in that an awful lot of times a show would be built around a particular idea, and the concept was viable, but not in that situation. It's a question not of science but of engineering, where the principle is okay, but well, you've got the wind from the northwest at 45 miles an hour and it's below 32 degrees, so this won't work. Or something like that. And there's a little bit of fudging would go on occasion. This, after all, I hate to say it, under the circumstances, but, it was, after all, television. Except that when he's hanging over an abyss with water below, we don't have to worry about killing the star.
Michael Greenburg:
It was a close-up. [Laughter]
Pete Sloman:
Safe water. [Laughter]
Steve Bell:
John, was the idea to be as resourceful as possible? In other words, if you couldn't use a candy bar or a paper clip, somehow you were cheating?
John Whelpley:
Well, if you can't use a gun, you have to be resourceful.
Steve Bell:
Right. But there's a lot between a gun and a paper clip.
John Whelpley:
Right. I mean, you would come up with stuff, you know, bouncing off with guys in the room and what have you. And, you know, you'd run into the art department and say, "I want Titan missiles, can you do that?" And they'd say "Yes", I mean this art department was the best. But, you know, I was just telling him [indicating Pete Sloman] one time I called him up and said, "Can you start a plane with a garage door opener?" [Laughter] Because, MacGyver needs a head start, you know? And he's not gonna make it if the plane isn't already going down the tarmac. I got a laugh and hang-up, and then five minutes later, "Well, you could do it if the circuitry was right. So that's really how it went. [Laughter]
Steve Bell:
Let's take some questions from the audience. Who's going to be first? Sir?
QUESTION:
[A gentleman from the audience describes his favorite episode, Passages, in which MacGyver dies.]
Richard Dean Anderson:
With John Anderson? Playing my grandfather? The death, right?
Michael Greenburg:
Passages
John Rich:
My son wrote that episode. [Applause]
Michael Greenburg:
Yeah, he wrote the story.
Steve Bell:
Next question. Ma'am.
QUESTION:
[A young woman from Vermont stands to ask her question.]
Woman:
I want to thank you very much, all of you, for the production of MacGyver. I'm from Vermont, and when we heard it was going off the air, even our state senator got in the act and tried to keep it on, but, they didn't listen to him. I just wanted to say, it was real helpful for our family and I think it's changed my son's, my older son's maturity. He's a boy that looks for alternatives, and it's provided a lot of examples for him. And I thank you. I do have a concern that goes beyond MacGyver, though. It's interesting that, it's an all male panel... [Laughter]
Richard Dean Anderson:
It happens! [Laughter]
Woman:
The thing that's always bothered me is that the women characters, is they're flaky, and a lot of them fall apart at the seams, and it's just always bothered me. I still see it going on, and frankly it happens in Stargate sometimes... [Laughter]
Steve Bell:
Did you all hear what this lady is saying? Did everyone hear the question? [Laughter and applause]
Richard Dean Anderson:
I got that...
Michael Greenburg:
It was really reality based... [Continued laughter]
Dana Elcar:
Do you remember Salome Jens, in one of the episodes, where she played a nun? [Agreement from the audience] Magnificent woman, and character, in the series.
Richard Dean Anderson:
But I know what you're referring to. I mean, this show started in 1985. That's not to say that we're not all Cro-Mag... Manons?... Magnons?... Yeah -- Neanderthals. [Laughter] Thank you. That we're a little slow in evolving! But, we did start in 1985 and the women characters were, I mean, we're still growing. You know, we got a late start, everybody, television in general got a late start. Women got a late start.
John Rich:
My wife, Pat, referred to it as "the bimbo of the week".
Michael Greenburg:
But we did make an effort, I think it was fourth year maybe, we introduced this character Nikki. And we tried real hard to introduce this really bright character to be a partner, so to speak, with MacGyver. And the mail that we got, we were inundated with five thousand letters a week, to get rid of her. No one wanted MacGyver to... they only wanted MacGyver, they wanted him to be single, and alone.
Richard Dean Anderson:
Yeah, I was going to pull that out. But that actually happened, the reaction when we tried to do a "Moonlighting", sort of sandpaper, you know, male-female thing, that wonderful thing we love so much, the fandom just wouldn't take it. They were outraged. They said, "Get rid of the girl."
Michael Greenburg:
And we listen to our fans. [Laughter]
Richard Dean Anderson:
But that's absolutely true, though.
Dana Elcar:
[Turning to the audience] So it's your fault! [More laughter]
Michael Greenburg:
Maybe it's a Vermont problem. [Audience laughs and "ohs" and Michael clarifies] But I'm from back east! It's okay.
Steve Bell:
Next question. Yes?
QUESTION:
[A gentleman with a Russian accent stands to ask a question about MacGyver's arch enemy.]
Richard Dean Anderson:
Wouldn't be Murdoc? [Laughter]
Steve Bell:
Did everyone hear the question? The question for those of you in the back is, was there an episode where MacGyver killed his arch enemy?
Richard Dean Anderson:
Several. [Laughter]
Dana Elcar:
He just didn't stay down. [More laughter]
John Rich:
If he did then he could never come back for a spin-off. Not unlike Sherlock Holmes with Professor Moriarity. He kept coming up, after he was killed.
Richard Dean Anderson:
It's actually an old ploy, to keep one bad guy coming... We'd bury him, burn him, blow him up...
Michael Greenburg:
He fell off a cliff...
Richard Dean Anderson:
Yeah.
Michael Greenburg:
He was so much fun, we had to keep bringing him back.
Richard Dean Anderson:
He had a great plastic surgeon...
John Rich:
Michael Des Barres. Loved him.
Michael Greenburg:
May I ask a question of this gentleman. Did you, from your accent, I wondered, did you watch the show in this country, or in another country?
Gentleman from Russia:
I am from Russia! MacGyver was anti-Soviet! How could they show it in Russia?!
Richard Dean Anderson:
It was the 80's!! [Laughter]
Michael Greenburg:
He makes a good point, though, because MacGyver was a very popular show internationally. It played all over the world, and for all I know it's still playing all over the world.
John Rich:
Yes, it's actually more popular overseas than it is here.
Michael Greenburg:
And you know, this show was kind of the last in the line of the American action adventure shows that only American television here in Hollywood seems to be able to make. And when the shows got dark, and the shows got intellectual, and the shows got heavy, the European market got extremely upset. Because those shows, the MacGyvers and the Hunters and the shows like that, were gone. That was a need that was not being filled. So I think MacGyver went on and on and on abroad because it was so popular.
John Rich:
I was always impressed, I think we had about 92 countries. [Looking toward the rear of the audience] John Symes, can you hear? Is that about right?
John Symes:
[Calling from the back of the audience] Probably over a hundred.
John Rich:
Over a hundred different countries. And we would be a big hit in places like Israel and Saudi Arabia at the same time. [Laughter] And you would have the most remote portions of the world were writing in, "You're big in Indonesia... You're big in..." [Turning to Richard] And you were big in, you found that out by going to France. Weren't you mobbed there?
Richard Dean Anderson:
Oh yeah... "MacGeever". Yeah. It was Jerry Lewis, and then MacGyver. [Laughter]
Michael Greenburg:
We'd get letters from Bangkok...
Dana Elcar:
I'd like to say one more... well, two things. One of the other reasons that I think this series succeeded as well as it did is because it allowed Richard Dean Anderson to use himself. I believe that that's... We're all actors, whether we're producers, directors, writers, in a sense we're all performers, and we're actors. And one of the things that happened with this particular show, I believe, and it's one of the reasons that it fed me, continuously throughout the run of the show, was that this man [indicating Richard] was using things from himself. His physical abilities, his emotional abilities, and his human "need" abilities. He liked being the character that he was, and he used himself in it. A lot of people don't know exactly what happens when you do do a show like this where you're jumping out of a helicopter all the time, you're rappelling down a mountain, you're down in a submarine under water. This man was an extraordinary, and still is probably, athlete. That he is just extraordinary. He can throw a stone a hundred yards and hit you on the head. And frequently did. [Laughter]
Michael Greenburg:
Actually he had to do that once. We were doing a sequence here, when we were shooting in L.A., where we were running out of light, and there was a big action sequence, you probably remember this. [Turning to Richard] You probably remember this. He had to throw a rock into the middle of a windshield to stop this truck, and literally we had five minutes to get the shot, and I went to Rick and I said, "Rick, you've got to do this in one take. You've got to nail the middle of that windshield, and it's rigged that it'll blow, and if we don't have it, I mean we'll never be able to come back and get the scene." So all the pressure was mounting, and he did, he threw it right down the middle of the windshield, and got the shot.
Dana Elcar:
You should have pitched.
John Rich:
You know, when you talk about his athleticism, Richard is a great hockey player. [Applause] Time and again, when I would hear about his hockey exploits during the season, I would say, "Richard, don't you think you ought to not play hockey until after this particular year?" And he said "Oh, yeah... Right, chief. I'm not gonna play." I said, "Come on now, tell me the truth." "No, no, I'm not gonna play." My son at that time was a student at the University of Pennsylvania. And he called me one day and he said, "Boy," he said, "I saw Anderson last night. You know he was playing hockey here. And he scored two goals." Oh my... [Shakes his head in dismay] [Laughter]
Michael Greenburg:
He used to play at like, midnight, because that's when he could get the ice. And we had a 6am call the next morning. And his car drives up on the set, and he gets out, with his nose... [gestures]. And I said, "Karl Malden??" [Laughter] "What are you doing??" He goes, "Oh, I took a high stick..." And I go, "Oh my God..." His nose was out to here, but we patched it up...
Richard Dean Anderson:
Well, I had broken it the night before playing hockey, and it was like, just splayed across my face. You know, what do you do? You MacGyverize. So I got a bunch of shavings of ice, grabbed it, put it on my nose, the swelling stayed down and I showed up the next day looking like Karl Malden. [Laughter]
John Rich:
This is a story that I never heard before! [More laughter]
Michael Greenburg:
We didn't tell you everything. [Continued laughter]
Steve Bell:
Next question. Yes Ma'am.
QUESTION:
[A young woman stands to ask a question.]
Woman:
On behalf of everybody, I surely want to thank you all for coming here and sharing your wonderful stories with all of us. And my question is, is there a possibility that MacGyver episodes will be released on video? [Applause from the audience]
John Rich:
Well, Symes is now at MGM, so that would be no...
Michael Greenburg:
Kathy Lingg's with Paramount, Senior V.P.
John Rich:
[Turning to Kathy Lingg seated in the audience] What about it, Kathy? Can we do that?
Kathy Lingg:
[Responding from the audience] They were released on video internationally.
[There is a response of surprise from the audience.]
John Rich:
Wait a minute! Hold it! How come I've never seen a check?? [Laughter]
Steve Bell:
Next question. Sir?
QUESTION:
[J. Randolph Cox stands to ask a question. He is dressed in a duplicate of the yellow suit of Nicodemus Legend, and the moment Richard sees him he calls out in absolute amazement and delight.]
Richard Dean Anderson:
Oh!!! [Laughter and applause]
J. Randolph Cox:
I'd like to make a little deviation from this because, I saw Legend.
Richard Dean Anderson:
YOU'RE the one! [Laughter]
J. Randolph Cox:
I'm the one. I had never seen an episode of MacGyver. And when somebody sent me some MacGyver tapes, after that, every time I saw an episode of Legend, I tried to look beneath the mustache to see if MacGyver really was there.
Richard Dean Anderson:
He wasn't in that guy. [Laughter]
J. Randolph Cox:
Well, I have a couple of questions, probably for Michael and for Richard...
John Rich:
I have a question. Why are you dressed this way??
[As members of the audience call out "Legend", Richard turns to John Rich.]
Richard Dean Anderson:
Followed my career, did you?? [Laughter]
J. Randolph Cox:
Some people are influenced in the strangest ways...
John Rich:
Oh! Oh! Legend! Oh yes, I remember. I think I saw it once...[Laughter]
Steve Bell:
Can everyone hear this gentleman in the back?
[Some people from the back respond that they can't. J. Randolph Cox turns to address the people in the back.]
J. Randolph Cox:
This is life after MacGyver!
Richard Dean Anderson:
Oh, bless your heart...
Michael Greenburg:
I love it! We'll do an hour with him!
Steve Bell:
Ask your question so these people can hear.
J. Randolph Cox:
OK. I have a couple of questions about Legend, which, as I said, I saw Legend before I ever saw an episode of MacGyver. And I used to watch the Legend episodes and try to see if I could recognize Richard Dean Anderson beneath the mustache. I have a couple of questions, probably for Michael and Richard about the creation of the Legend series. And one thing I'd like to know is whether either of them, or both of them, had an awareness of the dime novel, which was part of the concept of Legend, with the role of the dime novel in the myth of the West. That's one of the things. And if so, if you knew about this, where did you get, or what was your source, you know, films, books, whatever.
And the other is related to the character of Ernest Pratt and his creation, Nicodemus Legend. We all know that there are situations where actors become identified with their roles on the part of some people, some viewers. In the Legend series we had a writer who was identified with his character on the part of several of the readers. I'm just wondering to what extent was the creation of the Legend concept, this part of it, a kind of comment on the business of the viewer getting the actor, Richard Dean Anderson, and the character, MacGyver, confused?
Michael Greenburg:
Actually, Rick came up with... The Ernest Pratt character, when it was conceived, was more like Bat Masterson. And I, actually, when I read the script, I said, "There's nothing really here, Rick," and then Rick read it, and he goes, "Well, I think I may be able to do something with it." And I said, "Cool." So Rick came up with all that. Rick's Ernest Pratt, it all came from his, I think, grandfather.
Richard Dean Anderson:
Well, yeah. We have to give just due to Michael Piller and Bill Dial. [Applause] They wrote the original script and spoke to Paramount, and, well, it came across our desks in that process it plays. Beyond that, Michael Piller and Bill Dial had written a fairly well structured story, and it did include the dime novel.
Michael Greenburg:
As a device.
Richard Dean Anderson:
A lot of our education about it came through them, and about, you know, our exposure to it throughout, or within the concept. The creation of the character, as Mike says, was originally pretty much designed like Bat Masterson. He had a silver headed cane, and kind of a Dapper Dan, sort of foppish, or maybe that's an ill used word. But it was a lot straighter and closer than... you know, there wasn't a hair out of place in the character as written. And when Kerry McCluggage and the group over at Paramount put it together with Piller and Dial and Mike and me, I warned them, more than suggested to them that maybe I should go in this direction. "You're going to get NOT that which is on the page. I have some ideas here. Are you willing to go with it?" And of course at that point in time, John knows, when you're trying to put a team together, everybody "yesses" you to death. "Yeah, sure, no problem, yeah, oh yes, whatever you want to do." So, with that "I warned you" sort of thing, I went ahead and started constructing this character, and basically it was an exercise on how to misbehave. How to totally just let it go and have fun. And as we found out, as we were shooting and getting responses from the network and studio, that, I was over the top a lot...
Michael Greenburg:
They were basically calling and saying, "WHAT is he DOING??"
Richard Dean Anderson:
But a lot of the character, as Mike alludes to... and thank God my father's here so I can say this in front of, a few hundred people, that a lot of the character was based on, physically certainly, was based on my grandfather, his father, John I. Anderson, who was... I'll use the word "debauchery" in a very loving way. [Laughter] From a very small town in northern Minnesota, they were all iron miners, and eventually my grandfather, John I., became a banker. But he had a mustache, he smoked cigars, he drank, he was a womanizer, he was very flirtatious. We don't know if he ever - "dabbled"... [Laughter] And of course this is getting into... No... Dad, Dad!
[There is more laughter as Richard turns to his father in the audience and Stuart Anderson, laughing, gestures "no", and that he should move on.]
No! He never did! But there was a lot of that, my grandfather, whom I just absolutely adored growing up, and idolized to some degree... Tried to drink as much as he could back in those days. Couldn't. I mean, under the table. So it was like, a lot of those elements I started to draw into creating the character, and it was the most fun I've ever had as an actor in my life. And I'm saddened, as those of you who follow my snarky remarks in the press know, that I was very saddened, and thought we got somewhat shortchanged by, uh...
John Rich:
John Symes... [Laughter]
Richard Dean Anderson:
Not Symes! No, he's always been on our side. But by a regime at UPN that I don't think really gave it a fair shake. Never really understood what we were doing, or saw the potential. And it was not to their credit, I won't do that. But at the time, UPN was just starting out, they needed product to sell, and it wasn't selling. Of course now as we all know it's getting better numbers than any show on the air, on UPN. But... I'm not bitter!! [Laughter]
Steve Bell:
Let's have another question about MacGyver! [Laughter] Back there... please.
QUESTION:
[A person from the back asks a question about the stunt from the evening's screened episode.]
Richard Dean Anderson:
I tried to!
Steve Bell:
The question was, did Richard really jump out of the plane in tonight's episode?
Richard Dean Anderson:
I wanted to, the problem was that that was shot in the second unit. I, at the time, was doing, idiotic things like skydiving. So I wanted to do it but...
John Rich:
You were skydiving?? [Laughter]
Richard Dean Anderson:
On weekends! On weekends! Not this time! So, no, that wasn't me actually jumping out of that particular airplane. [Laughter]
Steve Bell:
Another question... Yes?
QUESTION:
[A young woman near the front asks a question about MacGyver's first name.]
Woman:
In the pilot and in a lot of the early ABC publicity, they actually used MacGyver's first name, or the original MacGyver first name.
Richard Dean Anderson:
A mistake!
John Rich:
Wait a minute! What was the first name?
Woman:
Stace.
Michael Greenburg:
Oh, yeah...
Dana Elcar:
It was what?
Woman:
Stace.
Richard Dean Anderson:
John, don't. Don't go there, John. They're right. [Laughter]
John Rich:
I thought we cut that.
Woman:
Well yeah, it was cut out when the pilot first aired. But the...
Michael Greenburg:
Were you, like, the assistant editor or something? [Laughter]
John Rich:
How would you know that?
Woman:
Well, it was in the script. It appeared in the original 90 minute pilot script. And then when the ABC publicity came out, they used it. Now, was that a creative decision when the pilot had to be cut down to an hour, at that time, that MacGyver was not going to have a first name, or did that develop through the years?
Richard Dean Anderson:
First of all, saying "network" and "creative" decision... [Laughter]
Michael Greenburg:
You lost us on that!
Richard Dean Anderson:
Right! [More laughter] No, it was... in the early... see... Again, it's all a matter of us finding our way as we were going, I mean, again, we evolved from a seedling, and it was... I think there had been some consideration as to a first name but it became apparent to us rather quickly that there was a mystique around using his last name. And again, as that evolved, that whole concept that, you know, we held onto it, and then of course there was, you know, you start asking questions like "Why? What is it? What's the secret? What's his problem? What's he hiding?" All those kind of little tiny, you know...
John Rich:
We did a big show about it when we finally revealed it.
Richard Dean Anderson:
Yeah, that was a two-parter. In fact, John had a big problem with people calling me "Mac", shortening it even to "Mac". He felt that the audience would forget who I was like in the matter of a sentence or two. [Laughter]
John Rich:
No, I kept thinking of hamburgers. [Laughter]
Richard Dean Anderson:
Well, thank you for the compliment! [More laughter]
Dana Elcar:
Hey, "Mac"! [Richard laughs with the audience]
John Rich:
I always thought it would be better to use the full name, but, I lost.
Richard Dean Anderson:
We did, on and off.
John Rich:
I cut out a lot of "Macs".
Michael Greenburg:
Dalton was the only one that called him "Mac".
Richard Dean Anderson:
No, we allowed certain characters...
John Rich:
Yeah, certain characters. Dalton was... terrific.
Dana Elcar:
But I called him "Mac" at the beginning, but then the order came down not to call him "Mac" anymore. I thought we sort of eliminated it, actually, at a certain point.
John Rich:
We did.
Richard Dean Anderson:
And that's when the series just went to hell... [Laughter] Just went down, early on...
Michael Greenburg:
The crew calls him "Mac" in Vancouver, on Stargate! [Laughter]
Richard Dean Anderson:
I keep meaning to introduce myself to them...[More laughter]
Steve Bell:
Another question. I see a hand up right over there. Sir?
QUESTION:
[A gentleman from the back stands to ask a question and to tell an anecdote.]
Gentleman:
I just have a quick question. The question is, are there going to be any more MacGyver made for TV movies? And, I have a good story. A few years ago when I was back home in Baltimore, there was a shoe auction for charity, and they were auctioning off the shoes that you supposedly wore in the last episode, I think it was the one with your son.
John Rich:
That was Judy Garland! [Laughter]
Gentleman:
Well, I was trying to bid on the shoes, and there were only apparently two MacGyver fans there, because the other guy kept out-bidding me. [Laughter] And eventually my cash was running out, so I went and I talked to the guy, and, we decided to split the pair of shoes. [Laughter and applause]
Michael Greenburg:
Dare we ask which shoe you got?
Gentleman:
I have the left shoe. But actually they were both autographed. I just want to thank you for thinking ahead. [Laughter and applause]
Richard Dean Anderson:
[Laughing] Bless your heart! [More laughter from the audience]
John Rich:
Very funny...
Michael Greenburg:
Yes indeed. Do they fit? [Continued laughter]
Steve Bell:
There's a question right over there...
[Members of the audience call out that the gentleman's first question wasn't answered, so Steve Bell returns to it.]
Steve Bell:
Oh yes, answer the question... What is...?
Gentleman:
Well, the question was about the movies...
Steve Bell:
Will there be... There were two in '94, and none thereafter. Will there ever be others, and why not? [Laughter and applause from both the audience and the panel]
Michael Greenburg:
Good question!
Richard Dean Anderson:
Good answer! Well, the likelihood is... not. Wait, let me reconstruct that sentence for my father, who's an English teacher. The likelihood of... I don't know, in this day and age it's, who knows? You never say never, that old cliché, but time does have a tendency to move on. You know, we've all sort of made transitions in our lives. That's not to say that, you know, well, not only that, I'm totally broken. There isn't a chance in heck I could...
Michael Greenburg:
They'll probably want Leonardo DiCaprio! [Laughter]
Steve Bell:
Let me ask you another question on that same question. Why weren't there more after the two? They did well.
John Rich:
Richard didn't want to do the six of them.
Richard Dean Anderson:
Oh, the six! Yeah...
Michael Greenburg:
Yeah, four. Well, they came back and wanted two more, but we were doing Legend at the time.
John Rich:
Yeah but, initially, we were offered a number of them more.
Richard Dean Anderson:
You have to keep in mind in this... You know, it would come down to why did the show ever go off the air. I mean, that is like the overall question around this. But essentially, I mean, we were on the air for seven years, 139 single-hour episodes, plus two two-hour movies. It was time to move on, that's all there was to it, I mean, everybody was tired, the story lines, to be honest with you, were getting a little thin, I mean, it happens. You're going to run out of gas.
John Rich:
One of the problems we would have today is we couldn't shoot right away if we did decide to do some MacGyver movies. We'd have to wait at least two years for the hair to grow back. [Laughter]
Richard Dean Anderson:
Well, maybe not two years... [More laughter]
QUESTION:
[A woman from the back asks a question for each member of the panel to address.]
Woman:
I'd like to ask each member of the panel, when you look back at the show, what are you most proud of, or what do you find the most satisfying about the show?
Steve Bell:
Good question. Why don't we start on that end, with you, Pete.
John Rich:
Did you all hear the question in the rear of the house?
Steve Bell:
What was most satisfying, and what are you most proud of about the series? And we'll just go down the line from Pete on.
Pete Sloman:
I thought that the fact that you had an action hero who was well versed in science and technology, and was not a geek. [Laughter and applause] I thought the idea of having... well, I had always assumed that MacGyver was primarily trained in engineering. And the idea of a hero who was an engineer, who was also an action hero and who is... presentable, to say the least... [Laughter] ...was unique. And the fact that he was a human being... The treatment of science and technology on television always got pretty dismal. But here we had a human being, who just happens to know how to do all this stuff, and I thought that was wonderful, because it provided a role model for a lot of kids who might think not to go into science or technology because the image was kind of geeky. So, if we had fifteen or twenty more engineers, or physicists, or chemists now, because of MacGyver, I think that was a great thing.
John Whelpley:
I think for me it was that I got over my inferiority complex about being a geek when it came to science. [Laughter] I just loved these subjects. I have about seven transferable college credits... But what was great about working in this story arena was that I was forced on one hand to have to tax my imagination all the time to have a hero without a gun, but also, I had to do research, I had to talk to guys like this [indicating Pete Sloman], and learn a little something. And, you know, as you get older you get more interested in things in life, and I think what MacGyver provided me was a wonderful impromptu adventure, or seminar on the sciences, on the world out there, the physical world out there that I wasn't connected with. So that was my best thing that I took away from the experience.
Michael Greenburg:
For me, it was the bimbos. [Laughter from both the audience and the panel] No, the most rewarding for me were the animal rights shows, and the human rights shows. [Applause]
Dana Elcar:
Is it my turn? Well, I had two things, actually. One, of course, was... and it's a phrase that we bandy about and it's always there... It is that MacGyver was knowledgeable, but it was one other thing that MacGyver was, and that was self reliant. What he dealt from, was whatever deck was on the table at the time, whatever was in his atmosphere and his area, he looked at and said, "That's what I've got. That's what I've got to do it with." And he would do it, and he would figure something out. He certainly, being an imaginative youngster, had experiences, and the imagination. But he was self reliant.
The other thing... I had been reasonably successful in features before I got this job. And I was a little bit hesitant, thinking, "Boy, what if it went on for [laughing] seven or eight years." [Laughter from the audience] But I found an enormous gratification in working with the same team, but especially the same actor for that length of time, where our knowledge of each other, and our human relationship, and just basically respect for each other as actors, developed into the program itself, and fed me as a human being as well. And I was very grateful for that. [Applause]
Richard Dean Anderson:
That pretty much says, I mean, what I was going to say, relative to working with Dana, in particular. I mean, granted, I had a spectacular opportunity, and didn't know it until we were rolling along into the second year, and third year, and then you start thinking about potential. And so as it eventually did play itself out through seven years, I had an opportunity to work with hundreds and hundreds of wonderful actors... and some pretty not so wonderful actors... Which actually fed into something that I was able to come away from the experience with, which was an awareness of human nature, human behavior, how to handle it, and have since tried to make a transition, with Mike's help, in the producing thing. And talk about "people managing" and understanding... [Turning to John Rich] I now understand why I drove you nuts a lot of the time.
But particularly, the actors that would come in from the "outside world", I would refer to it, never compared to the experience that I had with working with Dana. I mean, it was just what he said it was. I mean, we're both of Scandinavian origin, so there was a stoicism I think we both brought... I mean, talk about being in denial about his impending blindness, I mean, it just went on and on and on. I said, "Dana, you're Danish, for heaven's sake. Just cop to it." [Dana laughs with him]. I'm Scandinavian, and I'm...
But there was a camaraderie that was born of all the experiences, the hardships, because there wasn't anything that was really easy about doing MacGyver. And I don't want to paint a sad story, because it was a spectacular, phenomenal experience. But it was not easy. I mean, we had to pay attention to the details, to the elements... I won't list all the things that some of you, in the know, [indicating the audience, especially the front rows], are aware of. But it was difficult. So out of that, came a bond, and a bonding, specifically with Dana, but with an entire group of people that I remember, and will remember 'til the day I die. Which, if I kept doing MacGyver, would be sooner than later. [Laughter] That's it. [Applause]
John Rich:
I guess I'm most proud of the stand we were able to take about guns, because I really dislike guns.
Richard Dean Anderson:
[Voicing his agreement] Yeah... [Applause from the audience]
John Rich:
We were able to get some attention. My wife and I served on Jim Brady and Sarah Brady's committee in Washington, and they were always very moved by what we were doing on MacGyver. And I felt that we were actually doing something that was a little bit beyond the normal call of television work. But also, what Richard refers to as "the camaraderie", was extraordinary from all levels, that we were able to get along so well for seven and a half years, I think it was...[Turning to the panel to confirm the duration of the series] Seven? It was more than seven... Was it seven and a half?
Richard Dean Anderson:
It seemed like seven and a half... [Laughter]
John Rich:
And that we're still friends. We can still get along, and it was a wonderful experience for me, and I think it was for all of us [indicating the panel]. I want to tell about one thing before we forget about it. We talked about MacGyver, the character, being so self reliant and knowing what to do. [Turning to Richard] I'm going to put you on the... Tell the story about the time you were camping, and the people needed you, had a failure of a radio or something? Can you tell them that story?
Richard Dean Anderson:
[Suddenly recalling the incident] Oh! When we were on location, yeah. We were actually on location up in Angeles Forest.
John Rich:
Right, right...
Richard Dean Anderson:
And it was an over-nighter, I think we were doing two or three days in a row, so we just camped up there, basically, the entire crew. So, through the course of the night, the director and I had wandered off through this trailer park... well, it wasn't a trailer park, it was a bunch of campers just parked up there. It was dark, and kind of remote. We were walking up there, and somebody's trying to get their television to work, and it's nothing but like white snow, nothing's happening. This guy is working the aerial, and I literally happened to be... it sounds like a setup... [Laughter]. I literally walked by, and, did the guy...? I can't remember...
John Rich:
The guy said, "We could use MacGyver here."
Richard Dean Anderson:
Yeah, I said, "Try a piece of tin foil." [Laughter] "Honey, I need some tin foil," literally through the window comes a piece -- and the picture comes on! [Laughter and applause]
Steve Bell:
I don't think we could sum it up any better than that. Thank you. We have enjoyed sharing your experiences, obviously the seven years you put into MacGyver were very important seven years in all of your lives, and it was wonderful to hear the stories, and to share them with obviously the greatest MacGyver fans that there are, in the audience.
Richard Dean Anderson:
[To the audience] Thank YOU! [Applause]
Steve Bell:
Thank you all, very much. [Applause from the audience]
This was the conclusion of the seminar. The MacGyver theme music began to play as the audience applauded, the panel rose, and the security officers moved to escort the panel members from the stage to the exit.
However, Richard Dean Anderson had been told in advance that members of the MacGyver Mailing List ("The MacList") were in the audience. A month before, MacList members had sent Richard a gift for his birthday. The gift was a contribution in his name to one of his favorite charities, the Challengers Club for Boys and Girls in Los Angeles, in the form of a memorial brick as part of the Club's fundraising efforts. Richard wanted to take this opportunity to thank the MacList members for the gift, so as the security officer approached him to escort him out, Richard responded clearly, "No, I need to talk to these people." He turned, came down the tiered steps of the stage, and approached the MacList members seated in the first two rows of the audience. He called out to them, "Is this where you all are? Thank you for my brick!!"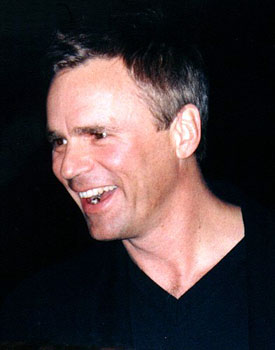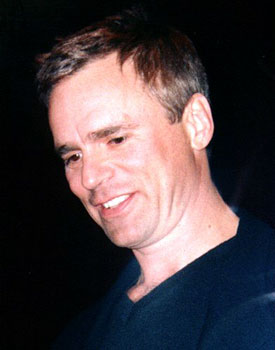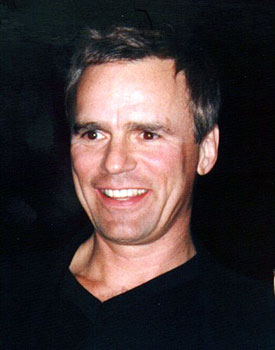 Richard came to one of the MacList members in the front row first, and gave her a hug. He asked if she had been responsible for the birthday brick project, and was told that Bev, a few seats away, had organized it. Searching down the row, he asked, "Where's Bev?", and when he was directed to her, he reached down to give her another hug and his thanks for arranging his gift. Bev insisted that the project had been a group effort and that she had only been the organizer, but she was surprised by Richard's next suggestion, "Can we get a picture? Bev, get everyone organized!"
By this time the rest of the audience had come forward, gathering around the stage, and the security guards had stationed themselves carefully in anticipation. No one was prepared to organize a group picture among the crowd, so Richard took on the job himself. In a matter of seconds he had arranged the 14 or 15 MacList members along the tiered steps. Although photography had been forbidden during the seminar, no one tried to prevent the taking of pictures once Richard had suggested it. The crowd cooperated, the security eased off a bit, and Richard went about directing the MacListers on the stairs as well as the people with cameras down below taking the pictures. "We can organize it... Just turn around... We'll put the camera down there... I've got a feeling we're going to have to make it tight... You stand together, and we'll need perspective from right about over there." And when someone in the crowd called out to a friend with a camera, "Come on Linda!", Richard echoed playfully, "Come on Linda!"
As the MacListers assembled on the stairs, Richard noticed that J. Randolph Cox, the gentleman in the Legend suit who had stood to ask a question during the discussion, was joining the group. Richard called out to him, "Are you with them?" and when Mr. Cox responded, "I'm with this group. I flew out here from Minnesota," Richard asked "Where?". Upon being told the name of his hometown near Minneapolis, Richard responded with recognition, "Down south! I have a cabin up in the Iron Range, with my Dad. And I go up there every summer." Then, acknowledging once more Mr. Cox's devotion to Legend and his unique wardrobe he added, "Bless your heart! I LOVE the outfit!"
With everyone arranged on the stairs, the MacList group posed as friends with cameras and strangers from the audience took a series of pictures. As the photography ended and cameras were returned to their owners, one of the MacList members turned to Richard and asked if he would mind signing an autograph. He agreed willingly, and she handed him a pen, wondering if it would work properly. He assured her, "No, that's fine. The pen's open and ready," and he autographed her program for the evening. Others also approached, hoping for an autograph, and Richard graciously accommodated each request. He showed no sign of being in a hurry to leave, and so each person who approached him was granted a moment of his time, sometimes an autograph, sometimes a photo opportunity, but always his undivided attention. The crowd was polite and patient. There was no pushing or shoving to reach him, no attempt to monopolize his time. After a while even the security officers began to relax and on more than one occasion offered to take some of the pictures of fans as they posed with him. Richard himself seemed to be enjoying the interaction. He was relaxed and friendly, animated and personal, joking and laughing easily and clearly enjoying himself.
Richard was impressed to learn how far some people had traveled to be there for the evening. From the MacList group alone there were people from as far away as Minnesota and Texas, Illinois and Nebraska, Massachusetts, New Jersey, and Virginia. Richard remarked, "This is an eclectic group of people! From everywhere!" He was touched, too, by the personal stories he heard. One person after another offered him thanks, told of how they had enjoyed MacGyver, how they had been inspired by the series, or how Richard's work and his example had made a lasting difference in their lives. For each story he gave his undivided attention, sometimes laughing, sometimes approaching tears, and often responding with "Bless your heart," and a warm and generous hug of appreciation.
Many of the encounters were very entertaining. One young lady had brought along a photo album of his pictures for him to sign. As he looked through it she explained that she had begun watching MacGyver when she was seven years old, and her parents had helped her to put together the album. Perhaps feeling how time has flown, he laughed, covered his face, and kept repeating in disbelief, "SEVEN?!!" Finally he remarked, "We've got to get you some new pictures!" Another woman had brought along a gift for him, a videotape that she and her friends had put together of an original homemade episode inspired by MacGyver. She was honored to be able to give it to him in person, and he accepted it proudly. When the gentleman from Russia who had spoken earlier during the discussion approached, Richard remembered him immediately and called out, "What part of Russia?" Richard and the crowd all enjoyed a laugh when the gentleman called back, "Siberia! Right where you kidnapped Yuri Demetri!"
He showed exceptional patience with the endless photographs being taken of him, and he joked occasionally about the awkward angles. After a flash picture taken at particularly close range he teased, "Couldn't you take that any closer?" When another person took a picture from below he quipped, "Oh great, a shot from underneath, and looking down too. You would have to get a shot of my double chin!" At one point he posed for a picture with a fan as her husband fumbled with a camera that refused to cooperate. In his best "MacGyver" style he spontaneously reached down for the camera to see if he could fix it. With another fan he joked about the disparity in height as fans tended to stand on the step below him for their pictures, so for once he came down a few steps and crouched behind her, explaining that now her friends would think that he is shorter than she is when they see her picture. Those steps proved treacherous occasionally as well. Several people lost their footing and more than once Richard had to steady someone who tried to climb the stairs, or catch someone who tripped going down. Leaning over to hug someone on a lower step, he nearly fell over himself at one point, and the security took a step forward in case he should lose his balance. But in each case, catastrophe was averted.
A few people asked about his personal appearances. Some fans of the Celebrity All-Star Hockey team who follow both Richard and Chris Potter, asked if he would be playing in the upcoming celebrity game in Hershey, Pennsylvania next month. He said that he would not be playing in Hershey, but that he did still play regularly with his buddies up in Vancouver. In fact, he said, he had played with them there just the night before. Then he added that if Chris Potter were to come up to film a project in Vancouver he would be able to join them. Someone else asked about the Entertainment Asylum online chat scheduled for the following afternoon. At first he didn't seem to recognize the name, then responded, "Oh! That's right! Yeah!" and by way of an apology explained, "I literally got off an airplane about three hours ago, so..." Then he added, "Yeah, I'm going online tomorrow on AOL," and seemed to be looking forward to another new experience.
Throughout the evening, Richard laughed and joked, often at his own expense. Running his hand through his hair he remarked, "I have this dorky short hair now. Well, you know, Stargate..." When someone brought up General Hospital he laughed at how long ago that was, how foolish and naive his character, Jeff Webber, had been, and he playfully retold the story of how his soap opera wife, Heather, had "taken enough LSD to kill off half of San Francisco." Another fan had brought along a picture for an autograph, and taking one look at the photo of a particularly young Richard Dean Anderson, circa 1985, in a tuxedo, he cried, "Oh my God! Bobby Sherman!!" Someone else referred to his earlier comment about his Scandinavian heritage and asked if he spoke any Swedish. He admitted that he didn't speak the language, and could only do the accent, then immediately launched into an exaggerated and sing-song Swedish accent, calling, "Ya, sure, you bet'cha, snook'ums!"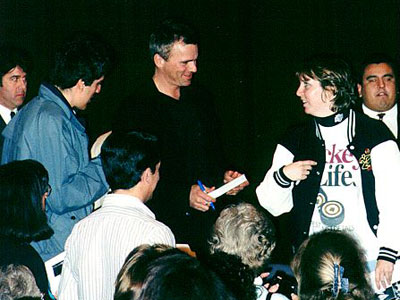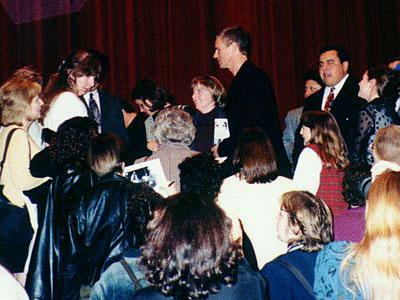 Everyone in the crowd was aware of how unusual it was for members of these seminar panels to remain after the conclusion of the seminar to mingle with the audience, yet Richard showed no sign of being in a hurry to leave. At one point he paused and scanned the crowd, searching for someone, and explained, "There's someone I need to make contact with." Finding the person at last, he excused himself and crossed to the opposite side of the stage where he met up with Apryl. Thoughtfully, no one in the crowd tried to follow or converge on him. Instead they remained frozen in place and allowed the two to converse for a moment. Apryl responded to Richard's question, "Jimmy did it," and when he was satisfied that all was taken care of he returned across the stage to his original position, apologized to the waiting crowd, and continued from where he had left off. Only later was it learned that Richard and his family had made dinner reservations for that evening immediately following the seminar. What Jimmy, his brother, had done, was to phone the restaurant and delay the reservations, several times in fact during the course of the evening, so that Richard could remain with his fans. For a full hour Richard's family and friends, including Apryl, his father Stuart, and his brothers Jeff and Jimmy, looked on, occasionally mingled with the crowd, and patiently waited as each person in the audience had an opportunity to meet with Richard.
Richard has always been cautious about discussing his private life, but the news that he and Apryl were expecting a baby had begun to circulate a few weeks before the seminar, and several people now took the opportunity to offer their congratulations. When someone said how happy she was for him, he sounded genuinely touched when he asked, "Really?" He explained, "I've been saying for years how much I've wanted to have children. Now it's time to 'put up or shut up'." Then he added, "I'm SO happy." The warm reception of the news by his fans seemed to genuinely matter to him, and may have encouraged him to talk more freely about the baby that evening, as well as during the online chat the following day. When asked, he volunteered that the baby is a girl, and that she is due in July. Someone asked if they had decided on a name yet, and he responded that they had a few names picked out, but had made no decisions yet. A few people also had the opportunity to speak to Apryl that evening. She also mentioned that they hadn't settled on a name, and that the baby was a girl, due in July, adding, "And July is coming very quickly!" Apryl was genuinely warm and friendly with the fans who spoke to her as she waited patiently with members of Richard's family.
Other members of the panel had stayed to mingle with the audience as well. Among them was John Rich, who seemed sincerely pleased and flattered when he was asked for an autograph. He was impressed to discover just how much the fans knew about the series. One discussion included John Rich, Michael Greenburg, and several fans, regarding the scene in the pilot episode in which MacGyver shoots a gun. Significant as the only time in the entire series when MacGyver fires a gun, and therefore inconsistent with the eventual premise of the show, Michael Greenburg said he thought the scene had been cut out. John Rich seemed genuinely embarrassed that it hadn't been, and his wife was amazed that anyone would notice and remember it.
Another recognizable face in the crowd belonged to Jarrad Paul, known to fans of Legend as "Skeeter". He had come that evening to enjoy the seminar, and of course couldn't help but notice J. Randolph Cox's Legend suit. As the audience gathered at the stage, Michael Greenburg approached Mr. Cox and introduced him to "Skeeter". Mr. Cox's initial reaction was to quote a favorite line from Legend: "Man with a donkey!" and the two of them enjoyed a bit of mutual admiration. Jarrad admired Mr. Cox's outfit and devotion to the series, and Mr. Cox in turn praised Jarrad's comic genius in the show and remarked on his change in appearance without the electrified hair. Regarding the comic scenes in Legend, Jarrad revealed that many of the exchanges he shared with Richard were not scripted. Often he and Richard had worked the scenes out between themselves in advance, and he credited their success to Richard's comic skill and timing. He sited in particular the first scene they shared in which Pratt is directed to the sheriff's office, and talked about how much he enjoyed the pairing. When asked what else he had been up to since the demise of Legend, he mentioned an episode of Seinfeld entitled "The Voice" which aired on October 2, 1997 in which he played Kramer's overly efficient assistant.
Michael Greenburg joined Mr. Cox and "Skeeter" for a discussion on some of the subtleties and nuances that made Legend so enjoyable. Mr. Cox described the confrontation between Legend and John Wesley Coe in which Legend's outrageous fabrication wins over the gunfighter without firing a shot. At the climax of his story a horse's laugh is heard outside, and Legend's eyes shift in response. Jarrad was so impressed that an audience member would notice such a detail that he remarked to Greenburg, "He knows the show better than we do!" and Greenburg was prompted to call out to Richard as he passed by, "Rick, you should hear this!" Greenburg said that nuances such as these were intentional and great fun to plan and execute. He sited another example, a scene showing the exterior of the Slaughter mansion, in which the buzzing of a fly could be heard. Richard had wanted the buzzing to continue as the camera cut to the interior scene at the Slaughter house, but it was decided that this might be a bit excessive, and so the interior sound effect was dropped. Mr. Cox, who has a particular interest in the history of dime novels, said that he was impressed by the accuracy in which dime novels were portrayed in the series, and he felt that someone on the staff had been doing careful research. He also told a bit about how his unique suit had come to be designed, and about the conferences and conventions where he had occasion to wear it as he delivered presentations on the history of dime novels, tying in a link to the Legend series whenever possible. Following his conversation with Jarrad Paul and Michael Greenburg, Mr. Cox had an opportunity to reiterate some of his stories and observations to Richard as well. Richard was thoroughly delighted to meet the fellow Minnesotan in the yellow suit, and enthusiastically chatted and posed for pictures as "Mr. Legend" met "Mr. Pratt".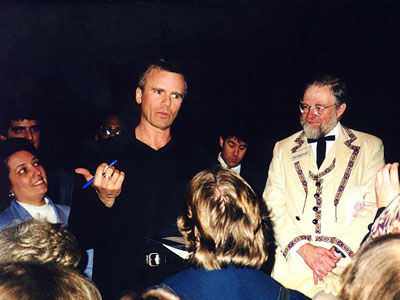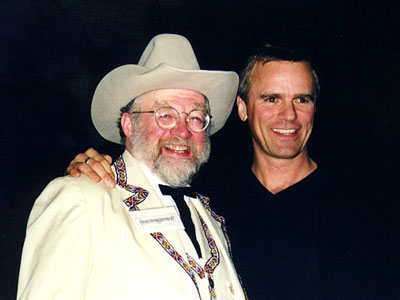 Michael Greenburg had an opportunity to speak with other audience members as well. Since MacGyver is no longer available in the United States, either in syndicated reruns or on video, many fans wanted to know how to bring it back to the air. Greenburg consulted Kathy Lingg of Paramount, and both of them seemed to be surprised to learn that MacGyver has not been carried on the USA Network for many months. They explained, however, that since the USA Network is no longer owned by Viacom, it is reasonable that their programming would have changed, and they had no immediate suggestions for returning MacGyver reruns to the air. As for getting MacGyver episodes released to video, Greenburg suggested contacting Eric Doctrow at Paramount Home Video for information.
Michael Greenburg also discussed other projects of Gekko Film Corp. Legend had been a favorite project, and he remembered well the Internet campaign to bring the series back after it was canceled, saying, "You'd be surprised at the shows that are saved by fans." There is still the hope at Gekko that Legend could yet return, and Greenburg said that they are developing a Legend TV movie in conjunction with people at Paramount. He mentioned another TV movie as well that has been in development for several years, a suspense thriller tentatively titled Deadly Reunion. Their current project, Stargate SG-1, has been enjoying tremendous success, and he said that it will be starting on FOX in September or early October. It is still a Showtime project and will air on pay cable first, but FOX O&O (Owned & Operated) stations will carry the reruns a year later. As he explained, "What happened was, we premiered on Showtime, then once the ratings started escalating, FOX called and bought the show for network television. You create a window for pay cable like Showtime and HBO, and then it goes to the networks. FOX offered MGM the most money." Stargate SG-1 had just gone back into production for its second season, and the new episodes are expected to begin airing this summer. Greenburg agreed with the fan who commented what an incredibly talented actor Richard is, adding, "Yeah, he is, and he's going to be doing some pretty cool stuff on Stargate." But he would give no other hints about the upcoming season.
At 10:00, an hour after the conclusion of the seminar, the last fans from the crowded auditorium made their way to the stage to meet with Richard. No one was turned away, everyone was given an opportunity for a word, an autograph, or a photo. In giving his time, Richard had turned an evening that was meant to honor the creative team behind MacGyver into an evening to honor and thank the fans who had supported the series. When at last the auditorium was empty, Richard returned to his waiting family and friends, and left quietly out the side door. The MacList members were the last to leave as the security guards locked up the Directors Guild and brought a very special evening to a close.