GATE CRASHER
Richard Dean Anderson favors roles that let him "creatively misbehave." In Stargate SG-1, he gets a lot of opportunities.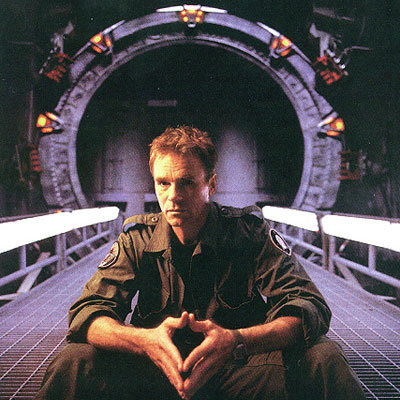 "Old man, look at my life, I'm a lot like youuuu arrrre!" Richard Dean Anderson croons in a quavery Neil Young falsetto. The actor is patiently enduring a three-hour makeup session in a trailer in Vancouver one morning. Thanks to an assortment of wrinkles and liver spots, the 47-year-old star of the new Showtime series Stargate SG-1 will soon look like a centenarian. The series is based on the 1994 Kurt Russell movie, and, as Air Force Colonel Jack O'Neill, Anderson will leap through cosmic "wormholes" to kick alien butt on other planets. In the episode he is being made up for, "people age 250 times faster than normal," says Anderson. Like Aerosmith? "Yeah, exactly!"
Looking ancient has made the former MacGyver star nostalgic -- he's thinking back on the lucky, um, breaks that got him where he is today. "When I was 15, I wanted to be a pro hockey player," recalls Anderson. "I busted one arm, and three weeks later I snapped my [other] elbow -- bones sticking out everywhere." He spent three months in a hospital patrolled by nuns and buxom nurses. "It sucked because I had lost my virginity at 14. Can you imagine discovering the wonderfulness of the opposite sex, then getting laid up? I couldn't even touch myself!"
Once out of traction, Anderson put his hockey plans on ice and hopped a train to Free Love Central: Haight-Ashbury in San Francisco. "I was part of whatever was the most fun at the time," says Anderson. "I had some fairly... interesting days imbibing. Timothy Leary and Hunter Thompson -- those guys trained me. Friends I knew in my teens are surprised I lived to be 40."
But even a hippie has to make a living, so after stints in L.A.'s theater scene and Marineland (performing an act in which killer whales grabbed mackerels from his teeth), Anderson landed the part of Dr. Jeff Webber on ABC's General Hospital (1976-81). Prime-time success came in 1985, with MacGyver, the action drama in which the actor used jury-rigging wizardry to solve crimes (ingeniously improvising keys from paper clips, and such). "[Richard's] not like that at all," confides Anderson's producing partner, Michael Greenburg. "He can't program a VCR or dial a phone."
By 1992, "I was kind of fried," says Anderson. "MacGyver was seven years of being in virtually every frame that was shot and having absolutely no life at all."
Well, he did manage to date the likes of Sela Ward, Lara Flynn Boyle, Marlee Matlin, and Katarina Witt, not to mention his squeeze of the past year, "a woman I adore who has a sense of humor, is beautiful and smart," says Anderson, flatly refusing to name her. "But someone told me a long time ago about relationships in this business: If the egos don't get you, the distance will."
And even if you survive the distance, you've got the pace to contend with. Each ambitious, special-effects-laden Stargate episode (44 hours have been preordered) is shot in seven and a half days -- half the time an X-Files episode can get. To maintain his sanity, Anderson persuaded his brother Jeff, 46, to move up from San Diego and "help look after my personal life," which, as it turns out, could use some tending: Richard recently shred his foot bones in a 60-mph Vail ski crash.
Physically spent is how a still artificially aged Anderson looks after a full day of shooting. But the sight of Stargate costar Bobbie Phillips (she of Murder One and Showgirls fame) in a peekaboo tunic perks him right up. "He's having a real good time being the dirty old man," says Phillips. "Pinching everybody's behinds." Anderson plays along with a mock old-man leer. "Your true self is coming out -- this is how you're gonna be when you get older!" squeals Phillips.
"Are you kidding? This is the way I am now!" Anderson replies, before breaking into song once again -- this time a parody of Bill Murray's lounge-lizard take on the Star Wars theme: "Star-gate, just look at that Star-gate, waiting for youuuu!"