ICE MAN
Everything is cool with Richard Dean Anderson -- now that he's got a new series and a great place to skate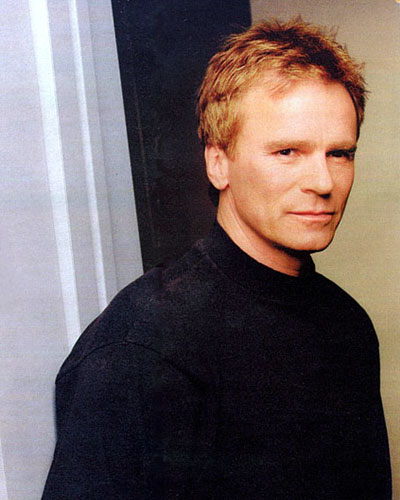 As he relaxes in his trailer on the Vancouver set of the new Showtime series Stargate SG-1, Richard Dean Anderson opens up about a painful subject: hockey. During a recent game, the former MacGyver star took a whack at the puck and popped a couple of ligaments in his ribs. "I just nailed this slap shot," Anderson says, smiling at the memory. "But the follow-through took me to places I've never been before."
Ouch. Coming from a man whose lifelong pursuit of the sport has resulted in two broken arms, a surgically repaired knee, and a cracked bone in his foot that is still causing him to limp, that's really saying something. But though it takes a little longer to heal these days, Anderson rejects the notion that it might be time to kick back some. "I haven't completely fallen apart yet," says the 47-year-old actor. "I can still leap tall buildings, though not in a single bound. Maybe two."
He should have plenty of chances in Stargate. Based on the 1994 hit movie, the sci-fi series features Anderson as Col. Jack O'Neill, a veteran Air Force officer in charge of a team of commandos and scientists who venture through the Stargate -- an alien-designed "portal" that leads from Earth to the planet Abydos -- in order to chase down some nasty parasitic aliens and rescue their would-be hosts. "The show is one giant recon mission," explains executive producer Jonathan Glassner. "It's not one of those weird science-fiction things with a big spaceship. It's us, today, finding a piece of technology we don't understand and [getting] into situations we don't know how to handle."
O'Neill will undoubtedly find a way. But while MacGyver was that rare action hero who favored brainpower over firepower, Anderson's latest alter ego is a different sort. "MacGyver was quite the pacifist," says the actor, decked out in combat fatigues for the two-hour premiere episode. "Now I'm playing a military guy who openly carries a gun." Anderson adds that his take on the character is a little lighter than the dour tough guy Kurt Russell portrayed in the original film. "Life is too short," the actor says. "If there isn't a fun factor then I really don't want to be a part of it."
And the fun is guaranteed to last two seasons, thanks to a generous commitment from sci-fi friendly Showtime (the cable network's Poltergeist and The Outer Limits are filmed next door). Knowing that there will be at least 44 episodes in the offing, the producers have spent lavishly on elaborate sets. And the creative folks have the freedom to develop characters and storylines without worrying that the ax might fall just as they're getting started.
That's exactly what happened to Anderson with the 1995 UPN series Legend, which lasted only one season. Anderson calls the show his "favorite project ever," and he still faults the fledgling network for not giving the offbeat Western more of a chance to build an audience.
"When you start a new venture like UPN, no one's going to get the [high Nielsen] numbers," argues Anderson. "One of the reasons I heard it was canceled was that Legend was just too 'dusty.' Well, it's a period Western, for heaven's sake -- you think there's going to be a little dust? It was not a pleasant parting at all. I was very disappointed."
The Roseville, Minnesota, native learned early what it's like to get smacked around by forces beyond his control. For one of his first showbiz gigs after moving to Los Angeles in the early 1970s, he starred in a Marineland show with a killer whale that snatched mackerel from between his teeth. The first time Orky came barreling out of the water, Anderson flinched. "Nailed me right in the forehead," he says, wincing. "It was like taking a shot from a boxing glove. I had a bruise for weeks."
Anderson quickly moved on to swimming with sharks -- the Hollywood kind. In 1976, he embarked on a five-year stint on General Hospital. In 1985, he landed MacGyver. The series ran for seven years on ABC and made him a star, but the show took its toll. "The only reason it went off the air was that everybody was ready to move on," he says. "I was physically exhausted and had no life."
Even an action junkie like Anderson occasionally needs to chill out. When he's not chasing pucks, racing cars, hurtling down ski runs, or performing in front of a camera, Anderson likes to hang at his lakefront cabin in upstate Minnesota. "I just settle into this northern Minnesota guy who likes to split logs, seed grass, and clean out the boathouse," says Anderson. "I'm more comfortable up there than I am anywhere."
He's also growing more comfortable with the idea of settling down. "I've lived a very selfish lifestyle," says the longtime bachelor, who's been linked in the past to a long list of well-known women, including Sela Ward, Lara Flynn Boyle, Marlee Matlin, and Katarina Witt.
"I've come to a different stage in my life," he continues, "where my family is very important to me." Still, the idea of a family of his own gives him pause. His new dog, Zoë, required quite a bit of training, he says, and it was a tiring experience. "I called my mom and said, 'How did you raise four kids?'" jokes Anderson. "I'm having problems with a dog, for crying out loud."
For now, the actor's attention is focused on the challenge of Stargate. But Anderson's eyes do light up over one of the fringe benefits of filming in Canada: It's easy to get a hockey team together. In fact, he's heading off later this evening for a little midnight ice time.
"We've got some major skaters on this show," boasts Anderson. "We'll beat the dickens out of Outer Limits. And we'll be happy to take on Poltergeist and Helen Shaver, too -- get her in the corners and see what she can do."
Note to Ms. Shaver: Take it easy on the old guy -- he bruises easily.