ACTION ACTOR TAKES THE CONTROLS IN PANDORA'S CLOCK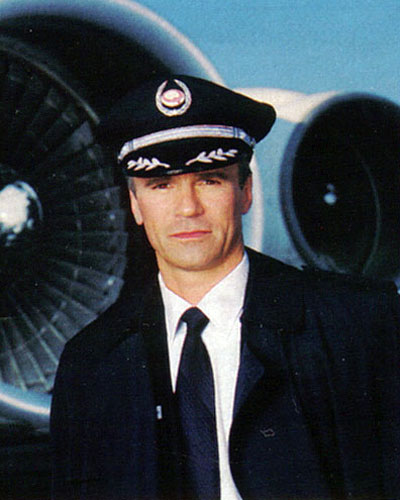 If you were trapped in a jumbo jet with a passenger suspected of carrying a deadly airborne virus and no airport would allow the plane to land, who would you want flying the plane? James Bond might make a good first choice. MacGyver wouldn't be bad either.
In Pandora's Clock, a four-hour mini-series airing at 8 p.m. Sunday and Monday on WMAQ-Ch. 5, NBC went with MacGyver -- that is, the man who played him for seven years, Richard Dean Anderson.
Anderson looks pained at the comparison between old and new characters but quickly agrees, "It's unavoidable. I'll be stuck with those comparisons for the rest of my life. It's okay. I'm proud of my work on MacGyver.
"But the guy in Pandora's Clock is a former military guy. He has short, graying hair like MacGyver (and like Anderson himself), but he also has a problem with authority. He's dealing with what's before him, but he's a very practical person. MacGyver is more improvisational."
Anderson's former fighter pilot probably could use some of MacGyver's offbeat ideas. In this medical/geopolitical thriller, based on John Nance's best-selling novel Pandora's Clock, Anderson must get the jet onto the ground, plus deal with the passengers, the CIA, the White House, the press and foreign terrorists. Assisting or thwarting him are a large cast of characters, including Jane Leeves, Robert Guillaume, Robert Loggia and Daphne Zuniga.
"All those layers were attractive to me," says Anderson, who has put on a white T-shirt and jeans and dropped into a West Los Angeles restaurant for a cobb salad and a chat about the direction his career is taking.
"John Nance talks about when, not if, this kind of crisis will happen. All the elements are in line. There are new viruses, coming out of Africa mostly, and in this age of travel there's the ability for them to be quickly transported. Nance lays it out in very dark terms, although he adds a grain of humor."
Anderson, 46, responds to humor, maybe because he's pretty funny himself. He gripes, "There's no market for quirkiness on the major networks. I go in trying to sell projects that I like. I'll say, 'Think Terry Gilliam's Brazil.' And they'll say, 'Have you got anything family-driven?' And I'll say, 'Not unless the family is whacked out!'"
His favorite series, Legend, lasted just 13 episodes on UPN last year. "I created it and brought it to life," he says of the fantasy Western adventure in which he played a turn-of-the-century novelist, "and the network didn't have the slightest idea of what to do with it. I'm not bitter!" he adds in a self-mocking tone that lessens the sting of his words.
"I like playing heroes as long as it's a romp or tongue-in-cheek. What I liked about MacGyver was that he was unassuming. He went about his business trying to help." After the series ended, Anderson brought MacGyver back twice in TV movies. "I'm very comfortable in the role," he says, "but I'd much rather recreate Legend."
He would prepare the script himself, except, he says, "I don't have the discipline to write. I have to stop distracting myself with real-life stuff." He's too busy skydiving, ski racing, downhill racing, car racing, mountain biking and rock climbing. Idly he asks, "What's left to do?"
A comedy/drama about Anderson's life would make "must-see TV." The 6-foot-2-inch Minneapolis native rode his 10-speed bike 5,641 miles to Alaska when he was 17 and hasn't slowed down since. "I grew up in the '60s and '70s when things were continually changing," he says. "I made no conscious effort to rebel against anything, but I did recognize a certain conservatism about my environment.
"I knew there were places to go and see, so I was hopping freight trains. I got away with murder as a kid. There was nothing I couldn't do because it was safe and available and a lot more legal than now. I had a ball growing up, and I'm still having a ball."
Describing what he calls "my parental environment," Anderson says, "My mother was an artist; she painted, sculpted, wove and was also a Life Master bridge player. My dad was an educator who taught speech, English and the humanities, and he was also a jazz musician. I guess my biggest rebellion, other than the normal anxieties and angst kids go through growing up, was being a jock.
"I had a lot of energy, emotion and curiosity to go out and explore and misbehave. My dad said, 'If you get into trouble, call. But I know you'll get yourself out of it.' In the '60s I was living in Haight-Ashbury. I'd been gone for 2½ months, and when I called home my brother said, 'Where have you been? Mom and Dad were wondering because they haven't seen you around.'
"If I'd been an only child, I'd have been an accountant, but I had three younger brothers to keep them busy."
In between his gallivanting, Anderson studied drama at St. Cloud State College and Ohio University. His first acting break came in 1976 when he became a regular on General Hospital. "It was earn while you learn," he says. "I'd love to see the first two episodes, not that I need to be humiliated and humbled. I was 26 -- a cherubic 26 -- and at the time the youngest person on the show was 45. I was the youth movement. Soon afterwards came Luke and Laura."
Anderson stayed with General Hospital for five years, even though he says, "After a year and a half I started to burn out. My attention span is so short and the story lines were so perpetual that every day was the same. I couldn't stand being indoors all the time."
Nevertheless, he stayed in television, moving to Seven Brides for Seven Brothers and Emerald Point, N.A.S. before landing on MacGyver in 1985. "That venue was more exciting and afforded me a lot more creativity," says Anderson, who eventually rose to the position of executive producer as well as star.
"In addition to being in the action-adventure genre, we ventured into a variety of issues, and I got to be the guy who dealt with the bulk of those issues."
Since MacGyver ended, Anderson has tried to expand his range by playing "increasingly darker characters" in Through the Eyes of a Killer and Beyond Betrayal. Last spring he shot a pilot -- that is, filmed the first episode -- for a new TV show, but it wasn't picked up.
At the moment, his main priorities are buying a house and maybe finding a girlfriend. In the '80s, he had a lengthy relationship with Sela Ward, but they never married. "I've been walled off," Anderson says. "I was living in a gated house overlooking Santa Monica Bay. I had a girlfriend for eight months, but we broke up last November. I crawled away and moved in with my business partner, but now he's sold his house."
Anderson, who seems as down-to-earth as an actor can be, is eager for a nice, normal life and kids. "I'm from the Midwest," he says, adding, "That's where humility was created."