RICHARD DEAN ANDERSON, PRODUCING MACSEQUELS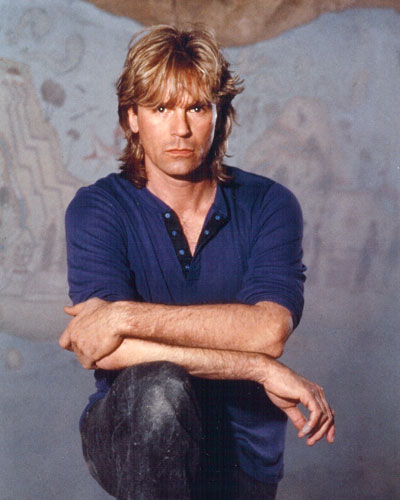 Mac is back!
MacGyver, that is.
When we last saw our intrepid hero two years ago, he was riding off into the syndication sunset after seven seasons on ABC. MacGyver, which starred Richard Dean Anderson, was a most unusual action-adventure series. Mac was a former Special Forces agent working for a think tank; he used his amazing intellect instead of brute force to right wrongs and defend the world every week from the bad guys.
Due to popular demand, Anderson, 44, has reprised the role that made him famous, making two ABC movies with his alter ego in the title. The first, "MacGyver: Lost Treasure of Atlantis," premieres Saturday. Shot in England and Greece, the Saturday matinee-type adventure finds Mac on an archeological dig to locate a legendary fortune. Anderson, who also is executive producer of the movies, will be seen later this year in "MacGyver: Trail to Doomsday."
The Minnesota native got his first big acting break back in 1976 when he was cast as Dr. Jeff Webber on the ABC daytime drama General Hospital. Before MacGyver he also appeared in the short-lived CBS series Seven Brides for Seven Brothers and Emerald Point, N.A.S. The co-founder of the Hollywood Celebrity All-Star Hockey Team, Anderson has also starred in the TV movies In The Eyes of a Stranger and Through the Eyes of a Killer.
The easygoing actor discussed MacGyver as well as the trials and tribulations of being a producer, with Times Staff Writer Susan King.
So how did the MacGyver movies come about?
After the series was canceled, the audience reaction was such that ABC came to Paramount, who came to me and asked if I would be interested in doing what is known as a 'wheel' on the same level. They wanted me to do six of them. I said, "How about if we start with two?"
Once the series was canceled, it was kind of a matter of taking steps forward [in my career], as opposed to laterally or backward. My partner and I had negotiated this deal with Paramount to develop and produce and star in my own projects.
The two MacGyver movies were the first production entities my company, Gekko Film Corp., produced. We were in charge of all aspects of production, from script to post-production. Also, I love Europe so I told the writers to write [the settings in Europe].
How do you like being a producer?
I'm in a position that, I think, every actor may aspire to be. I'm sort of in control of my fate. I get to develop and star in my own projects. It's kind of a two-edged sword situation. I'm finding, having been in this for more than a year and a half, the political aspect, the bureaucracy and the salesmanship are a real pain. The upshot of it is that I'm discovering or reinforcing the notion that I'm more a blue-collar man than white-collar. I like having a call sheet. I like having cameras around. I like having that communal feeling of having a crew and being in actual production.
Was it fun to step back into MacGyver's shoes after more than a year away?
It was nice. It was a very comfortable situation to know the character so well. I didn't have to worry about that aspect of it, so I could spend more time behind the camera and dealing with the production aspects.
Do you think MacGyver has remained so popular in syndication because he used his brain to solve problems and get out of dangerous situations?
Initially, that was part of the hook because it was atypical TV hero stuff. There was something charming and attractive about that sort of almost Everyman doing extraordinary things. There must be something very universal about that because it translates to different languages, different cultures. It has been in 71 different foreign markets for several years.
How do you feel about being satirized on Fox's The Simpsons? Marge's sisters, Patty and Selma, love to watch MacGyver.
There are two things that I'm convinced made my career complete. The first one was being sent up in MAD magazine. They did a spoof of MacGyver called MacGimmick. They absolutely skewered us to death and they were right on. I was ecstatic because it's my favorite magazine since childhood. I actually sent them a letter thanking them. The second thing that has made my life complete is being on The Simpsons, or actually referred to on The Simpsons; by the two sisters to the point where I would love to be on it.
Are you going to do another series?
I have to. It's part of my deal [with Paramount]. I am actively looking. We have one in development now being written which we will shop around. We shopped around a similar concept to all the networks and nobody wanted to buy into it. The concept dealt with the feared word -- journalism. It had to do with a crime reporter. We found through our research and reactions from all the networks that journalism doesn't sell. People are not sympathetic to journalists.
The dilemma I have come across of late, at this stage in my career as a producer, is that [the networks] want women-driven, family-oriented shows. Subsequently, I'm trying to find a concept that works for me personally, being a guy. ...I'm not adverse to adventure. It's my favorite format. But time marches on and you want to try other things.