MACGYVER CONCOCTS A COMEBACK
Richard Dean Anderson proves you can't keep the most ingenious hero on TV down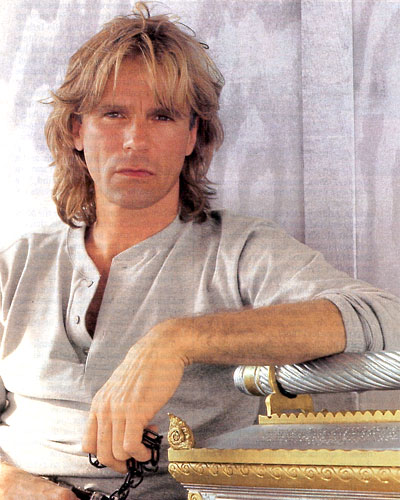 Richard Dean Anderson ambles off the Santa Monica beach and into the hotel lobby. With his all-American look -- jeans, boots, and a comfy shirt -- Anderson seems the mirror image of one guy. MacGyver. As he settles into a chair on the sun-drenched patio and orders an iced tea, his cheerful, laid-back style reinforces that notion.
"He was an odd kind of TV hero," says Anderson. "This wasn't a guy who puffed up his chest. He was human. If he had to hit somebody, it hurt his hand. When we started, shows like A-Team were running, and there was an awful lot of machismo floating around. MacGyver was not that kind of guy."
Now, two years after his show's seven-year run on ABC ended, Anderson is back in the two-hour movie "MacGyver: Lost Treasure of Atlantis." Fans will be glad to hear he's still not "that kind of guy." He has the ingenuity of a scientist and the vulnerability of an average guy. He has the common sense to flee danger. He doesn't use guns. He's mischievous. And he's willing to take on the hazardous missions.
Richard Dean, as his buddies know him, remains funny, blunt, and candid about himself. He admits he faces a crossroads in his career and perhaps his life. He speaks with a hint of anger about what he views as the TV industry's persistent brushoff of the series that made him a star. Especially grating to him is that the series never scored in the Emmys, and that ABC "kind of bounced it around." Says Anderson: "I don't think MacGyver ever realized its full audience. We were never taken seriously." (Asked what he thinks of the MacGyver movie's weak Saturday-night slot, Anderson shrugs, laughs, and says: "It sucks!")
Anderson says he gets offers almost daily to play action heroes in TV-movies or series, but admits he's restless and unsure about his future. Another MacGvyer movie for ABC has been completed for next season. And the actor says he's yearning to branch out and play MacGyver's flip side: No more Mr. Nice Guy. He's already played a villain in the CBS thriller "Through the Eyes of a Killer," and will soon begin work on another TV-movie where he'll play a cop stalking his ex-wife (Susan Dey).
On the personal side, Anderson is considering big changes. He lives alone in a small Pacific Palisades home overlooking the ocean. For years, he has traveled freely to Europe and Tahiti, spent winter days alone in his Minnesota cabin, and indulged in his passions for car racing, skiing, and hockey. Over the years, he's been involved with such actresses as Sela Ward, Marlee Matlin, and Teri Hatcher, yet he remains single.
Asked if he considers himself a loner, Anderson takes a long pause. "It's something I'm wrestling with at this point," he says. "I want a family. I love kids. I think I'd make a spectacular father. I understand that now, finally, at my age it's about compromise." He pauses to finish his iced tea. "In the past, when someone asked me questions about my personal life, I'd just bob and weave and shuffle and says it's none of anyone's business. But I make no excuses about it. I've lived a kind of vagabond life."
Anderson's bio paints a picture of a free spirit. He grew up in Roseville, Minn. His father, now a jazz musician, was a high-school English teacher and his mother an artist. "There was always great music playing and the smells of oil paint and clay," he recalls of his childhood home.
In his teens and 20s, he hopped freights, hitchhiked, bicycled through Canada, and spent part of the early '70s in San Francisco's hip Haight-Ashbury district -- sporting long hair and a Fu Manchu mustache. "I was in a rebellious state of mind," he says. "But both my parents accepted that."
When Anderson first read for the MacGyver role back in the early '80s that curious mix of artist, jock, and adventurer -- among other things -- impressed Henry "The Fonz" Winkler, one of the show's producers. "Before he could read the script, he had to fish his glasses out of a bag," recalls Winkler. "The simple humanness of not being able to see without glasses was very much in keeping with that character. The marriage was made when he fished those glasses out."
These days, Anderson says MacGyver seems like his brother or close friend. "I'd almost like to be this character. He's an adventurer, he's curious to a fault, he overly scrutinizes things, and he harbors some very natural fears. He's afraid of heights but he'll still climb that mountain."
Anderson rises from his chair to leave the hotel, but stops at the bar to watch a stock-car race on television. Patrons call out, "MacGyver!" Anderson grins.
"The primary joy of being an actor is you get to misbehave in different ways, different venues," he says quietly. But I love MacGyver. Always will. It's scary to think what I would have done without MacGyver."