A NEW IMAGE FOR MACGYVER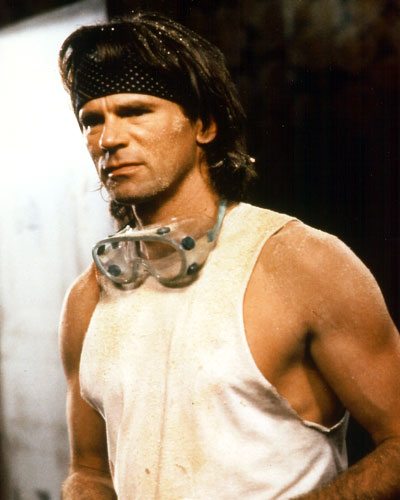 After seven years as the itinerant hero and techno-wizard on the action series MacGyver, Richard Dean Anderson was eyeing some variety in his roles, and that meant villainy.
He finds it as a malevolent building contractor in the CBS movie "Through the Eyes of a Killer." The movie, which airs Tuesday on CBS (8 p.m. on KWCH, Ch. 12), also stars Marg Helgenberger, late of China Beach, as the woman he stalks.
"I run the risk of sounding like a Hollywood cliché, but I'm trying to expand my horizons," Anderson said. "When MacGyver was ready to run its course, I took a movie from CBS to break the image I had established with MacGyver. I played a cynical cop in "The Eyes of a Stranger" with Justine Bateman."
Anderson said he cringed when the network changed the title of the second of his "Eyes" movies. The original title was "The Master Builder."
Anderson dyed his hair black to change his appearance from MacGyver, worked out daily for three months and lost 14 pounds.
"To be honest, after seven years as the same character, you can get lazy," he said. "What I wanted to do after MacGyver was change direction a little. I wanted to get into production."
Anderson recently signed a contract with Paramount Television to develop another series and star in four movies, two of which will be MacGyver movies made in Europe. He also is partners in a company called Gekko Film Corp.
Anderson grew up in Minneapolis, where his father was a jazz musician and his mother an artist.
"I grew up surrounded by art, but I had a jock mentality," he said. "I wanted to play sports. I appreciated the arts, however, and when I was doing MacGyver in Vancouver, Canada, I rented a loft and put in all my toys. It smelled of paint. I was like Pavlov's dog, since I grew up with the smell of my mother's paints. I put a dropcloth on the floor and hung a roll of artist's canvas from the ceiling.
"I'd pull it down and paint. Then I'd tear it off and pull down more canvas. I collected all the leftover paint from the show. I can't draw, but I did impressionist stuff. I'd splash colors around and play my pinball machines after work. I'm basically a recluse anyway."
He's still active in sports. He plays hockey and manages the Hollywood All-Star Celebrity hockey team, which raises money for charity in NHL pre-game activities nationwide.
Anderson said he also lives somewhat of a wanderlust life. He'll take off at the spur of the moment and not know how long he'll be gone. One year, he escaped to Tahiti and Bora Bora (where he was cared for by a native woman). Another time, he took off for a week in London and Paris and stayed two months. He said that's one reason he's never married.
He studied drama at St. Cloud College and Ohio University before going to Los Angeles. In 1976, he was cast as Dr. Jeff Webber in the ABC soap opera General Hospital. After five years, he moved on to the short-lived series Seven Brides for Seven Brothers and Emerald Point, N.A.S.
He made his TV movie debut opposite Valerie Bertinelli in Ordinary Heroes in 1986.