NO MORE MR. NICE HERO
Richard Dean Anderson Plays the Flip Side of MacGyver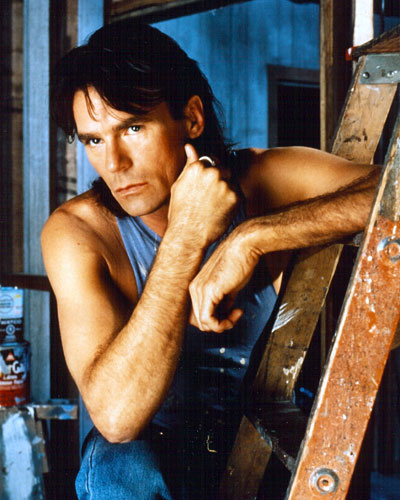 After playing the unconventional hero MacGyver for seven seasons on ABC, Richard Dean Anderson knew what his next career move would be -- a project that would break him away from his good-guy image "as positive as it is."
Thus, his villain role in Tuesday night's CBS movie "Through the Eyes of a Killer." The psychological thriller, which also stars Marg Helgenberger (China Beach), is Anderson's second post-MacGyver project. Last spring for CBS, Anderson starred as a detective who falls for Justine Bateman in the adult thriller "In the Eyes of a Stranger."
"Through The Eyes of a Killer" was originally titled "The Master Builder." Anderson, 42, isn't thrilled the network changed the name. "It's like they've got a franchise on 'the Eyes of,' " he said, laughing. "Is there something about my eyes? What's the deal here?"
In the new "Eyes" movie, Anderson plays Ray Bellano, a contractor with a "questionable past" who becomes involved with the woman whose apartment he is renovating. Though she is legally bound to his contract, she cools their relationship. Bellano, though, doesn't want the romance to end.
So what was it like to play the bad guy?
"We're not supposed to publicize that [fact]," Anderson said, sitting behind the desk of his production office at Paramount Studios. He removes the CBS press release of the movie from his bulletin board and reads the description of his character: "He begins to unravel emotionally and reveals a very dark, menacing side of himself," Anderson said.
So he's not bad, just misunderstood?
"Terribly," Anderson said, smiling. "But I thought we were going to talk about the movie."
A producer friend, Anderson said, brought him the script. "She said, 'You got to do this. This is the one that is going to help [break away from MacGyver].' It was a great set. The director, Peter Markle, is my hockey buddy. We skated on a team together last year. We are both from Minnesota and we are sort of bonded by the skates."
Anderson saw the film at a recent screening. "It's really fun," he said, at the same time admitting he wasn't crazy with his performance. In fact, he usually is critical of his own work.
"I don't know why that is because I love [acting]," he said. "I think aside from being an incurable cynic and maybe a little jaded, I am not sure." Perhaps it's because, Anderson said, he keeps "going through these little reality checks about my relative abilities [as an actor]. After a screening and you are standing in the foyer [of the theater], people are saying, 'You're great. You're great.' What are they going to say? If people were blatantly honest, which no one will ever be in this business, then I would feel a lot better [about my performances]."
He did get a compliment of sorts from one of the producers during the filming. "There are some sequences where I really had to slap Marg around," Anderson recalls. "After we were shooting a sequence, I rolled off Marg and the producer said, 'I am not letting my kid watch this,' totally destroying the MacGyver mystique."
Anderson, though, hasn't abandoned the clever hero. He will star in and produce two MacGyver movies for ABC. The first is set to go in front of the cameras sometime next year.
Anderson said he is proud of MacGyver, which preached nonviolence and tackled such topical subjects as gun control and the student uprising in Beijing. "There was a relative uniqueness about the original concept which kept it around," Anderson said. "We found an audience and nurtured an audience which snowballed enough into good-enough ratings that it warranted being picked up."
ABC dropped MacGyver to air Young Indiana Jones Chronicles, which drew a small audience and was pulled from the schedule in October. (It is due back in January.) "The concept of Indiana Jones is great, I love the idea," Anderson said diplomatically. "It was real unfortunate that the show didn't catch on like MacGyver did.
Anderson said he holds no ill-feelings toward ABC because they pulled the plug on MacGyver. He said it really was a mutual decision. "I was physically exhausted," Anderson said, "really in trouble. We were working 15-hour days and spending four years [on location] in Vancouver really took its toll. The network wanted to try something else."
But the response from fans was so great after it was canceled, Anderson surmised, the network had second thoughts about the decision. Anderson, who has a production deal at Paramount, was asked by ABC if he would reprise MacGyver.
"The whole experience was so positive, there was no reason not to do it," he explained. "It is like visiting an old friend. I am not throwing myself into a Columbo mold. I am not going to be singularly identified with [MacGyver]."
Anderson, whose three-year production deal with Paramount includes four movies and a TV series, said he is "in the middle of a really exciting transition in my life and career. I like to work, but I don't consider myself a workaholic at all. I love to play, believe me. But if I am not in a creative venue, I really get nervous."