REBEL WITH A CAUSE
Richard Dean Anderson Gears Up For Life Without MacGyver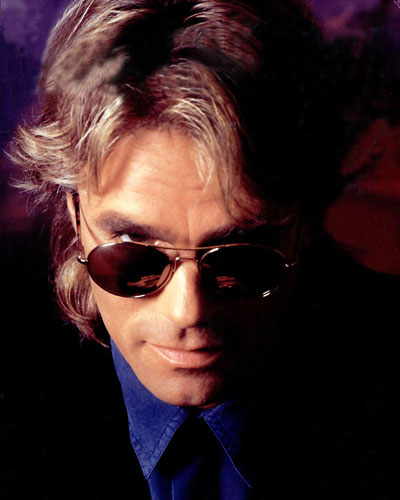 The scene is right out of the Dark Ages.
A pair of knights joust with heavy swords, their bodies staggering as their shields deflect forceful blows. Across a glass-smooth pond, a couple of cottage-size tents fly the king's colors. The fabric sways faintly in the gentle breeze as stable boys care for chestnut horses. A wandering minstrel sings while a man as old as Methuselah approaches an impressive throne.
His full, white beard is as long as his shoulder-length hair; he is wearing a flowing purple robe. His posture is hunched not only by time but by the weight of grave concern. His name is Merlin, and as he addresses King Arthur, it is apparent that this time not even the great wizard's magical powers are enough to save a maiden in distress. Their only hope lies in a powerfully built warrior, a Viking-like specimen who stands before Arthur as Merlin departs.
The king, a golden crown adorning his head, gazes upon his would-be savior. An expression of doubt crosses his regal face.
You carry neither sword nor shield?" he asks, his confidence visibly shaken.
I like to travel lightly, sir," the tall, handsome warrior responds. "The suit is heavy enough."
"Amulet, symbol of good fortune," the king says, fingering a small charm that hangs around his neck. He pauses for a beat or two before adding, "which I can't get closed..."
"Cut," yells the director. "Go again. Stand by, please."
The pastoral scene is actually a location set for a two-part episode of "MacGyver," the ABC adventure series that is now in its seventh season. The location is Disney's Golden Oak Ranch in Newhall, a two-hour drive north from Orange County, past the San Fernando Valley. The actors joke with each other and the crew as they resume their places, their heavy period costumes wet with perspiration courtesy of the sweltering afternoon sun.
Once the director is satisfied with what he's captured on celluloid, Richard Dean Anderson ambles over to a canvas-backed folding chair and rests his 6-foot, 2-inch frame. At 41, he realizes his days portraying an adventurer who relies on ingenuity and scientific knowledge to complete dangerous assignments are nearing an end.
The new season's premiere episode in September scored a dismal 7.2 rating, finishing 69th among 89 weekly prime-time TV entries. Anderson, whose friends call him Rick, considers his show's lackluster performance with the detachment of a veteran cop viewing neighborhood graffiti. According to Anderson, when the writing is on the wall, it's difficult to miss.
Every indication that I've gotten from all the powers that be seem[s] quite logically to point to this being our last season," the actor says matter-of-factly. "There's never anything definite in the world of television, but it feels that way. In the first couple of years, we called ourselves the 'run-and-jump show,' basically because that was the style of the show - action/adventure. As time progressed, we realized we were in a position to sow the seeds of education, especially to a younger audience that we've perpetuated over the years. So we started getting a little bit more profound in our subject matter, dealing with some socially conscious issues.
"Consequently," he adds, "we moved up to Canada for about four years and dealt with slightly heavier subject matter. It made for darker shows than we were used to in the first couple of years.
"Now we've come back to Los Angeles, and again, feeling like our last season, we're going back to our roots. We're having a lot more fun with the episodes this year. This episode is probably an indicator - a two-part, seventh century flashback is not your normal fare of episodic television."
"MacGyver" has never been a standard TV series. Plots have explored numerous social issues, from handgun control to runaway teenagers, alcoholism to pesticides, the farm labor movement to the plight of bears and dolphins. Anderson's own views don't differ dramatically from those of his alter ego.
"The whole handgun control issue stands out," the actor says of the series' most memorable plot. "MacGyver evidently was blackballed by the NRA. I'm on their 'hit list' of celebrities to boycott, which I'm quite proud of. The way we've handled the need for education about handguns and arms in general and violence has gotten some people in big lobbies like the NRA a little pissed. Again, I'm kind of proud about that."
Anderson and MacGyver share plenty of other traits. Both are rugged outdoorsmen with a passion for car racing, skydiving, skiing and hockey. As a teenager growing up in Minnesota, Anderson aspired to a career on the ice. His heroes were Gordy Howe and Bobby Orr, rather than Henry Fond and Laurence Olivier.
He changed his thinking in high school. When he was 16, he broke his left arm playing hockey. Three weeks later, his arm still in a cast, he ventured back on the ice and subsequently shatter his right elbow. He has a pin in his arm to this day, although the Los Angeles Kings season-ticket holder continues to pursue his athletic passion.
Anderson still plays the physically demanding sport twice a week, is the honorary captain of the Team U.S.A. squad, and captains the Hollywood All-Star Celebrity hockey team. The Hollywood team raises fund for charities in NHL pregame activities nationwide, a philanthropic ideal close to the actor's heart. For years Anderson has been involved with the Special Olympics, and hi consistently grants wishes to terminally ill children through the Make-A-Wish Foundation. He's also taped public service spots for the Vietnam Veterans Aid Foundation, National PTA, March of Dimes, Center for the Prevention of Handgun Violence and Project Literacy US.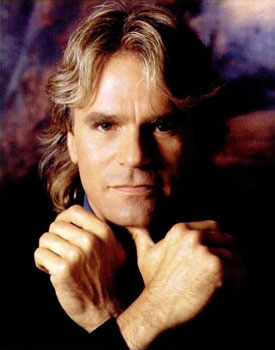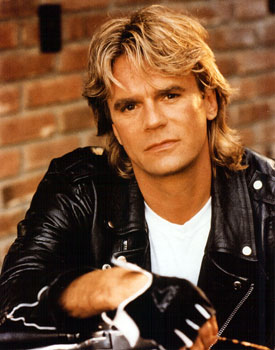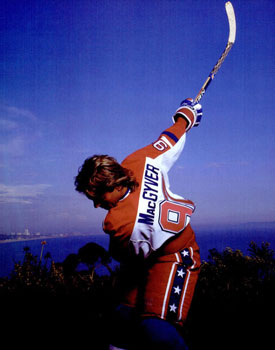 Despite his various and sundry charitable contributions, those who know him well would never confuse him with a candidate for sainthood - least of all Anderson himself.
"My closest friends say I'm in the wrong business because I attract attention just by longevity, just by the amount of time I've been around," Anderson says. "That's not what I like to nurture in real life. I cherish my privacy. I like being able to do anything because I've been a misbehaving fool my whole life, and I've gotten away with it all this time. Now more people are paying attention, so I have to be a little less obvious about my antics. I think almost the greatest thing that can happen in meeting someone new," the bachelor continues, "is that they haven't the slightest idea of what I do for a living. What a great premise to start out with."
Anderson didn't start out with much more than that when he first made the decision to enter show business.
His father was a speech and English teacher who doubled as a jazz musician, and his mother was an artist. Exposure to the humanities made a powerful impression on him, but it didn't get in the way of his wanderlust. He started hopping freight trains and hitchhiking across the country when he was 17, and he ultimately completed a 5,600-mile bicycle trip from Minnesota to Alaska and back.
He eventually enrolled at St. Cloud State College in northern Minnesota to study drama, and then continued his studies at Ohio University. It was at the Ohio campus that Anderson took an intensive actor-training workshop that altered the course of his future.
"It forced me to a form of discipline that I hadn't had before," he explains. "I had been kind of a vagabond, a misadventurer in a way. When I came out of Ohio, I learned how to get jobs. That was part of the training, how to audition and do all that business, plus the acting training along the way.
"I tried going to New York. I lasted 11 days. I hitchhiked into town and had the keys to a guy's brother's apartment in this strange land they called the Bronx. You may have heard of it. So I arrived at night. It took me two-and-a-half days to discover Manhattan. I didn't even know it existed. So my first impression of New York was the Bronx.
My second one," he continues, "I got on a subway and ended up on 42nd Street. I didn't get off on the right foot in New York. I lasted 11 days, turned around and went west. My ultimate decision to end up in California was kind of based on that scenario."
Anderson wasn't noticeably more successful on the opposite coast. He became a street mime and juggler, a writer/ director/ performer for shows at Marineland, a jester/singer at a 16th century Renaissance-style cabaret, and stage manager for the Improvisational Theatre Company. His first break came when he landed a role in "Superman in the Bones" at the Pilgrimage Theater. And then, in 1976, Anderson was cast as Dr. Jeff Webber on ABC's popular daytime drama "General Hospital." He spent five years on the soap opera before leaving it for prime time. He paid more dues in a couple of unsuccessful series, "Seven Brides for Seven Brothers" and "Emerald Point, N.A.S.," both on CBS, before landing the title role of "MacGyver" on ABC. Along the way, he also starred opposite Valerie Bertinelli in a TV movie called "Ordinary Heroes."
Now that "MacGyver" appears to be winding down after a lengthy run, is Anderson worried about being typecast?
I'm not worried about it at all," he says. "The basic nature of this character is so eclectic - I think dynamic - I don't think you could really pigeonhole me as an actor. I'm very comfortable in this role because a lot of the personality and character comes from my own personality. So, consequently, any other roles that I start are going to be stretches.
"I don't really get to stretch out as an actor," he admits. "There's a syndrome that floats around about being identified with a character, like Tom Selleck will always be Magnum. There's a certain reality to that association because of the length of time he spent doing the one thing. I will always proudly be recognized as having done something quite well as "MacGyver," but I don't think I'm going to be stuck. I think I have nothing but the future ahead of me."
To prepare for life without "MacGyver," Anderson has formed his own production company; regardless of what tomorrow holds for him as an actor, he already has a few projects in the works behind the cameras as a producer.
But now the camera beckons him back to the past.
There is just enough daylight left to shoot another scene, and Anderson is called for a quick wardrobe change. The medieval set is still in place, although it is somewhat marred by the sight of sprinklers in the distance and the drone of a single-engine airplane flying overhead. In this profession, where substance takes a back seat to illusion, Merlin the Magician has nothing on Richard Dean Anderson.