AIDS GIRL'S GIFT OF LOVE
A brave little battler's dreams of Hollywood come true when a New Zealand couple share their good luck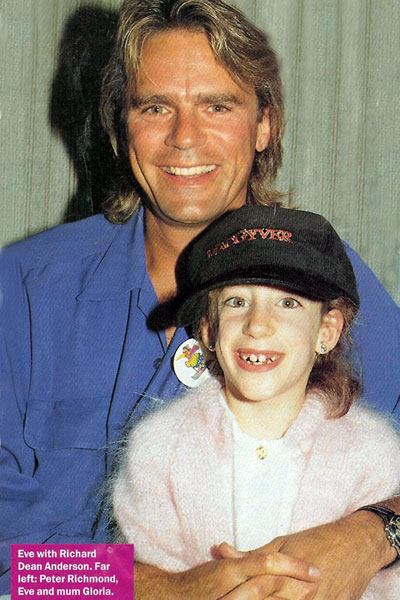 Little Eve van Grafhorst skipped back to her home in New Zealand recently after the most magical week of her life. The nine-year-old AIDS patient had just spent six unbelievable days in Los Angeles, visiting Disneyland and talking with stars - including her hero Richard Dean Anderson, who plays TV's MacGyver.
She wore a new dress and two very special presents, a silver necklace and bracelet - jewelry adorned with the blue bird of happiness. They were the perfect gift from her wonderful fairy godmother and godfather.
Eddie and Hazel Mollier's eyes shone .as they watched the joy their gift of the trip had brought to the family, who now live in Napier in the North Island, and listened to Eve's animated tales of her adventures half a world away.
Eve's mum, Gloria, spoke simply of the power of compassion.
"There has been such a force of love in this," says the woman who has fought for her child unceasingly since that day six years ago when Eve was diagnosed with AIDS, contracted from a blood transfusion as a premature baby.
"The whole situation with Eve and these people... it has a super strength, a strength of love in so many ways."
The Molliers, who won a total of $400,OOO in two separate Lotto draws, have now given over half of it away. The holiday for Eve and her family has been their latest act of generosity.
Gloria and Hazel clung to each other and cried when the two women met for the first time at the airport.
Eve - who has the wisdom of maturity within the body of a child, along with a sense of humour and an insight gained from greater prejudice and love than most adults see in a lifetime - stood a little apart as they hugged and shared the knowingness of motherhood.
Later, Eve laughed and told the story of the 45 minutes she spent chatting with Richard Dean Anderson after he cancelled a flight to New York to meet her. She gave "MacGyver" a special pocket-knife she bought before she left New Zealand.
"He said, 'How did you know I needed a new one?' " Eve smiles, her eyes wide. "And I gave him a little sheep that sits on a rock shaped like a love heart, and it said 'I love Ewe'. And I gave him a badge as well - it said 'Kiwi Kid'."
"Eve loved him... she couldn't stop giving him kisses and hugs," Gloria says. "He was just a remarkable person and very much like his television image, gentle and kind, very loving and affectionate and caring. They talked a lot about his program. Eve never misses a show. He gave us his address and says he wants Eve to keep in touch."
Wearing a princess headband attached to a trailing pink scarf, the frail little girl talks of the new clothes she bought with the $100 spending money the Molliers gave her. A wonderful new dress ("It's all lace, and it pops out like this," Eve says, circling her body with her hands, "and it's pink") and a new swimsuit were her purchases.
The day before they left Los Angeles, Eve received a phone call from another TV favourite, Bart Simpson.
"Her eyes were as big as saucers," Gloria says. "It's like every one of her precious dreams came true. Everything she loves has happened."
Adds Eve: "It was so cool!" Little did Eve realise the actor who gives Bart his voice made the call despite suffering a severe bout of laryngitis.
Earlier in the week, Eve danced with Mickey and Donald and Pluto and Snow White, sat stunned in best-row seats at "Phantom of the Opera" and was dazzled by days at Disneyland. This special little girl even had her own guide and a memorable Disneyland dinner.
There was also a limousine ride around Beverly Hills, and trips to Knots Berry Farm and Universal Studios.
Though Gloria worried about how the activity would affect Eve, she says proudly, "She just hasn't stopped."
Nursing her infant son Billy, who travelled with them and Eve's stepfather Peter Richmond, Gloria says, "It was so amazing... amazing for us, too. It meant a lot to me in more ways than one.
"When we were first told about Eve, we were told she only had a couple of years to live, so we had been planning the future. One of the things was to take her to Disneyland... " Gloria's eyes fill with tears.
But the US visit had its sad aspects as well. The Molliers had shouted the trip after reading how the anti-AIDS drug AZT, which Eve has been taking for the past two-and-a-half years, was no longer keeping the deadly disease in check.
After a brief stopover in Auckland, the family flew directly to the Napier doctor who cares for Eve, hoping that a new drug, dideoxyinosone (DDI), had arrived from Australia so Eve could begin treatment.
Later, away from Eve, Gloria voiced deeper fears.
"She isn't eating much and there are a lot of little things happening inside her. She has had no weight gain.
"She gets sick and we have to be very careful - her immune system is breaking down very quickly."
Night sweats take a lot from Eve's small body, and often during a school day she has to leave the classroom to sleep in the sick bay.
There is just one other wish Gloria holds for her daughter.
"A cure. She doesn't deserve to suffer - she deserves to live. She has fought this from such a young age.
"I believe Eve is really strong. She has got something within her that no-one else has and I know she is trying her hardest to stay on top of this thing."
Gloria says her strength comes from Eve and her family, which includes Dana, 18, Karl, 4, and Charlotte, 2.
"Eve is so strong - she knows what is going on.
"She knows AZT is not working. She knows we are going to try a new drug.
"She knows that AIDS causes death, but she feels she is going to live to be 100. That is her favourite saying, 'I'm going to live to be 100' and she is even planning her career. She wants to be an air hostess."
Much of Eve's magic week had been arranged by Los Angeles photographer Michael Jacobs, who took these exclusive pictures for Woman's Day.
A brand new father himself, Michael explains how his wife, as vice-president of America's huge ABC television network, was able to contact the stars who were eager to help Eve.
"I just wish I'd had more time," Michael says.
"I think we may even have been able to get Eve to meet Michael Jackson."
Even after his new young friend had left, Michael arranged for the mayor of Los Angeles to send Eve a special replica of the stars implanted in Hollywood's Boulevard of Stars, along with posters of more stars she did not have the chance to meet.
Before leaving Auckland for Napier, Gloria talks of the compassion her family has found in New Zealand after being forced to leave Australia six years ago when prejudice in the Gosford area of NSW became unbearable.
"We could cope with the hate as a family, but the friends who stood by us were really getting hurt. Their children were being bashed up - that was the hardest thing. Neighbours were leaving because they were afraid we would pass the disease on. They even tried to run over our dog.
"No-one seemed concerned about AIDS here at all - all they wanted to do was support us through it all.
"There seems to be such a humanity that comes out in this country. I can feel it. I don't know why and I can't explain it... but the people are different here," she says. "Sure there are bad people, but there are a lot of good people, too. There really are."
Gloria says she is glad she made the decision to go public with her daughter's disease.
"I just think the more people are open and honest about their child or someone in their family having AIDS, the more people will become aware and learn not to be afraid."