ANDERSON SHARES SIMILARITIES WITH HIS TV PERSONA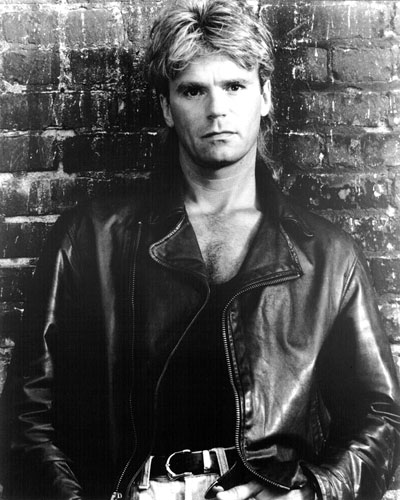 Just when you think there's absolutely nothing more that MacGyver can pull out of his bag of technological tricks to thwart this week's collection of venomous villains, well, there he is, coming up with still another ingenious device to save the day for the good guys.
"MacGyver," the ABC series, is in its fifth year. The title role is played by Richard Dean Anderson who, in many ways, is a lot like his TV alter ego in that they both like the outdoors, and enjoy ice hockey, skiing, traveling. They also share a respect for education and a philosophy that emphasizes being involved in things that matter to the world. For example, when MacGyver has to take on someone who is polluting the environment, he speaks lines written for him, but he also expresses Anderson's sentiment.
Perhaps the most important trait they have in common is their distaste for violence. "I like the fact that MacGyver won't resort to deadly force even if he's in a deadly situation," Anderson said, "and also the fact that he shows the viewers - especially the young people - that it's smart to be smart, and that learning is important, and you'll never know when you'll need to draw on some bit of knowledge you stored up long ago. MacGyver certainly proves this each time he uses what he knows to think himself and others out of danger."
Anderson, who says, "I'm just a grown up kid myself," wasn't always comfortable with the idea that he might have to talk for MacGyver. "But it's easier now. The more we grow, the closer he becomes to me in character. But there are, obviously, some separations. For example, in my knowledge of scientific phenomena," Anderson said, pointing out that while "I know something about science, MacGyver is a scientist.
"Where we do parallel," Anderson went on, "and where I can start talking for him, has to do with education and observation of the world around you and utilizing it, and contributing to it as much as you can along the way. So, yes, I've begun to accept that this is a responsibility that has come with this show. Kids do look up to the character, and, granted, although he has faults, I think his positive qualities more than make up for any failing.
"I've felt that one of the things that, still, to this day makes him an attractive character for me to play and for me to be a part of is the fact that he's a human being, first. Like any of us, he's not perfect. He makes mistakes. He's a little clumsy, and he's afraid of heights, and shies away from confrontations. He has a sense of adventure, which he obviously needs in his work. But he also recognizes his ability to think himself or other people out of a jam."
There's a running thread in the series which Anderson says, "is part of the basis of our concept of the character, a man who does fairly heroic things, yet is a reluctant hero who won't use violent methods, including firearms, no matter what kind of situation he's in. On our season premier episode last year we dealt with his aversion to guns and showed how it stemmed from his childhood experience when one of his best friends was killed by a handgun. That stayed with him all of his life."
Several months ago, a report showed that in the United States, an alarming number of children are shot, and sometimes killed, each year by guns they or their friends find at home. MacGyver's story makes it clear that guns - even when presumed to be safe - always have the potential to kill or wound, and the show would be commended and supported by everyone for making this statement.
"You'd think so." Anderson said, "but we still get criticism from some factions on this subject. Still, everyone on our show feels good about the way we deal with these socially relevant issues. We don't stand on soap boxes, or preach. We simply work with things that happen in real life, as I said before, guns, also runaways, drugs, Tiananmen Square, references to personal and spiritual freedom. There is a strong underlying moral theme that we're really proud of."
Acting was not Anderson's first priority. The Minneapolis native planned to become a professional hockey player. But two broken arms in high school put that goal on ice - permanently. However, he still plays and manages the Hollywood All-Star Celebrity hockey team, which raises funds for charity in National pre-game activities.
At 17, he bicycled 6,000 miles across Canada. He was, he said, "caught up" in the quick current of social and cultural change of the late 1960s and early 1970s. "I really didn't have a sense of where I wanted to go until my second year in college when I thought of becoming an actor."
After college, he moved to Los Angeles. He worked as a street mime and juggler, he wrote, directed and performed in shows at Marineland, he was a jester-singer at a Renaissance-style cabaret, he stage managed for the Improvisational Theater Company. His first big break was a role in "Superman in the Bones."
Asked if he plans to do any more films on his next hiatus, Anderson laughed. "I don't think so. Actually, I do love to work. But after sharing MacGyver's adventures for most of the year, I feel I have to get out and do something else on my time off. I love to travel, and I do a lot of that. Last year, I went to Tahiti, and that was great."
Expanding the show's scope to do more stories on topics that make some people uncomfortable is risky. Is it worth the gamble?
"I think so," he said. "I don't think we should ever play it safe. Besides, having the show expand our horizons and parameters of character and topic and all, makes it more exciting for us, and keeps it alive, and we hope the audience will want to grow along with us."