EVERYDAY HERO
Richard Dean Anderson is more than a little like MacGyver.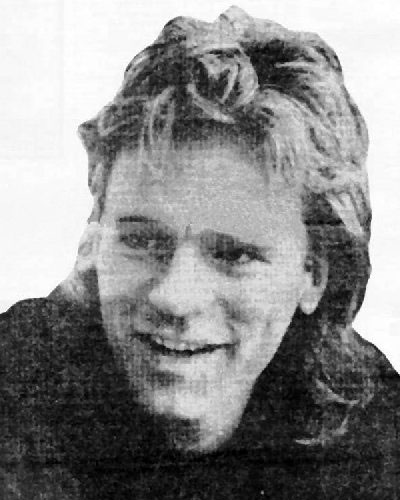 MacGyver examines the framed painting. He's puzzled.
He steps over to a table and a jar of paint brushes, dumps the brushes, and the director says, "Cut. Let's do it again."
Richard Dean Anderson turns away and breaks into song -- "Oh, I'm a lumberjack and I'm okay..." -- then settles down full length on the carpet in the posh Point Grey Road home and stretches out while the camera crew changes film.
Jan Newman joins him on the floor, she's head of makeup. Little dab on the MacGyver star's cheeks, touch on the forehead. Take six coming up.
"It's raining out there," Anderson notes.
Some groans from the crew. It's not the first time he's said it this morning, and it won't be the last. He likes to needle the Canadian technicians whom he calls "the best bunch of people I've worked with anywhere. We're a family."
The rain is slanted rods driving into English Bay.
"Ah, Vancouver, eh?"
It's the fifth season of MacGyver, the third one in Vancouver, and the 39-year-old Anderson -- "Rick" to everyone -- feels like a native.
"I keep an apartment in Los Angeles, but I feel less at home there than I do here."
He has a suite in a downtown hotel, and a 3,300-square-foot loft in Gastown. "That's my big playroom, pinball machines and stuff, and my office."
He hosted a Halloween party there for about 200 cast and crew and friends.
"He's just a regular great guy," says makeup chief Newman. Like all but a dozen of the 160-strong crew that keeps MacGyver running, she's a local. "He's got star quality, but doesn't need star status."
Bit like MacGyver, that. Understated but very effective.
"I think the producers (Henry Winkler and John Rich) saw some of the qualities in me that they wanted in the character," says Anderson. "Sensitive to the environment, compassionate" -- the MacGyver grin -- "a love of hockey."
He and a crew team rent weekend ice time at the West End community centre, and Anderson is a regular member of the Hollywood All-star Celebrity Team, along with Michael J. Fox.
"Fox? Oh, yeah, he's starting to learn how to skate finally."

The MacGyver character has grown as the show has evolved.
"We started out with a kind of maverick scientific trouble shooter. What we're doing now has to have a social conscience -- while still being entertaining and fun.
"I think we're making MacGyver more of an important show. There used to be a lot more heroic frolicking. What we have now is a reluctant hero who's relevant, profound, and important.
"He's not a guy who bounces bullets off his chest. He doesn't like violence, he doesn't like guns and, if we're talking parallels" -- the grin -- "he's shy around women."
Anderson has no steady lady.
"I have lots of women friends. And stress the 'friends'."
You might see him with one of them at one of his favorite restaurants -- Il Giardino -- "where I can get a good plate of pasta at midnight after a 16-hour day" -- and Milestones.
He sees himself with a family eventually.
"I'd love a family. I love kids and I'd make the best father in the world. I just haven't figured the wife thing out yet."
He gets about three months a year off, and indulges his love of travel.
"Tahiti last year, Europe the year before."
He makes occasional trips to L.A. and occasionally sees his divorced parents and his three younger brothers. His father is a jazz musician, his mother an artist. None of his brothers is in show business.
Before catching the MacGyver spot, he paid solid performing dues in L.A., after studying drama at Ohio University. He worked as a street mime and juggler, and sang as a 16th-Century cabaret jester before breaking into theatre.
In 1976 he won the role of Dr. Jeff Webber in General Hospital, where he practiced TV medicine for five years. Parts in several TV movies led to MacGyver.
Anderson's 6-foot-2 athletic frame was bounced around both on and off set in the last several years, resulting in surgery on "an exploded disk" where parts lodged near the spinal cord.
"It paralyzed my right leg for about four days; really caught my attention."
He's recovered from that and is ready for a return to skiing, horseback riding (for a coming MacGyver episode), and possibly skydiving (he's done 20 jumps).