A HEAD FOR ADVENTURE
Action man MacGyver is a hero with a difference. He hates guns and fears heights, but can think his way out of the direst danger.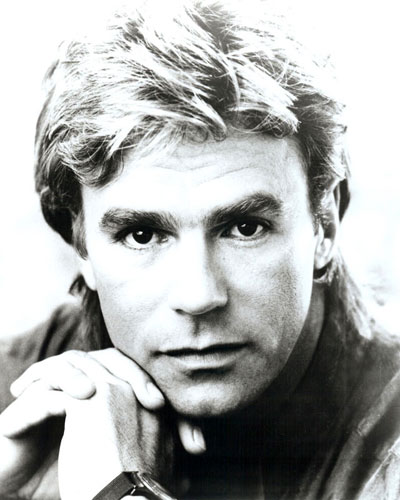 After four seasons on American TV MacGyver has carved a niche for himself as something of a role model for young viewers. He's James Bond without the license to kill or Indiana Jones without the whip. One critic succinctly described him as "a combination of Albert Einstein and Batman... a human Swiss Army knife with a boy scout handbook for a brain."
"MacGyver is not a huge, hulking muscle-bound macho guy who pulls out a gun and kills people," notes Richard Dean Anderson, who plays the unusual crime fighter in the series. "He doesn't puff up his chest and deflect bullets off it. He's a thinking man, an adventurer."
"MacGyver" grew out of producer Henry Winkler's concept that TV didn't have to be littered with corpses, gun battles or car chases to attract an audience. Winkler (The Fonz in the long-running comedy series "Happy Days") has been proven right.
"We were intrigued by the idea of a TV hero who had an aversion to guns," explains Anderson during a break from filming in Vancouver. "The image of a hero who had alternative ways of beating the bad guys was definitely novel. There's a strong moral fibre that runs through the show. He doesn't pull a gun and shoot. Instead he slumps into a corner and devises a way out of his predicament."
Winkler produces the series with John Rich. "We've been having a wonderful time with MacGyver. He appealed to both of us. The character uses his brain and I have always loved the idea of utilising normal, natural things like a belt, or dropping an egg into a radiator that is overheated. The egg turns hard and stops the leak temporarily. Everything MacGyver does on the show is possible. For the first two-and-a-half years we worked fairly intensely on the show until we got it the way we wanted it."
Actor-turned-producer Winkler says these days he has no desire to star in films or TV. Last year he directed the movie "Memories of Me," and hasn't played in a picture for nearly ten years. His last film was "Night Shift" with Shelley Long (from "Cheers") and Michael Keaton (who plays "Batman" in the upcoming movie). "I get a lot of scripts but these days I'm comfortable behind the camera."
In North America MacGyver has his devoted followers. Latest statistics show that "MacGyver" is the network's biggest draw among men aged between 25 and 54, and second among women in the same age bracket. The series also has a strong teen following.
Troubleshooter MacGyver is employed by the Phoenix Foundation, a think-tank that dispatches him to wherever there's big trouble. His operational head is his friend Peter Thornton (played by Dana Elcar) who knows that the clear-thinking MacGyver will use his scientific knowledge and survival skills rather than resorting to violence to improvise his way out of trouble.
MacGyver is a one-man "Mission Impossible" who each week pulls off the unlikely: selecting ordinary items of seemingly inconsequential value to cope with anything from ecological endangerment to international espionage.
"The thing about our show," points out the 39-year-old Anderson, "is that whatever I do seems to bend the rules of science or stretch the limits of belief... but everything is based upon scientific fact."
In one episode MacGyver spots two robbers cleaning out cash registers and threatening customers. Armed only with the items in his shopping bag he makes a fire extinguisher by mixing vinegar and baking soda in a hot-water bottle. Then he squirts the stuff at the robbers to subdue them.
In another caper he assembles a telescope from a newspaper, watch crystal and map light. He turns bedsprings into a giant slingshot, and a flare gun into a rocket booster.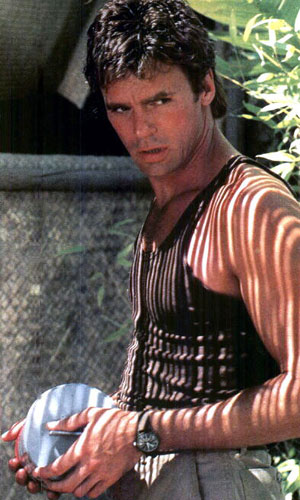 Anderson was once a boy scout himself. Born in Minneapolis - his mother is an artist and father a jazz musician - he came to primetime TV from the afternoon soap scene ("General Hospital" for five years). He calls his latest TV character "my favourite role by far."
"MacGyver may pull off the incredible," he adds, "but he's a human being, first and foremost. He's afraid of heights and hates to get hit. He has normal, human reactions to things, and - not unlike myself - he likes to wander and encounter adventures along the way. That's one of the parallels that we have."
In the first three years of the show Anderson insisted on doing some of his own stunts, including hitching a ride on a helicopter and hanging on to the back of a runaway car. But a serious back injury after a tumble on the show, followed by spinal surgery, has cooled his physical ardour. Like his TV alter ego, the rangy bachelor lives a fast-paced life. A polished athlete, he plays ice hockey, races cars competitively, skydives and skis.
He likes the idea that MacGyver retains that aura of the loner and mystery man and remains that way for the first season of the series.
"But everyone wants to know about MacGyver's relationship with other people - especially with women," he concedes. "So although we'll keep the action going, we will slowly unfold that other part of his life."