SUPERPOWERS ON ICE
MacGyver Star Hockey Booster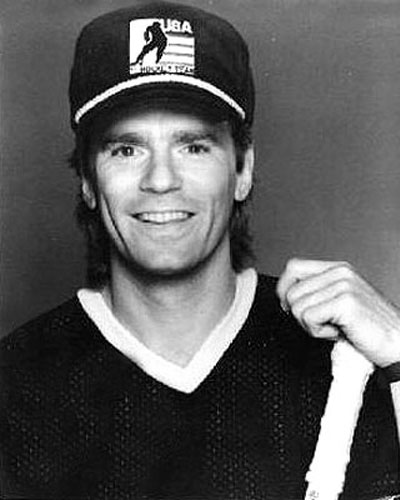 As MacGyver, Richard Dean Anderson uses science and everyday objects, not violence, to escape danger in the ABC television series of the same name. Yet the handsome, rugged actor who portrays the pacifist hero has a passion for a sport anything but peaceful: hockey.
The Minnesota native aspired to be a professional hockey player until age 16 -- when he broke both arms in the space of three weeks -- ending his dreams of a career on the ice.
Today, his hockey pursuits include scrimmaging for charity as right wing for the Celebrity All-Star Hockey Team, which counts Michael J. Fox, Michael Keaton and Alan Thicke as members, and serving as honorary captain of America's 1988 Olympic ice hockey team, Team USA. He'll be there -- possibly clad in his red, white, and blue jersey emblazoned with "88" (for the 1988 Olympics) "MacGyver" and "Anderson" -- when Team USA faces the Russians at Markey Square Arena at 7:30 p.m. Sunday.
"It'll probably be some of the most awesome hockey you'll ever see," said Anderson, 37, dropping one of his favorite adjectives during a telephone call last week from location shooting for MacGyver in British Columbia. "The Russians are fielding just about the same team they had in the Canadian Cup competition," he said, referring to the win that Team Canada barely squeaked out of the Russians' mitts in the last game. "So they're pretty strong. I've only seen our team in practice, but they look good. You always hold out that glimmer of hope, too."
Anderson will join Team USA in Detroit Saturday and accompany them on their games with the Soviet team in Detroit, Indianapolis, and Lake Placid, N.Y. (The American hockey stars will shoot part of a MacGyver episode while in Lake Placid.) Anderson's function is to draw media attention to the team, an independently funded operation, and to promote hockey. He does the latter eloquently.
"So many people think of violence and fights and ignore the positive things about hockey," Anderson said. "They ignore the camaraderie, the grace, the dance-like movements of the sport, all performed on a slab of ice. It's a sport that combines both teamwork and individual prowess and finesse."
"I'll acknowledge it's an aggressive contact sport. There's no getting around that. All it takes is one act of obvious violence and unnecessary physical attack to wipe out the things I'm trying to do for hockey."
Anderson claimed the average person can't understand why fights break out so frequently: "There's really no way you can understand unless you play the game or are close enough to know the frustrations, the things that are said out there on the ice, the little tricks of the trade."
As a young player himself, back in Minnesota "where you learn to skate and swim before you know how to walk," Anderson carried his aggressiveness from the ice into the rest of his life. His left arm was broken in a game. Three weeks later, he tripped during practice and, trying to protect his left arm, twisted and caught his right arm under his body. It snapped at the elbow and "looked like pick-up sticks," he recalled.
"It put me in the hospital in traction for three months. It dashed the aggressive edge I knew I'd have to have if I played professionally. I'd really put my family through a lot of torture."
His father is a jazz musician, his mother an artist. Benefiting from the product of such unconventional parents, Anderson opted for the offbeat for the next few years. He hopped freight trains, hitchhiked, and took a 6,000-mile bicycle trek across Canada, riding alone for 33 days. When he initially moved to Los Angeles, he worked as a street mime and juggler and as a jester-singer at a 16th century-style cabaret.
"I grew up in a humanities environment," Anderson said. "So even though I was a jock, acting seemed to be a natural notion, the one thing that would allow me to make a living, misbehave, play a spy... or a hockey player."
His first break in L.A. was a role in a play, Superman in the Bones. That was followed by five years as Dr. Jeff Webber on ABC's daytime drama, General Hospital and roles in the series Seven Brides for Seven Brothers and Emerald Point, N.A.S. Then came MacGyver, Anderson is in his third season on the show, which now films in Canada for financial reasons and fresh locations.
Although he's disgruntled with ABC's apparent lack of support -- the network, for example, often pre-empts MacGyver because of Monday Night Football -- he's otherwise happy with the series. "I love the whole approach of having a TV hero with a specific aura, a non-gun-toting good guy," he said. "ABC has us in the wrong time slot, but our numbers are coming up."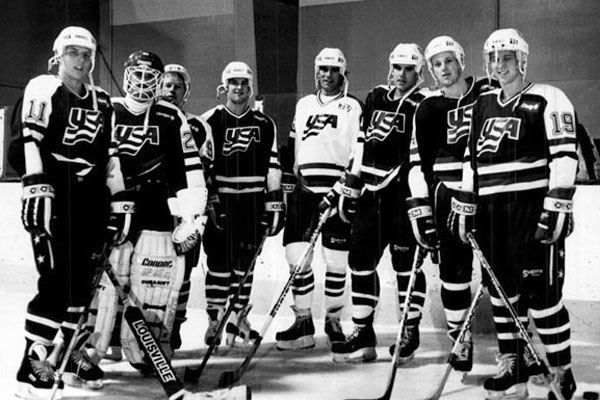 The members of Team USA are impressed, anyway.
"They're awed by the mystique of Hollywood, while these kids -- I mean, they're half my age -- are my idols because of their prowess on the ice," Anderson said. "It's very weird."
Tickets for the Team USA-Russian game -- if still available -- are $20 at the MSA box office.