A SELF-EFFACING BUT MACHO KIND OF GUY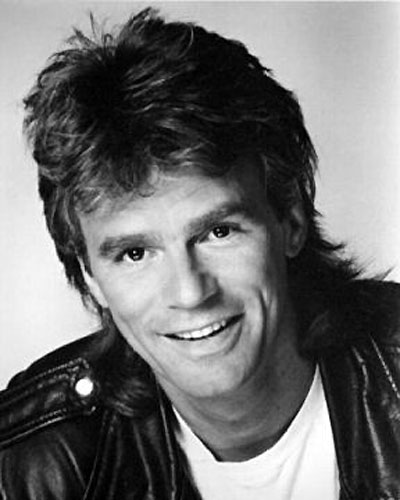 Richard Dean Anderson is a great lookin' guy. Hunk factor: almost a perfect 10. Tall, tan, not a line on his face. ("No surgery yet," jokes the 37-year-old actor). His cheekbones, courtesy of his mother's Mohawk ancestors, are so high and sharp you could probably cut paper on them. The eyes are dark brown and his naturally brunet hair has been "assisted," sun-streaked by the best of the bottle.
Trouble with old Ricky Dean: He's just too, too laid back. Self-effacing. Laconic. Equipped with such dry wit that it just sits there, coiled and lying to wait for the right question. Not that he's unwilling to talk about himself. He does. There hasn't been all that much time to get to know him, what with the MacGyver schedule and all.
Which is why ABC is sending Ricky Dean, the name he was known by when he was on the radio during his college years at Ohio University, out into the hinterlands to build up a PR portfolio (Cleveland was mentioned as a next stop after San Fran). All of this before he's even got a confirmation that his show has been renewed for '87-'88.
Anderson thinks that it's probably a safe bet that basement-dwelling ABC will go with MacGyver for a third season.
But like a Mississippi electoral district, the show's been gerrymandered all over the place, moved three times in one year, settling in finally on Monday nights either before or after football (depending which part of the country is watching and the time of year). That fact of life does not make Ricky Dean the happiest of men.
"It would probably get real boring talking about network politics and stuff, but I thought it was a real mistake to move us," says Anderson. "On Sunday night, we held our own up against a guy named Speilberg (Amazing Stories) ... and eventually took over second place. They moved us to Wednesday night and we fought our way to No. 10 one week and then were consistently in the Top 20. Out of 70 shows, that's pretty good for a combination science- mind- adventure.
"Then in ABC's inane wisdom, they renewed us for last season and moved us to Monday. There are some aspects of the decision-making process that just burn my butt!"
Not that Ricky Dean is complaining, mind you. He was once in a turkey of a series called Emerald Point, N.A.S.," where, he says, he "went skiing 56 days that year, and that was with a full-time job." Not much camera time, he says.
But on Emerald Point, which was probably seen by five people, he met his current inamorata, Sela Ward, whose career has been taking off lately, which is nice, says Anderson, considering how busy he is with the hectic MacGyver schedule. (Ten months' worth of 4:30 a.m. to midnight days).
But right after Emerald Point, his career wasn't fairing well, diving as it did, directly into the "terlet," as Archie Bunker might say. For a year and a half, Anderson says, he didn't do much except turn down a lot of scripts, do a couple of plays and then, along came MacGyver, which, if it keeps going will turn into your basic annuity.
That he is an actor at all is professional hockey's loss. Two broken arms at age 16 have a way of dulling that killer edge, the one you need to take on the Gordie Howes of life.
Anderson says he started skating almost before he could walk, which is the way it is up in the frozen north of Minneapolis.
"I always wanted to be a professional hockey player, but in the matter of three weeks, I broke both of my arms. I had a couple of operations that pieced me back together, but what happened was a whole psychological thing. I put my family through a lot of pain and grief, and I was gun-shy. It was a profound realization for me at the age of 16 that you have to have that edge and I knew that I had lost something there."
Flash forward almost 20 years, and Ricky Dean is once again on the ice passing the puck. A friend mentioned that there was this bunch of guys, actors from Canada and such -- Michael J. Fox, Alan Thicke and Michael Keaton -- who cut their teeth on hockey just like he had. Would he like to come out and pass the puck? "Turned out, on my first rush down the ice, I hit the pipe (that surrounds the goal net) on my first shot, which after 17 years, is like dangling a carrot in front of a hungry rabbit." So the all-stars get to play hockey, sometimes against ex-pro hockey players like Derek Sanderson and Gordie Howe, and Ricky Dean gets to promote the game he loves without that professional edge.
Acting, however, is not exactly hockey -- not a rink where macho and greasepaint meet. As the All-American Boy, MacGyver's alter ego has to go through so much cosmetic do-dah just to appear in front of the camera and then, on top of that, he has to go on the road to tub-thump?
"Yeah, it's a major pain," says Anderson. "I drive my agents crazy because I'm relatively unaggressive about promoting my career. But I'm not embarrassed about any of it. I have a very healthy attitude about my sexuality, and all that macho stuff has never really entered into my personality and my attitude and such things."
Like People magazine labeling him a sex symbol, perchance?
"Labels like [that] are unfortunate use of wording. I'm not a symbol for sex! But these are things that have to be done," he says. "I've had this sheepish attitude about some of the cosmetic attitudes. They've asked me to do something with my hair -- it looked like [stuff] on a stick before it was highlighted, like a glob of chocolate. Part of me doesn't mind, because it allows me to do things that probably I wouldn't consider. I have to look at it with a positive edge. Just being an actor, I get to be different human beings. Like this guy, MacGyver. He's a little boy's dream come true."