MACGYVER'S RICHARD DEAN ANDERSON: TV's GENTLE DAREDEVIL
The engaging star talks about the risks he'll take -- and won't take -- both on and offstage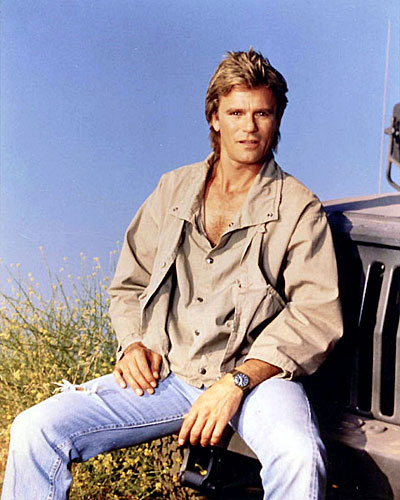 The driver of the Paramount Studio car slows cautiously as the light begins flashing yellow. Sitting beside him, Richard Dean Anderson -- who plays MacGyver in ABC's Monday night action/adventure series of the same name -- instantly urges him, "Floor it. When in doubt, floor it!"
Explaining himself, Richard says, "If you back off from things -- if you stop at the yellow light -- you may miss something down the road. If you floor it, you risk being broadsided but have the chance of seeing something new. That just seems to me the way to go through life, to have fun with it."
Richard Dean's free spirit and original slant on life are reflected in the hero he plays -- an operative for a nameless government agency and an ultimate crisis manager who brings happy endings to catastrophes ranging from a nuclear meltdown to international espionage. But, despite the show's violent physical action, MacGyver's solutions are pacific. The brawn of the bad guys is overcome by the idealism of this all-American good guy who is blessed with the ingenuity of a Nobel Prize tinkerer. "Instead of taking out a magnum and shooting somebody," Richard Dean says, "this guy starts thinking."
In every show there is a chin-rubbing moment of "hmmmm," when a "MacGyverism" dawns and a garden pump becomes a flamethrower. In one segment he signaled for help with a flare made from fertilizer and shavings from a tin can. Though the show (now in its second year) prides itself on the scientific authenticity of the stunts, Richard Dean admits, "Obviously, our tongue is deeply in our cheek."
On the set there is a friendly ongoing tussle between Richard Dean and his director and producers. He schemes to do his own stunts, and they, pale with horror, say "no," although occasionally he charms them into letting him dangle from a helicopter in a net or swing like Tarzan from the end of a rope. The producers' concern for Richard's safety is well placed, for he is the heart of virtually every scene or, as he puts it, "the franchise." Recently he was running across an uneven field, stepped in a hole, rolled and came upright on his feet. But since then there has been a pain in his right leg diagnosed as possible nerve damage in his spinal cord. "This sudden brush with mortality," he says, "and the elements of growing older and innate changes because I'm slightly incapacitated -- have gotten my attention. There are so many things I do to have that immediate excitement... and to think that maybe I won't be able to ski again..."
Challenging himself with anything that involves speed, Richard has been a sky diver, a ski racer, has jumped and raced on dirt bikes -- been a boy whose ambition was to be Sterling Moss, the Grand Prix driver -- and is a man who still mourns his inability to be a professional hockey player, a dream shattered with the breaking of both arms as a schoolboy on a Minnesota rink. Sports is the one thing that has sustained his interest over the years. "I am extremely competitive," he says.
But at the same time Richard -- like MacGyver -- has a broad streak of gentleness, of pacifism, though it is spiced by a bright glint of mischief in his off-kilter handsomeness. MacGyver appeals to him because there's something different about him -- he's more insightful, apter to think about things deeply and try to figure them out. "I brought that to the character," says Richard Dean, "and I have made this guy deathly afraid of guns. Something rooted in his past triggers a need to dispose of firearms. That's descended from my father who just shakes his head about guns, asking 'Why, why.' I don't want to preach, but, if there weren't any guns, there would be no need for them, right?"
His father and grandfather, both unusually independent and rather romantic men, have been powerful influences, tempering Richard's wild side. His gentle, mischievous grandfather, John I., who had a well of stories about growing up in Sweden and working in the Minnesota iron mines, lived to age 86 and "never lost his spunk," says Richard, admiringly. His father, formerly a high-school English teacher who put on community plays, is an erudite humanist who today supports himself as a jazz bassist.
As a boy in the St. Paul, Minnesota, suburb of Roseville (where his mother is an artist), Richard had an itching heel and and an attitude problem -- "some anger and major moping." He escaped into random hitchhiking -- "little jaunts of misbehaving, slightly dangerous." At 17, he decided with two friends to travel through Canada on bikes. He ended up biking nearly 6,000 miles, the last 33 days alone, and he says, "I came home altered. I learned how to motivate myself and discovered discipline trying to do a hundred miles a day carrying a sixty-pound pack. And I learned I could survive and would know how to get myself through life." In Juneau, Alaska, he received a letter from his father in which the older man questioned himself on his proper role -- should it be father, pal, friend, or disciplinarian. To Richard, the letter was permanent permission "to wonder, to question, maybe look a little further than you first started out to. This is the most important thing he has taught me."
Richard studied acting at St. Cloud State College, but in the '60s, with hair down to the middle of his back and a Fu Manchu moustache, he spent a hippie year in San Francisco's Haight-Ashbury district. "I was just living," he says. "It was an exciting time." But this is one adventure Richard does not discuss. Insisting that he was "not an integral part of the drug scene," he says simply, "I've dealt with and learned from the darker moments of my past."
One day in Golden Gate Park he looked with suddenly clear eyes at the other hippies around him. "I didn't see one person moving in a line that wasn't crooked. I had enough of my father's sensibilities and my mother's practical edge to realize I could really hurt myself if I let myself be dragged down." He ended up at Ohio University in a professional-actors' training studio -- and one way or another has been acting ever since.
During the actor's obligatory starvation period in Los Angeles, he lived as a street juggler and mime and then as a jester/singer in a Renaissance-style cabaret. At Marineland of the Pacific, he and his best friend, actor Mike McNeilly, produced a killer-whale show: Standing high on a 15-foot ladder, they held fish in their mouths for the whales to leap at and take.
Until five years ago, Richard would impulsively hitchhike along the California coast and, depending on the driver, take on different characters, creating a whole history for himself -- where he was from, what he did. And, walking down any street, his habitually dancing mind makes flash dramas of what he sees. Two girls hitting a ball with a broomstick evolve into a professional baseball player suing to join a team. "It makes life fun and interesting," he says. "I think of acting as extending my childhood. The trick is not to lose the fascination with the game. Once that's gone, you can't fool anybody anymore."
But lately Richard Dean is nervously watching himself growing up and hearing the word "responsible" emerge more frequently from his mouth. Until recently, he had, he says, "just been playfully zooming through television things with all the tricks you use to get there quickly. Before MacGyver, he had spent five claustrophobic years in General Hospital and then a year each in Seven Brides for Seven Brothers and Emerald Point N.A.S.
But last year he did his first movie, Ordinary Heroes, with Valerie Bertinelli, a remake of the 1945 film Pride of the Marines, the story of a soldier in Vietnam who is blinded three days before he is scheduled to return home. "The guy starts out cocky and ends up humbled and having to deal with real emotions," Richard explains. "I had never tapped any of that stuff; I had to cry and all those things you fear having to do and want to do desperately. Finding and building the character, I felt that churning, that excitement, the potential for experience. You know: 'When in doubt, floor it!'"
Recently, too, this free spirit has had to face his own vulnerability. Probably the hardest working actor in Hollywood, Richard gets up daily at 5:30 a.m. or earlier, performs in almost every scene and returns home exhausted at eight or nine p.m., sometimes not until after midnight. Though the work is still fun, MacGyver is all-consuming, and Richard worries that he may be burning up his youth. Before the spinal injury he was sick only twice, the first even minor illnesses in his life.
Moreover, Richard's age of 37 is forcing him to think about that major grown-up move: marriage. In this area he so far cannot bring himself to "floor it," though he has what he calls "a very wonderful relationship" with actress Sela Ward (recently in Nothing in Common). He also has a mesmerizing touch with children and likes the responsibility of being a positive role model. "There's nothing more refreshing," he says, "than a kid who's right there, eyes dazed and willing to take a chance and make a mistake and get hurt. I'm thinking I'd like a couple of my own, maybe, sorta, kinda."
But he worries. "Family takes maturity and sophistication to handle. And you can't assume, because you meet someone, that you're solid and you both won't change and grow and maybe fall out of love without being able to help it. I'm sort of dealing with that now, and I just have this hesitation. I must be wondering if I'm giving up my childhood -- maybe still clutching at my youth."