RICHARD DEAN ANDERSON -- SMALL BREAKS LEAD TO BIG THINGS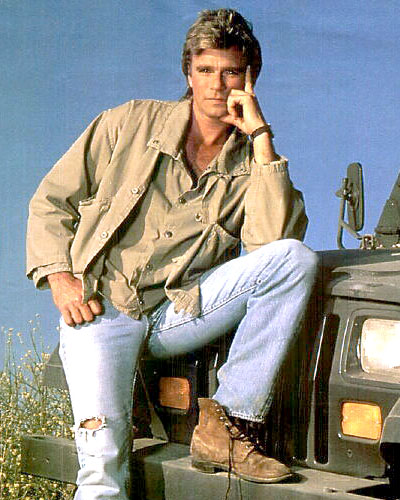 Young, impatient, with a taste for danger, more than anything our leading man wants to play hockey. Suddenly, during a high-school game, the dream is cut short when in one heart-wrenching second, a crash to the ice breaks his arm and, along with it, all hope of ever playing the sport professionally. He can recover from the broken arm, but will he ever triumph over a broken spirit? Sound like the plot of the next Brat Pack flick? Actually, it is precisely how the career of Richard Dean Anderson first began.
At that unexpected moment, "Ricky Dean," as he's known to his friends, realized his life would take a different path: he would become an actor. Now, as the star of the top-rated "MacGyver," Anderson realized that this twist of fate was a moment of good luck. Indeed, in his mind there is a clear correlation between the two professions. "I think of acting as an extension of my childhood," he explains. "The trick is not to lose the fascination with the game. Once that's gone, you can't fool anybody anymore."
"MacGyver" is finally coming into its own on television. Plagued last year by scheduling problems, the show, in its second season, is now a ratings grabber for grateful third-place network ABC. Critics have been friendly, too, praising the show for tempering adventure with sensitivity. The New York Post even said, "Yes, there is intelligent life on prime-time TV."
Unlike the Rambo genre of all-brawn no-brain heroes, MacGyver actually doesn't enjoy hurting people. "Instead of shooting somebody, this guy starts thinking," Anderson says of his character. In fact, MacGyver rarely, if ever, carries a gun and always manages to find the clever way out of a sticky situation with scientific ingenuity rather than violence. For example, MacGyver once rigged a car phone to a phone booth and, by remote control, locked the car doors and jammed the ignition, trapping the criminals in the car. It could really work, too: the stunts are often tested for authenticity.
Richard Dean's own lack of male posturing made him an easy choice for the role. Executive producers Henry (The Fonz) Winkler and John Rich recall that the first thing Anderson did when he came in to test for the part was to ask if anyone minded if he kept his glasses on while he read the script. "Henry and I looked at each other," says Rich. "After seeing so many macho types we appreciated his willingness to show a vulnerable side of himself."
If Anderson is vulnerable now, it's to his credit, for he's had his share of hard knocks. His starving actor stint ran the gamut: he was a Los Angeles street singer and mime, and even a Marineland performer. He actually stood on a platform with a fish in his teeth waiting for a whale to leap up and grab it from his mouth. At last, he became Dr. Jeff Webber on "General Hospital." Then, after five years and without the prospect of other employment, he left the soap because he felt his character was being neglected. Prime-time followed, but his first two vehicles, "Seven Brides for Seven Brothers" and "Emerald Point, N.A.S.," were quickly cancelled.
With "MacGyver" came recognition and 15-hour work days - something he finds somewhat of a mixed blessing. The obligatory partying and public appearances that come with prime-time prominence are not to his liking. Nor is less time with his current love, actress Sela Ward, last seen opposite Tom Hanks in Nothing in Common.
The two met a few years back, while playing brother and sister on "Emerald Point," but now the demands of Richard's show mean they are resigned to being a weekend couple. Their modest apartments are around the corner from each other in West Hollywood, and although Richard says, "We have a wonderful relationship," he still isn't ready to take the matrimonial leap.
This reticence notwithstanding, Richard Dean Anderson isn't usually afraid to take chances. After his hockey accident, he left his artist mother and jazz bassist father at the age of 17 to travel across Canada on a 6,000-mile bicycle trek with friends, eventually riding for 33 days alone - an experience he says taught him discipline and, "how to get myself through life."
After studying acting in college, he moved to San Francisco's Haight Ashbury during the Sixties, and although his hippie days are not an era he readily likes to talk about, he does admit to having hair down to the middle of his back and a Fu-Manchu mustache - not exactly the image he chooses to project today.
His love of sports, especially hockey, appeals to the competitive side of his nature. And although he'll never play the game professionally, he has made it an important part of his day-to-day life. On hockey he can even wax philosophical: "It's an aggressive sport, but graceful with an element of dancer's improvisation." Anderson has warmed up with the New York Rangers in their home turf of Madison Square Garden and was even named an honorary Ranger. But it's playing on a charity team that includes fellow actors Alan Thicke, Michael J. Fox and Michael Keaton that seems to give him the most joy.
Only a child would seem to make this charmed life more exciting and having children is something Richard Dean Anderson wants very much. At 37, he feels it may be time to start thinking seriously about a family. "I'd make a great father," he says pointedly. He's probably right, and it might be an adventure even MacGyver might envy.